Director Interview : Dr Manasa Nagabhushanam of ISBR says, "Focus on Proactiveness & Integrity"
Although there is no dearth of jobs in the corporate or industrial world, a decent one is only available to those working at the management level. Getting an entry at the management level is only possible for anyone with relevant experience or with a proper educational background. The latter is the only option for anyone to achieve this goal in a minimum period of time. By proper educational background here for management, we are referring to the MBA. One of the premier institutes apart from the prestigious IIMs and other well renowned college is the International School of Business and Research (ISBR) has now become which offers management courses. Based on the placement and academic records of the students, the institute is now ranking among the top MBA colleges in India. Established in the year 1990, the institute has 2 branches across India: Bangalore and Chennai. More renowned college, the more it becomes the subject for the candidates to know about it. To know more and to provide all the relevant and correct information to the candidates we recently had discussed with Dr Manasa Nagabhushanam (director of the institute ), here is what she has to say :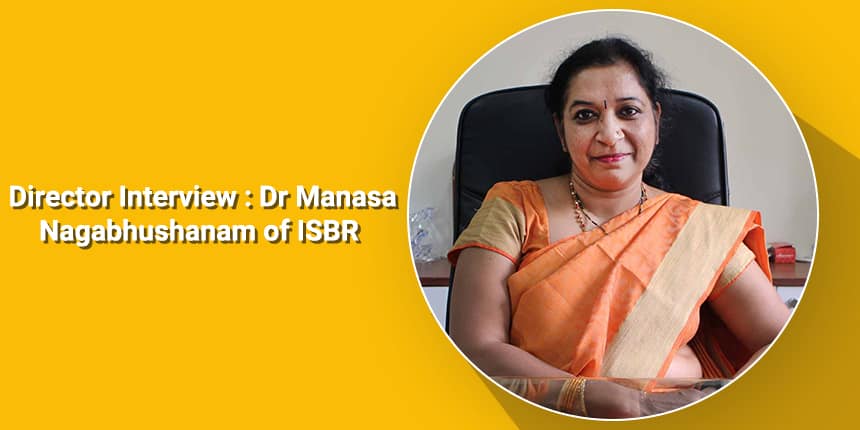 Careers360: Tell us something about the institute; when it was set up, vision and mission
Dr Manasa Nagabhushanam
About ISBR:
ISBR is a premier institution located in Electronic City which is the Industry hub of Bangalore. It was set up under the aegis of Bangalore Education Trust established in the year 1990. ISBR strives to realize its vision of creating an environment of continuous and experiential learning to build professionally competent and socially responsible leaders. ISBR empowers its students to realize their potential and emerge as confident, well-groomed, well-informed individuals. Learning at the Institute is facilitated through classroom teaching, industrial visits, case study based discussions, role plays, live projects, scenario planning, management research projects, problem solving session, team projects, quizzes, and interactions with experts from the industries
Campus life for a student at ISBR is conceptualized and designed in such a way that it enables experiential learning whether it is curricular or co-curricular activities which form an integral part of the ecosystem that takes the students through a meaningful journey.
Vision :
To be the premier Institute for knowledge creation and dissemination that develops potential management leaders for India and Global Community
Mission:
To create and nurture an environment where students learn with a holistic approach to ensure they achieve academic excellence, integrity, leadership qualities and become socially responsible individuals.
To create and maintain a healthy campus environment for all our stakeholders to achieve excellence in the field of management education and research by addressing internal and external issues of the Institute from time to time.
To endeavor to keep the curriculum updated to suit the requirements of the industry in global context and deepen international alliances.
ISBR's core values are Proactiveness; Integrity; Continuous Learning & Improvement; Social Consciousness; Sustainability
Careers360: What are the Program objective of the Institute?
Dr Manasa Nagabhushanam:
Program Educational Objectives
Sustainable employment with accomplishment of industry ready skillset and knowledge.
Develop entrepreneurs with creative and innovative mind-set.
Cross functional and multidisciplinary approach towards problem solving and decision making.
Inculcate research aptitude and a quest for lifelong learning.
Imbibe professional commitment, ethical values and a sense of social responsibility.
Careers360: Tell us something about the admission process
Dr Manasa Nagabhushanam: Students are admitted on merit basis from all India entrance tests like CAT, MAT, XAT. PGCET and CET. Selection process includes group discussions micro presentation and personal interview. Apart from the minimum qualifying grades from national entrance examinations, ISBR adopts a practice and process of screening students on both attitude and aptitude parameters.
Careers360: What kind of infrastructure can students expect at the institute? Please elaborate
Dr Manasa Nagabhushanam: ISBR provides exceptional campus facilities which is Wi-Fi enabled to serve the needs of the student community. Physical infrastructure includes technology enabled classrooms, seminar halls, board rooms, discussion rooms with OHP, LCD & DLP Projectors. ISBR Library is open round the clock with over 5000 titles on commerce and management, a hundred-plus leading management journals, a large database of Case studies in text and multimedia for deeper understanding and research. The library also subscribes to a host of online databases like Proquest, Thomson Learning, EBSCO Host apart from the large subscriptions to multi domain magazines and newspapers.
Careers360: Industry interaction is being stressed by the AICTE as well as companies that recruit. What are the steps being taken by the institute in this direction?
Dr Manasa Nagabhushanam: ISBR has introduced several innovative practices to build a strong network and connect with industry, business houses, entrepreneurs and public organizations. ISBR is an active member of a number of Industry and Professional bodies at the national and international level. This strong network has strengthened the relationship with Industry and helped ISBR in transferring knowledge; Joint Research initiatives; Industry Interaction Programmes; Incubation Initiatives; Collaborative Conferences & Seminars; Industry Internships; Consulting Projects; Corporate Training; Industry Inputs for Faculty Development; Industry Participation in Curriculum Development; Industry Sponsored Awards; Mentoring; Infrastructure and IP sponsoring/funding
Careers360: Internships are now mandatory as per AICTE guidelines. Does the institute help students with this? If yes how?
Dr Manasa Nagabhushanam: Skill Capital and Talent Connect are the innovative practices of ISBR Business School for scaling up and strengthening the placement process. ISBR works towards a win-win model for its stakeholders – students, industry, faculty and alumni. Through Skill Capital– Internship fair and Talent Connect – Placement drive, ISBR Business School sets up a podium for students and industry to explore and fulfil mutual aspirations.
Careers360: Can you please share details if there is any collaboration with universities abroad?
Dr Manasa Nagabhushanam: ISBR aims at providing international exposure to its students and this intention has translated in collaboration with many international colleges and universities in some non-English speaking countries like France, Germany etc. Student exchange programs with these international partners has scaled up the experience of students immensely facilitating cross cultural diversity and experiential learning.
Careers360: Please share placement statistics with information on the average package, highest and lowest package, number of students placed and details of companies that have recruited?
Dr Manasa Nagabhushanam: ISBR has attained a significant degree of success in student placements. This has been possible because of the quality of learning and exposure that students have gained from the program under their affiliation and interaction with the academicians and corporates. This facilitated the holistic development of a student both personally and professionally.
Some of the major recruiters of ISBR includes Wipro, Infosys, Citi Bank, Dell, Google, TATA, Reliance, Bharti Group, BHEL, Cognizant, Leela Group, Mphasis, Eureka Forbes, GE, Goldman Sachs, HCL, HDFC Bank, IBM, ICICI, ING Vysya, TCS, Godrej group, PricewaterhouseCoopers, Deutsche Bank, Thomson Reuters, Zee TV, Fortis hospitals and many others.
ISBR Placement Snapshot
PGDM 2017 - 2019
115

Batch size for placements

105

No. of placed students

15

No. of PPOs

12

Maximum Salary (LPA)

6.2

Average Salary (LPA)

91.3%

Placement

15

No. of sectors

16%

Placed through Alumni

39%

New recruiters
ISBR Business School, Bangalore Updates and Articles
Questions related to ISBR Business School, Bangalore
Showing 21 out of 21 Questions