CMAT 2016 conducted on January 17; Live Coverage from test centres
CMAT 2016, also known as Common Management Admission Test was conducted on January 17 by All India Council for Technical Education (AICTE) in an online (computer-based) mode. CMAT 2016 test-takers had related the overall paper as moderate one with tough General Awareness, easy Data Interpretation and tricky Quantitative Analysis. Moreover, candidates from a number of exam centres have reported of some technical glitches in the online paper.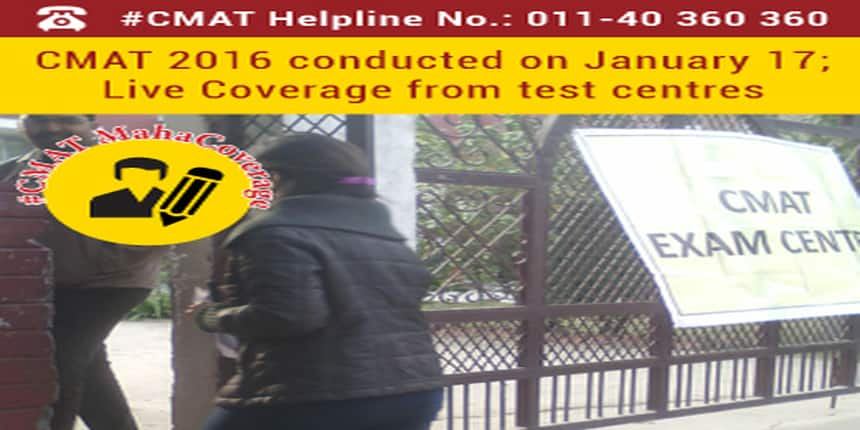 Recent Posts

This year the MBA entrance exam was held only once, unlike last year, when it was organized bi-yearly. Around 70000 aspirants take the test across India where the scores of CMAT 2016 will be accepted by over 500 B-Schools approved by AICTE.

CMAT 2016, a three hours duration online test had begun at 9:30 am. The online paper had as many as 100 questions carrying total marks of 400. The questions covered four sections– Quantitative Techniques & Data Interpretation, Logical Reasoning, Language Comprehension and General Awareness, wherein each section had 25 questions.
Careers360 is covering CMAT Live from various test centres across India and brings you updates on the MBA exam.


[How to ensure a positive outcome in your GD/PI? Click here and enroll to get Tips/Tricks and Smart Techniques to deal with situations smartly]


Careers360 Live News feed for CMAT 2016


12:35 pm – CMAT 206 test-takers relate their exam experience to Careers360

Stuti - Paper was moderate with General Awareness a bit difficult. There were some technical glitches as well as my LAN stopped working and some of my exam time also got hampered.

Vikas Kumar Jha - The online paper of CMAT 2016 was an easy one with General Awareness portion a bit difficult. I am expecting to score around 150. Yes, I heard about some technical glitches but fortunately nothing such happened with my machine.
12:34 pm – Test takers of CMAT 2016 exit the exma centres

12:30 pm – CMAT 2016 ends

9:30 am – CMAT 2016 begins. The three hours long wait begins as parents wait outside the exam centre premises

9:23 am – While a few manage to get-in at some centres, others lose their chance to appear for the MBA entrance test

9: 19 am – Some late comers seen pleading to get in the exam hall with a number of excuses

9:15 am – Entry closes

8:20 am – Entry begins as aspirants queue-in to reach their exam halls

8:18 am – CMAT aspirants flock around the notice boards to check their seating arrangements

8:00 am – Exam centre officials put up the notice-board mentioning seating arrangement for the online CMAT

7:42 am – Aspirant share their pre-exam anxiety with Careers360 Exam Centre Reporting Team

Shrishti – I am a B.Tech graduate and have cleared CAT with 93 pecentile. I am also appearing for CMAT 2016 with a hope for a top B-School. DI & LR are my strong areas and am little nervous for Quant.

7:40 am – Last minute reading helps a lot as candidates revise through their preparation materials

7:35 am – A few aspirants seen reaching their exam centre much early, despite the freezing and foggy weather in Northern India

7:30 am – Careers360 Team reaches at exam centres for CMAT 2016 Exam Coverage

Also Read –

Top B-School accepting CMAT Scores

Stay tuned to https://www.bschool.careers360.com for more updates on CMAT 2016
Questions related to CMAT
Showing 2853 out of 2853 Questions