CAT 2017 conducted on November 26 by IIM Lucknow; Live updates from exam centres
CAT 2017 is being held on November 26, 2017, by IIM Lucknow, the conducting body of CAT for this year. The computer-based test was in a single day, two slot window. While the forenoon slot was scheduled from 9.30 AM to 12.30 PM, the afternoon slot was conducted from 2.30 PM to 5.30 PM. The CAT 2017 exam centres are located in 142 cities across India. Last year, CAT was conducted in around 650 test centres in 136 cities. It is likely that around two lakh candidates will appear for the test. Tata Consultancy Services (TCS) is the online testing partner for CAT 2017. As many as 2,31,067 candidates have applied for CAT 2017. Careers360 brings to you live updates from test centres reporting each event of the test.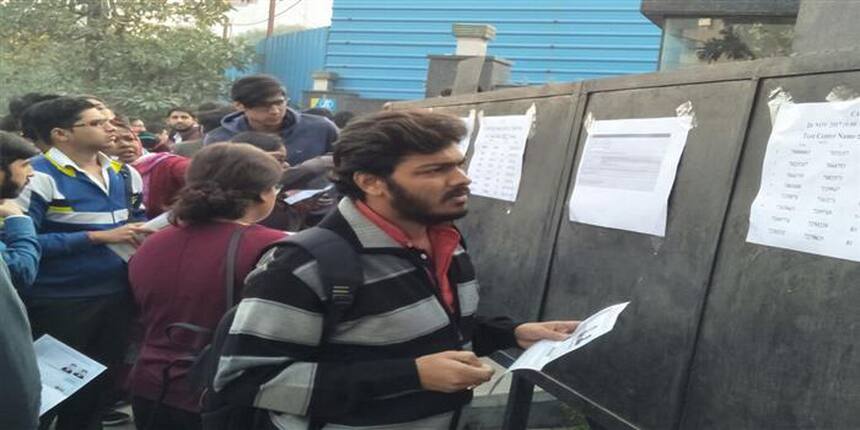 Important Links
According to IIM Lucknow, test takers have to report two hours prior to the exam. The following table brings to you the exam reporting timing for CAT 2017.
CAT 2017 Exam Centre Reporting Schedule
| | | | |
| --- | --- | --- | --- |
| Session | Reporting Time | Last entry by | Exam Timing |
| Forenoon | 7.30 AM | 8.45 AM | 9.00 AM – 12.00 Noon |
| Afternoon | 1.00 PM | 2.15 PM | 2.30 PM – 5.30 PM |
CAT 2017 Exam Pattern
As per the exam pattern of CAT 2017, it is a three hour duration test carrying 100 questions in both multiple choice question (MCQ) and Type In The Answer (TITA) types from three sections, namely, Verbal and Reading Comprehension, Data Interpretation & Logical Reasoning and Quantitative Ability. Each section is timed for an hour and candidates are not allowed to move in between sections. According to the marking scheme, each question carries three marks and there is one-third negative marking for each wrong answer. Negative marking scheme is not involved in non-MCQs.
Live updates from CAT exam centres
5.30 PM: CAT 2017 slot 2 has been concluded.
2.30 PM: CAT 2017 afternoon slot commences.
2.15 PM: All candidates enter the test venue. Some latecomers plead for entry but they are not allowed to enter. 
1 PM: Entry for Slot 2 begins at the test centre following the similar process as that of the forenoon slot.
12 Noon: The first slot of CAT 2017 is over. Candidates come out of the centre with the view that the forenoon slot was of moderate difficulty level with Quantitative Ability being the easiest and Data Interpretation & Logical Reasoning being the toughest sections. 
9.00 AM: The forenoon session of CAT 2017 begins. Some of the late comers rush towards the centre and request for entry but test centre authorities do not allow them as the exam has already commenced.
8.45 AM: The entry gates close as per schedule. Candidates who reach just in the nick of time are allowed to enter the test centre after brief security and document check. Inside the test centre, candidates' photograph and finger print scan is captured and they are made to sit on their assigned seats.
8.15 AM: Few candidates' entry is denied entry as either they have not brought CAT admit card or photo identity card or the print of the admit card is not legible. Some test takers who forgot to paste photograph are also not allowed to enter.
8.00 AM: Gates open at the CAT exam centre and candidates queue up to enter. Security officials check the CAT 2017 admit card and photo identity card and frisk them before allowing entry.
7.45 AM: Most of the candidates huddle towards the display board to check their seating arrangement and other instructions. On the other hand, few test takers prefer to go through their notes for last minute revision.
7.30 AM: More CAT takers reach the test centre abiding by the reporting schedule.
7.00 AM: Few CAT candidates reach the test centres way before the reporting time to avoid last minute rush at the test venue beating the chilly weather and dense fog.
Also Read
Questions related to CAT
Showing 9084 out of 9084 Questions