Alumni Talk-"How IMI, New Delhi has helped in transforming my career"
One of the most sought after postgraduate programmes in the country is Master of Business Administration or popularly known as MBA. There is a huge number of aspirants who want to pursue an MBA but the thing is they do not carry any vision behind it. Abhinav Kashyap, an IMI Delhi alumnus from 2019 batch of MBA, says that every aspirant should know very clearly from the beginning why he or she pursuing MBA. When it comes to plan actions during or after completion of course it will help them. Abhinav who currently working as a Business Analyst/ IT advisor in the Acquisitions and Divestments at Shell. Abhinav speaks to Careers360 about his journey, have a look into it.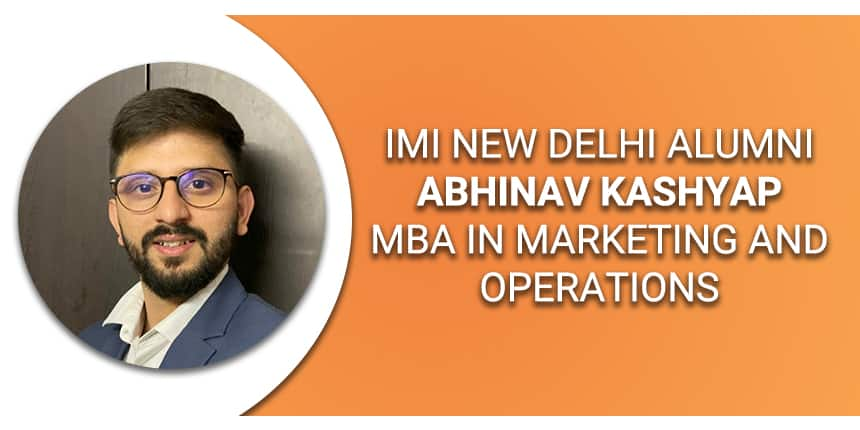 Careers360: Tell us something about yourself, your education, current career etc
Abhinav: I've completed MBA in marketing and operations from IMI New Delhi . Prior to MBA, I worked as a Business Analyst at Genpact for about 25 months. I completed mechanical engineering from PES Institute of Technology, Bangalore.
Currently working as a Business Analyst/IT advisor in the Acquisitions and Divestments at Shell. My work here revolves around strategizing, planning and executing successful completion of deals for Shell.
Careers360: You are an alumnus of? When did you complete your course here?
Abhinav: I am an alumnus of IMI New Delhi, batch 2019
Careers360: What were your first impressions when you joined the institute?
Abhinav: After a robust process of selection, I was thrilled to be a part of an educational institution which not just focused on the placements of students but also took a lot of efforts to fulfil its vision of developing future leaders.
Careers360: Give us a few insights about your education at the institute; what you found memorable during your study here
Abhinav: The course at IMI New Delhi was very quick paced with academics as well as co-curricular activities which kept me busy all day. I was a part of the corporate relations committee which is responsible for the corporate engagement and placements for the institution. It was a very enriching experience where I got an exposure to the corporate world. I had experienced every facet of MBA as a part of this committee, from doing a sales pitch for the college, to managing the key stakeholders till the very end of the placement day. Being a part of TedEx team helped me get a holistic view of organizing an event and interacting with eminent speakers. These were extremely enriching experiences for me.
Careers360: How did you keep updated with the industrial requirements and what was the role of the institute in it?
Abhinav: The college curriculum was very dynamic with regular updations based on the latest trends in the market. From class discussion on latest case studies till sessions by corporate leaders, the students were always abreast of the latest trends in the industry. I was also a part of live projects which gave a good learning in implementing the theoretical knowledge while working with companies post college hours. Along with this a mandatory 8 week internship program helped the students to understand and experience the working culture of corporates and exposure to work on some live business problems. The college also encouraged participation of students in some of the prestigious corporate and b-school competition. I along with my team were runners up at ISB, Hyderabad competition which would not be possible without the support of the professors who had guided us for the competition.
IMI Delhi Updates and Articles
Questions related to IMI Delhi
Showing 104 out of 104 Questions