CMAT College Predictor - MBA Call Predictor
Know your chances for getting calls from MBA colleges through CMAT Score, based on your academic profile & CMAT result

Get to know the CMAT eligibility & cutoff percentiles / scores for interview calling chances

70,000+ management aspirants used Careers360 College Predictors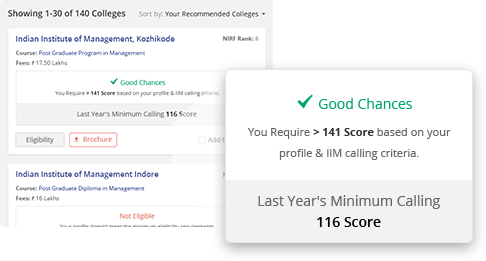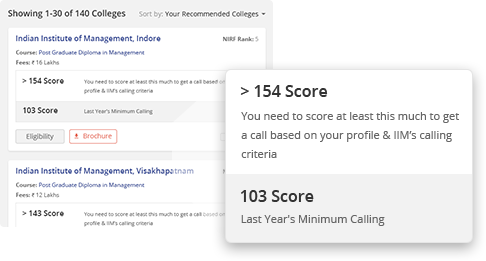 CMAT Pathfinder - MBA Call Predictor
Are you appearing in CMAT 2023, not certain about the right college? Is it bothering you? Then, you are at the right place. Careers360 brings you the CMAT college predictor tool. With your CMAT 2023 predicted percentile in hand, you can check the top CMAT colleges where you are having a good possibility of getting MBA admission. This CMAT MBA call predictor uses an advanced algorithm to assess your CMAT scores and to provide you with a list of colleges as per the predicted percentile.
Is the CMAT 2023 college predictor tool helpful?
Yes, the CMAT college predictor tool can save a lot of energy and time in decoding your dream college. With all the information provided in this tool, you can assess your CMAT score. A list of top B schools available as per your CMAT percentile will be devised by this tool in no time to assist you in your career.
One of the most important advantages of using the CMAT college predictor tool is getting the knowledge of the minimum CMAT percentile of the last year. Additionally, the tool also provides you an idea for getting into a specific college and good, weak or tough chances concerning the same.Candidate also have the option of filtering the colleges according to their preferences of state and city.
How to use CMAT College Predictor 2023?
The usage of the CMAT college predictor tool is effortless. All you need to do is enter your percentile and rank in CMAT be it 60, 70, 80, 90+ percentile. We have provided you here with the step-by-step guide to checking the list of CMAT colleges for admission based on your respective CMAT scores.
Step 1: Click on CMAT Pathfinder- MBA call predictor.
Step 2: Now, click "Yes/ No" based on whether you have CMAT score details.
Step 3: Under the 'Yes' option, enter your overall CMAT score and CMAT percentile.
Step 4: Now, click on proceed. Check the list of colleges here.
Step 4: In case you do not have a CMAT score, click on 'No'.
Step 5: Enter the graduation degree, percentage in graduation, and work experience (in months)
Step 6: Click on ' Start Analyzing'.
Step 7: A new tab will open displaying the list of colleges you can get.
CMAT College Predictor 2023: How to calculate CMAT score?
Wondering how to calculate CMAT score? We are here to help you. CMAT scores are calculated on the basis of the weightage assigned to each question of the CMAT exam. The process used for calculating the CMAT scores are as follows:
Weightage assigned:
For each correct answer, four marks will be allotted.

For each incorrect answer, one mark will be deducted.

For each unanswered question, no mark will be allotted.

The total CMAT marks will be calculated by totaling marks gained or lost in each question attempted by you.
How is CMAT percentile calculated?
CMAT percentile score is calculated on the basis of rank vs total number of candidates. The formula to calculate CMAT percentile is as provided:
Percentile P = 100 x Number of candidates appeared in the examination with raw marks equal to or less than the candidate/Total number of candidates appeared
This can be understood with an example- if around 10,000 candidates appeared in CMAT 2023 and a candidate scored highest marks (350/400). Since they have scored the highest in exam, their rank will be 1 and CMAT percentile score will be: 100 x 9999/10,000= 99.99
CMAT College Predictor: MBA admission GD/PI shortlisting
Most of the top B-schools have a minimum CMAT cut off for shortlisting candidates for the GD/PI round. The admission authorities shortlist them on the basis of their CMAT score after concluding the CMAT exam. Those candidates who clear the cut off are then selected for the GD/PI round.
About CMAT
CMAT, Common Management Admission Test, is a national-level exam conducted by National Testing Agency, NTA. The CMAT exam is conducted annually for taking admissions into MBA programmes in top B-schools in India including Great Lakes Institute of Management, JBIMS, SIMSREE, K J Somaiya Mumbai, Welingkar Mumbai, and PUMBA.
What users have to say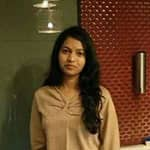 "Dear CAREERS360, i do not know how far this works, but i got a peace of mind once i came to know my marks will fetch me a seat in RV college. so thank u very much."

"I commend all the efforts and help provided i guess something kind has really helped people in terms of guidance exposure towards various education institutions"

"I cannot explain that how much help you have provided because it is obviously not easy to choose few from 62 institutes.
Thankyou
Regards."
Career360 is doing yeoman service by College Predictor and Rank Predictor options for various competitive exams... Kudos to the team which is making it happen in a professional way. Keep it up!
Yes, the site is navigator to the candidates to choose their choices at an advance stage of announcing results, before appearing to counselling and getting seats.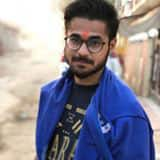 Your information is far more accurate than all those websites out there.Thank you for your work as it was a great deal of help in finding my best college.Thank you again and keep up the good work.
Other MBA College Predictors