Career Options After BBA: Scope & Salary
Career Options After BBA: Scope & Salary - Bachelor of Business Administration has become quite a famous professional course amongst youngsters nowadays. BBA is a three year professional course which can be pursued by students after Class 12 irrespective of their specialization i.e. humanities, commerce, science etc., But wait, are you confused about the Career Options After BBA: Scope & Salary. Looking at the growing trend of Indian Economy, the requirement of managerial graduates is increasing day by day. Hence, in this article of Career Options After BBA: Scope & Salary, Careers360 will discuss what BBA is? Scope of BBA? Salary package offered to BBA graduates? Along with that, we will also discuss the major entrance exams as well as the top BBA colleges in India.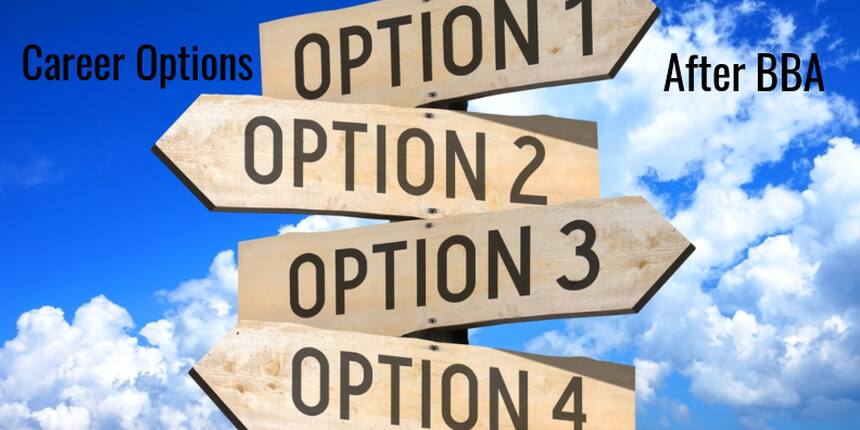 Bachelor of Business Administration
BBA is a business administration course whereby candidates learn the basics of business and managerial administration. Usually the duration of a BBA course is three years. Any candidate who has completed Class 12 or is about to complete and is planning to pursue a degree in business administration can take up this three years BBA degree course. Check eligibility criteria before filling the application form of any institute.
List of Institutes Offering BBA Degree:
| | |
| --- | --- |
| Name of Institute | Admission Procedure |
| Delhi University | |
| Bharati Vidyapeeth Deemed University | |
| Christ University | |
| Narsee Monjee Institute of Management Studies | |
| Symbiosis International Deemed University | |
Scope of BBA
For BBA graduates, a bountiful of opportunities are available. Candidates have a number of options to explore and then after proper analysis choose the one option that fits best with the candidate's interest and is beneficial for the long run. The most common and widely selected options are listed below which are prefered by candidates and have great benefits.
Career Options After BBA: Scope
| | |
| --- | --- |
| 1. | Getting a Private Job |
| 2. | Enrolling for Master's degree |
| 3. | Clearing Competitive Exams |
| 4. | Initiating Startups |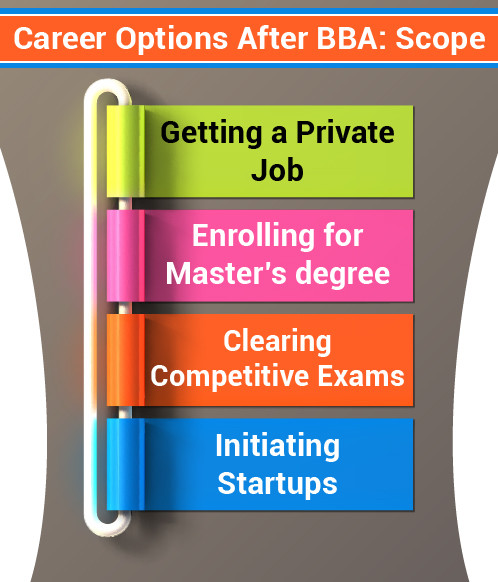 Career Options After BBA: Getting a Private Job
Either through campus placement or direct recruitment, candidates having a BBA degree can earn a good salary. Due to the versatility of a BBA degree, candidates can get jobs in marketing, finance, HR, operations, research, advertising and many other domains.
Working Domains For BBA Graduates
What after BBA? Is a question that every candidate thinks of. Well if you settle for a 9 to 5 job, then, depending upon your skill set and interest you can work in the following areas:
Finance & Accounting Management

Human Resource Management

Marketing Management

Operations Management
Career Options After BBA: Enrolling for Master's degree
Some candidates may not hurry to get placed or get a job soon after completing their graduation and having a BBA degree. Candidates can decide to pursue further education, it could be either in managerial field or any other. Post which PhD. or M.Phil can be pursued if they wish to opt for teaching line. Currently, most of the candidates soon after completing BBA, go for Master of Business Administration i.e. MBA programme as BBA provides as base to MBA. In Master's degree, other options apart from MBA are PGDM, MMS, M.A. which are available to candidates. To take up MBA course from a good or Tier A B-School, candidates are required to qualify competitive exams like Common Admission Test, Management Aptitude Test, Symbiosis National Aptitude Test, Common Management Admission Test etc., However, there are other B-Schools than IIMs in which candidates can take admission in MBA without entrance exams.
Career Options for Master's Degree-
MMS
Masters of Management Studies is another alternative for an MBA degree. The course duration, eligibility criteria, course structure etc., are very much alike the MBA degree. MMS Course provides education on management studies, managerial education programmes as well as developing entrepreneurial skills.
MBA
The most sought after BBA course is MBA degree. High competitive is present to take admission into IIMs and other Tier 1 B-Schools amongst candidates. MBA is a two year degree programme whereby candidates learn about business administration tactics. More theoretical knowledge is impacted to candidates in a regular MBA degree programme.
Quick Links -
PGDM
Post Graduate Diploma in Management is an alternative to MBA degree which imparts more of a practical knowledge. The major difference between PGDM & MBA is that MBA is a degree course offered by Universities while PGDM is a diploma course which is offered only by autonomous institutions.
Career Options After BBA - Clearing Competitive Exams
Enrolling oneself for any competitive exam is also another good option available to candidates after their BBA degree. Some candidates may have high calibre to crack competitive exams and get a good white collar job in some government department. Banking exams, civil services exam, defence exams etc., are included in competitive exams. The base salary initially may be lower as compared to private company jobs/campus placements. But the same is promoted in later years with experience and time duration. More and more candidates now are attracted to government jobs as provides ease of work, lesser work pressure, job security etc.,
Career Options After BBA - Initiating Startups
Having good family business motivates candidates to set up their own business. Hence, just to learn the competitive advantage and basics of business they pursue BBA degree. Due to one of our PM Modi's initiative i.e. "StartUp India" lots of youngsters are getting attracted and setting up their own businesses. If the idea is great and has long term survival plans, then such ideas also attract huge investments from big business houses. Even the government also provides funds to them.
Salary Package Offered to BBA Graduates
Top recruiters in lndia like Hindustan Unilever, Tata Group, Ernst & Young (EY), Tata Consultancy Services (TCS), ICICI Bank, Deloitte are looking for young and dynamic BBA graduates who have sound knowledge about managerial and administration tactics. There is a mounting demand of BBA graduates in various fields of marketing, advertising, promotion, sales, research, etc. Let us look at the salary package offered to BBA graduates on the basis of career options and scope of BBA degree.
Salary Offered to BBA Graduates:
| | | |
| --- | --- | --- |
| S. No. | Career Option After BBA | Salary Offered |
| 1. | Getting a Private Job | A campus placement or direct recruitment at initial phase may provide a salary package of Rs. 2-5 LPA which can be later increased to Rs. 10-12 LPA. |
| 2. | Enrolling for Master's degree | Pursuing MBA from IIMs would be beneficial in terms of the salary package offered by recruiters. It can be as high as Rs. 55 LPA and above. However, other B-Schools also provide sound packages of about Rs. 5-10 LPA |
| 3. | Clearing Competitive Exams | Rs. 15000 monthly - Rs 10-15 LPA |
| 4. | Initiating Startups | The profit earned by a businessman in the initial level may be low. But if the business holds a bullish trend with the right set of mindset and strategy then the profits will be quite good. |
Major Entrance Exams for BBA Degree
To take admission in various business schools offering BBA degrees, candidates have to clear entrance exams as per the admission requirements. It is not always mandatory to appear for a BBA entrance exam, as there are some b-schools which provide admission even without entrance tests.
Top Entrance Exams: