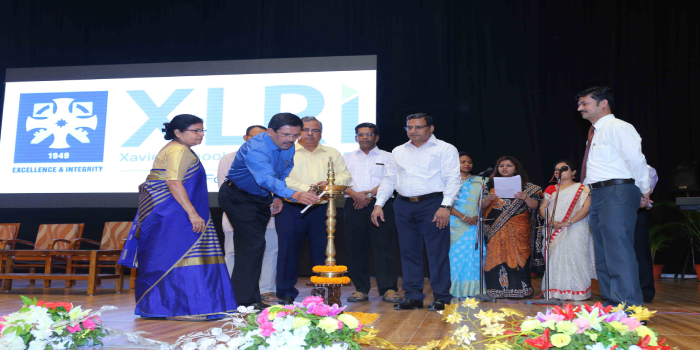 Xavier School of Management (XLRI) Jamshedpur welcomed the new batch of students at a formal ceremony of commencement of the new academic session of 2018 on June 11, 2018.
A total of 543 students joined XLRI student fraternity. Last year in 2017, the total intake was 537, thus increasing the number of intakes by six students this year.
Compare Colleges
College Comparison based on Courses, Placement, Rank, Fee
Compare Now
Admissions Open Now
Great Lakes Admissions 2019
Great Lakes PGPM/PGDM Admissions 2019 Open
The welcome ceremony was addressed by Fr. E. Abraham, S.J., Director, Dr. Ashis K Pani, Dean of Academics and Fr. Jerry Cutinha, S.J, Dean of Administration & Finance at XLRI.  Below mentioned are the name of the programmes with the total number of students enrolled:
Business Management (PGDM - BM: 2018 - 19 batch): 181 Students

Human Resource Management (PGDM - HRM: 2018 - 19 batch): 182 Students

Fifteen months General Management Programme (PGDM - GM: 2018 - 19 batch): 105 students

Three years Postgraduate Diploma in Management (PGDM - BM, Part Time: 2018 - 21 batch): 45 Students

Fellow Programme in Management (FPM): 10 Students

Executive Fellow Programme in Management (EXEC – FPM): 20 students
Faculty members, current students and staff members also attended the welcome ceremony of the new batch who were welcomed by an inaugural prayer service function.
Welcoming the students, Fr. E. Abraham, S.J., Director, XLRI impressed upon the challenge of socio-economic transition that India is facing and said "In these times of Post-Trump, Post-Brexit and Post-Truth and high oil prices it seems nations, organizations, and educational institutions like ours and also all of us as individuals have to be prepared for any non-linear, macro socio-economic eventuality."
He also highlighted upon the fact that XLRI, besides being a higher learning institution is also a social institution. Fr. Abraham also advised the new students to start thinking about addressing socio-business challenges and pursue their entrepreneurial dreams while at XLRI.
Introducing the new batch of students to the accomplished faculty members of the institute, Dr. Ashis K Pani, Dean of Academics, XLRI commented, " A unique feature in the first term will be the Village Exposure Programme and the Outbound Programme. Both the programmes have been designed to create awareness among the students of life in rural India, as well as the importance of team spirit. Such an integral and value-based formation will impel the future managers to be innovative, competent and creative leaders."
The new students will have to undergo a Special Orientation Programme to update their knowledge and prepare for the upcoming classes.
Questions related to XLRI