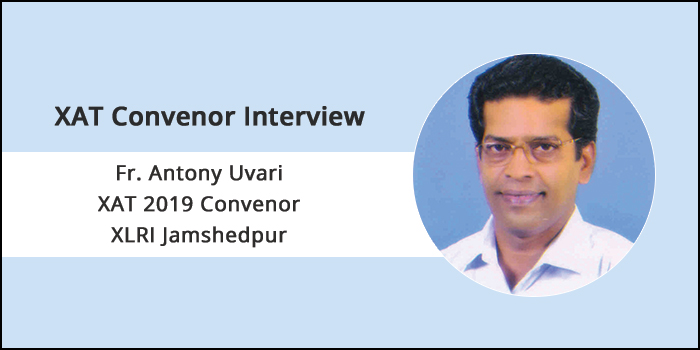 XAT 2019 Convenor Interview - XAT 2019 has been announced by XLRI Jamshedpur with major changes in terms of exam pattern. The Essay Writing section of XAT, which was the distinguishing factor of the test, has been cancelled from this year onwards. According to Fr Antony Uvari, the XAT 2019 Convenor, the decision has been taken owing to the technical glitches experienced last year.
MBA/PGDM Admissions Open 2019
IFIM Business School
XAT Sample Paper
Download Free Sample Paper for XAT
Download Now
Along with that, the online testing partner of XAT 2019 has also been changed from SIFY to Tata Consulting Services. According to Fr Uvari, the rest of the XAT 2019 exam pattern has remained the same. In this exclusive interview with Careers360, Fr Antony Uvari, XAT 2019 Convenor has talked about the new pattern of XAT, the number of applicants and test takers along with other information and details about XAT 2019.
Read the excerpts of the interview below:
Careers360: XAT 2019 application process has undergone major changes. The Essay Writing section has been scrapped. What is the reason for that?
Fr Uvari: Although the Essay Writing was an integral part of XAT, we have scrapped the section due to technical glitches experienced last year when XAT was conducted in computer based mode for the first time.
Careers360: What is the exam structure for XAT?
Fr Uvari: The exam pattern will be same as last year, except for the essay writing section, which now stands cancelled. Unlike previous years, there will be a single prt of the entire test, including the GK section. The number of questions per section and marking scheme will also be the same as last year.
Careers360: What is the last date for the late application process?
Fr Uvari: The last date for the late application process is December 7, 2018, with late fee of Rs. 2000 for XAT and Rs 500 for every additional programme of XLRI.
Careers360: What was the XAT 2018 application number vis-a-vis the actual number of test takers?
Fr Uvari: The test takers of 2018 were 70,000 approximately out of total 89,900 applicants.
Careers360: The first ever computer based XAT was marred with technical glitches leading to a retest for few candidates. What precautionary measures are you taking this year in order to avoid such situations?
Fr Uvari: Last year due to technical glitches we had to conduct retest only for two centres. For XAT 2019 we have taken all measures of precautions.
Careers360: Will SIFY continue to conduct XAT this year as well?
Fr Uvari: Our technical partner for XAT 2019 is TCS.
Careers360: What is your message for the XAT 2019 aspirants?
Fr Uvari: Candidates who have registered and not made the payment can complete their registration to avoid last minute rush.
The application process of XAT 2019 has started on August 20, 2018, and will end on November 30, 2018. The late application process will end on December 7, 2018 and late fee will be applicable from December 1 to 7, 2018. The exam is scheduled on January 6, 2019, 10 am to 1 pm.
Also Read
How to fill XAT 2019 application form?