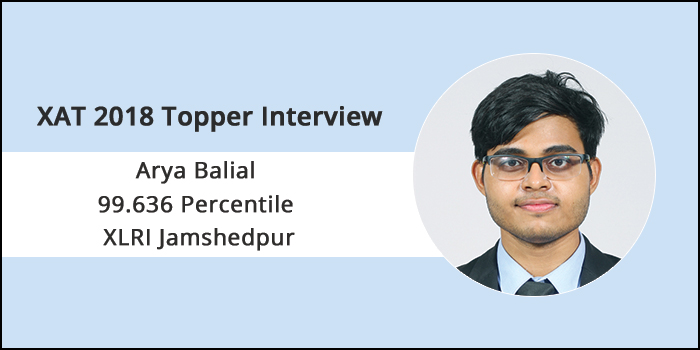 In this XAT topper interview, Arya Baliga who aced XAT 2018 with an impressive 99.636 percentile, shares his strategy and success mantras for preparation. With his stellar performance, he managed to bag admission at XLRI Jamshedpur. As Arya shares his phase-wise preparation strategy and talks about the study material he utilised, aspirants of XAT 2019 can draw inspiration and formulate their own study plan for the big exam.
MBA/PGDM Admissions Open 2019
Acharya School Of Management
XAT Sample Paper
Download Free Sample Paper for XAT
Download Now
To combat his work schedule which demanded him to be out on the road for most of the days, he managed to scoop out time on the go. As the day of the test drew near, he increased his frequency of giving mocks and improvised on sectional tests with the guidance of his mentors at the coaching centre. "An important and common practice when preparing for all the sections is the need to solve previous papers' questions of XAT as that gives an aspirant a very good idea about what kind of questions to expect and how to tackle them," he shares.
Read the XAT 2018 topper interview of Arya Balial as he gives us an insight into his success journey of securing admission in PGDM in Business Management at none other than XLRI Jamshedpur.
Excerpts from the interview:
Careers360: What were your XAT 2018 overall and sectional percentiles? Apart from XAT, which other entrances you appeared for and what were your percentiles?
Arya: My XAT 2018 overall and sectional percentiles were as follows:
| | |
| --- | --- |
| Sectionals | Percentile |
| Quantitative Ability | 99.623 |
| Verbal and Logical Ability | 94.268 |
| Decision Making | 91.909 |
| Total | 99.636 |
| General Knowledge | 86.175 |
Apart from XAT 2018, I had appeared for CAT 2017 and my overall percentile in the same was 98.16.
Careers360: What was your preparation strategy? Please share section-wise strategy in detail.
Arya: My section wise preparation strategies were as follows:
Quantitative Ability: The important thing to keep in mind for this section is the word "practice" – if Quant is one's strong suit, well, it doesn't hurt to keep your sword well-sharpened and even if it is not, all the more reason to practice as this is generally a scoring section.
The book I practised from was "How to Prepare for Quantitative Aptitude for CAT" by Arun Sharma. The chapter-wise concepts were clearly explained, the solved examples and the exercise problems, segregated into different levels of difficulty, helped too.
Other than that, I also enrolled for Career Launcher's XAT 2018 programme. Their sectionals and mock tests were also beneficial for my preparation. Especially considering the fact that I was a working individual at that time and had to be out on the road for most of the days, I could practice from the short sectionals in quants, on the go, whenever I could scoop out some time and as I had mentioned before constant practice is a must.
As the day of the test draws near, the frequency of giving mock tests has to be increased a lot and for that CL helped me a lot with their repertoire of past and current mock exams.
Verbal and Logical Ability: Verbal ability section of XAT is something to be reckoned with. For me, Verbal was a strong suit, but as I realised early on in my preparation, that was no reason to slack off. Daily readings of articles, editorials of newspapers such as The Hindu, The Statesman, Times of India are a must to hone one's vocabulary and writing skills and also helps in staying up to date with the latest affairs.
Other than that, Career Launcher sectionals, mock tests and especially their RC sectionals helped a lot. To develop an aptitude for solving Reading Comprehension, reading different pieces from a variety of topics such as fiction, non-fiction, philosophy, science articles helps to keep the mind flexible enough to deal with any kind of topic which XAT might give. One should not simply read these pieces but also try and analyse them, reflect on them, as much as possible, in order to extract themes, central ideas from them.
To develop and increase one's vocabulary knowledge base, I found "Word Power" by Norman Lewis to be particularly helpful.
Next comes the topic of Logical Ability which includes data interpretation and logical reasoning problems. For most of the aspirants, this is a weak point and I was no exception. The important part, I think, is to realise early on what one's weaknesses are and to diligently work towards overcoming them. Out of all the three sections, this was the one I dedicated the most time to in terms of preparation.
For me, what helped were the Career Launcher sectionals and solution videos which clearly explained how the solutions were arrived at.
Other than that, I also followed "How to Prepare for Logical Reasoning for the CAT" by Arun Sharma, which in a similar pattern as the quants book of the series, explained the concepts through examples of different kinds of problems followed by exercises of varying levels of difficulty.
Slowly but steadily my performance improved as I kept on working on this section.
Decision Making: Now comes the section XAT is most well known for and which differentiates XAT from all the other B-School entrance exams conducted across India.
For first time aspirants, just like me, this is a totally new section and so can be a bit overwhelming at first. For this section, CL's general guidelines and practice tests helped immensely, more so than the other sections.
Since its new, to get a feel of it requires more time to be devoted for practice than the other sections. The questions and the caselets are in themselves intriguing to read, the confusion arises when trying to choose an option from the ones given, as often two or more options look like variations of the same solution. Herein lies the need to recognise the intricacies and subtleties of the situation given to differentiate between the options and choose the correct one.
An important and common practice when preparing for all the sections is the need to solve previous papers' questions of XAT as that gives an aspirant a very good idea about what kind of questions to expect and how to tackle them.
General knowledge: Last but not the least, comes the preparation for general knowledge. This sectional score is not considered while shortlisting for the GD-PI rounds, but for the final selections as well as for the PI rounds this does hold some weightage.
Reading newspapers such as The Hindu, The Statesman, The Economic Times, The Times of India etc. online/offline is a must to score well in this section.
Careers360: How did you prepare – Self-study or Coaching? Please explain which one do you think is better?
Arya: Self-study and coaching, I believe, supplement each other. While CL provided me with the study materials, techniques, shortcuts, sectionals and mocks to help me with my preparation, none of it would have amounted to anything had I not put in my own hours of preparation. At the end of it all, it is the aspirant who has to take the test and until and unless he/she self-studies and clears his own concepts, no amount of coaching material would help.
Other than coaching materials, as had been mentioned before, I also followed various books for the sections to help me with my preparations.
Careers360: When did you start preparing for XAT and how did you change your preparation strategy each month?
Arya: I started preparing for XAT 2018 from August 2017, a month after joining my new job. Before that, I was busy with preparations to shift to a new city for the job and so couldn't find the time to start my preparation. So, effectively I prepared for about five months from August to December.
At the five-month mark, I started out steadily with revising old concepts and learning new ones from scratch. XAT mostly tests one's common sense and how well one's fundamentals are in case of quants. All one needs to do, in order to do well in XAT is to be clear with basics. To brush up old concepts and to grasp the few new ones, one needs regular practice in the form of daily sectionals and offline practice from coaching materials and books.
Once I hit the three-month mark I was almost done with the basics and had started with the mocks. The mocks are the most aspect of one's preparation, and I cannot stress that enough. During this phase, one has to identify one's strong and weak areas, timing. Also since XAT has gone online in 2018, online mocks have become all the more crucial. Once the strong and weak sections have been identified, one should focus on preparation such that the strong parts contribute towards uplifting the overall percentile while simultaneously ensuring that at least the cut-offs are cleared for the weaker sections.
As the one-month mark drew near I increased the frequency of taking mocks, analysing them and put in more hours into the preparation each day. I focused more on the techniques, formulas and shortcuts for the quants, logical ability section as well as speed reading techniques for the verbal section.
Finally, the last minute strategy was to was to focus on the shortcuts and revising my strong points so that those questions give a sure shot at a good percentile.
Careers360: What was the one thing that you did consistently during your preparation?
Arya: I took out time to relax and let the mind rest for some time every day wherever, whenever possible because while hard work is important, too much of it leads to burnout and reduced performance. Aspirants should also know when to stop, unwind and take a break – it doesn't hamper one's performance, instead it boosts it, refreshes the mind for working anew.
Careers360: When did you start taking mock test and what was the frequency? How did you get it analysed and integrate it in your preparation?
Arya: As had been explained in my timetable for the preparation, I started taking mocks right from the start of my preparation. At the start, a five-month mark, it was one mock per week on every Sunday and its analysis on that very day. This continued until the last one-month mark when I increased it to three or four mocks a week along with their analysis. I know this doesn't sound easy but I believe it is necessary during the last mile to the exam.
After every mock, I analysed the solutions in detail, how much time was spent on each question, and thus identified which were my strong and weak areas. Likewise, I adjusted my preparation and mock solving strategy to focus first on my stronger and then on my weaker areas during taking the test. It also helped me to recognise which questions to attempt and which to leave since they might be unnecessarily time consuming, especially in the logical ability section.
Careers360: How should someone with non-English background prepare for the exam?
Arya: The only way to improve one's verbal ability is to read. Read newspapers, online articles, blogs and most importantly read books, whoever catches one's fancy. With this one can develop one's reading and comprehension capabilities even if one is from a non-English background – the main thing is to understand what is being conveyed through the question and answer it.
Careers360: What was your exam day strategy in terms of question selection, time management, accuracy and sectional attempts/cutoffs?
Arya: In each of the sections I focused on my strong suits such as arithmetic, geometry, algebra for quants, Reading Comprehension in Verbal – I focused on solving them first and if time permitted I moved on to the more time consuming ones. No unnecessary risks were taken since mistakes carry negatives but one should not worry about leaving too many unanswered, as the penalty for that is negligible compared to getting it wrong. I had to balance accuracy with speed, which was not an easy task and one can only get better at it with practice.
Since XAT has reasonably high cutoffs, especially in the Decision-Making section, so I had to be extra careful there and only attempted those I was sure of getting right. For the other sections, the general strategy followed was as had been mentioned above, with a few calculated risks in the quants and verbal section.
Careers360: Preparing for XAT is a long and tiring process. How do you suggest one should keep his/her calm and confidence?
Arya: The need to take a break, relax and refresh is as important for preparation as is hard work. For me, unwinding with a cup of coffee and a good book provided the much needed break and peace of mind which is crucial for a steady preparation amidst all the pressure.
I would suggest aspirants find what makes them calm, puts a smile on their faces, does not have to be anything big, even something simple as listening to one's favourite song will do the trick. Once they have identified it that action can be repeated at regular intervals to cope with the pressure of preparation. Meditating helps too by clearing the mind and helping one focus.
Careers360: What is your message for XAT 2019 aspirants?
Arya: Stick to your schedule, keep calm and keep on practising diligently. Once you get the hang of it, XAT is nothing but a test of your presence of mind and common sense. Don't fret or despair.