XAT 2016: Strategy for Paper 2


Incomplete preparation is the worst situation to face before an exam. If you are prepared only for one section and not for the other, you can never secure full marks or clear the cutoff. This statement stands correct for all national level management entrance tests. The Xavier Aptitude Test- XAT is divided into two sections- Paper 1 and Paper 2. As a test taker if you think preparing for Paper 1 will make you secure a high percentile, you may require to change your thoughts.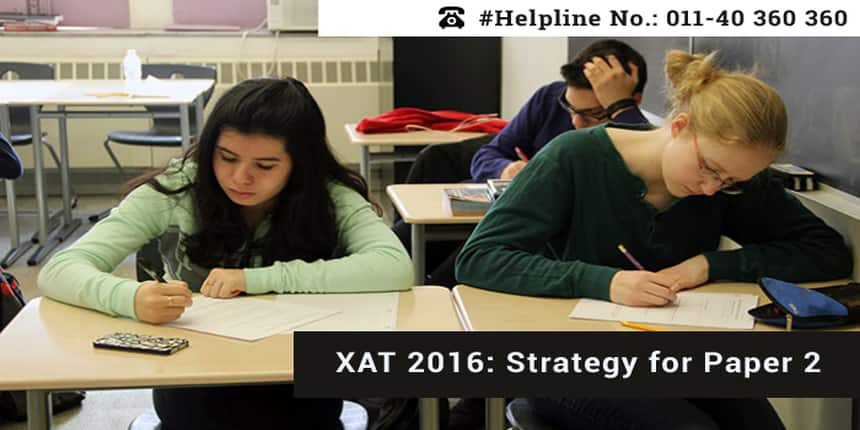 Recent Posts:
XAT will have a sectional cutoff, meaning you must at least secure minimum marks in each paper to get shortlisted. And this will happen only if you are well prepared for both the XAT Papers. After the feature article on Paper 1 Strategy for XAT, Careers360 presents 'XAT 2016 Strategy for Paper 2', to support you in having a complete preparation for XAT 2016.


As per the new XAT 2016 Exam Pattern, the time allotted to answer this paper is now 35 minutes, compared to last year's 30 minutes. The number of questions in this section has been reduced to 25 from 30, making this section a bit easier for the students to attempt. This paper will judge students' knowledge on current issues, facts, and coherence of thoughts.  Let's start with topic wise strategy for General Knowledge and Essay Writing.


[Click Here to Enroll Complete Xavier Aptitude Test (XAT) Online Test Pack to get admission in XLRI's]
XAT 2016- Strategy to crack GK
GK was introduced in XAT in the year 2013, with most of the questions from static GK compared to current affairs. Over the years, greater emphasis has been laid on economics and business related questions in XAT. It is important for aspirants to prepare for this section by reading newspapers, keeping a tab on current affairs, and solving questions from past years' papers.


XAT Topper Tarun on preparing for GK says, "You must read a lot, mark new words and learn their meanings. Also, solve this section via mock-tests". Another topper, Ancy Varghese shares, "General Awareness was an area which required much attention in my case. So I made sure I was updated with the recent happenings around the globe through newspapers, blogs, and discussions with the peers".


It is important for the candidates to treat newspapers and GK books as their friends. With hardly a month left to solve various mock tests available online.
XAT 2016- Strategy to ace Essay Writing
This section might be a stress for a few candidates, as it requires a stronger mental element to complete and succeed. The topics in this section are based on either a common phrase or an idiom with a philosophical hint implied within. The XAT examiners look for language proficiency, coherence of thoughts, mental level and writing structure. To ace this section you need to develop your mind with facts, events or quotations and presenting them in a crisp writing style.
Nishtha, XAT Topper, suggests on preparing for the essay writing section. She says. "A lot of reading is essential in order to write brief and effective essays for the Essay writing section, I used to read newspaper daily to stay in touch with the world. However, just reading doesn't help. I also used to write one essay per day. It helped me get in the flow of writing".


Being specific and avoiding clichéd or generic statements is a must to score well in this section. For essays, since the nature of topics might be difficult to predict, read newspapers daily, especially the editorial section. "To summarize, the strategy must be practice, find problem areas, implement, practice again, crack the paper", explains Maulik Gandhi, XLRI XAT topper.  


XAT 2016 Fast Facts:
XAT has been announced with major changes in terms of its pattern, total questions, duration and marking scheme. The Paper 1 of XAT will now have 78 questions to be attempted in 170 minutes. This paper will have sections like- Quantitative Ability & Data Interpretation, Verbal Ability, and Decision Making & Analytical Reasoning)Quantitative Ability & Data Interpretation, Verbal Ability, and Decision Making & Analytical Reasoning having 26, 23 and 29 questions. 
Paper 2 will have general knowledge and essay writing. This will have 25 questions to be completed in 35 minutes. It is likely that XAT 2016 will be easy to attempt. There have also been a few changes in the marking scheme. After 13 un-attempted questions, there will be a negative marking of 0.05 marks from the 14th question onwards. There will also be negative marking of 0.25 marks for any wrong answer. 
Xavier Aptitude Test (XAT), conducted by XLRI Jamshedpur, is one of the biggest national level MBA entrance exam aspired by the majority of the MBA aspirants. Last year the exam was taken by over 90,000 candidates. XAT 2016 scores will be accepted by XLRI Jamshedpur, Xavier Associate Management Institutes and other 141 B-schools across India for admission. XAT 2016 will be conducted on Sunday, January 3, 2016.


Also Read:
Top B-schools Accepting XAT Scores
Other Feature Stories on B-School and MBA:
Stay tuned to www.bschool.careers360.com for more news and updates
Questions related to XAT
Showing 866 out of 866 Questions