XAT 2016 Analysis: Moderate difficulty level


XAT 2016 Analysis: XAT 2016 concluded on January 3 with the changed exam pattern bringing ease to students on time management even as the difficulty level turned out to be of 'moderate level' this year. The one-day paper-pencil based test was conducted simultaneously across 47 cities in India and 2 international cities.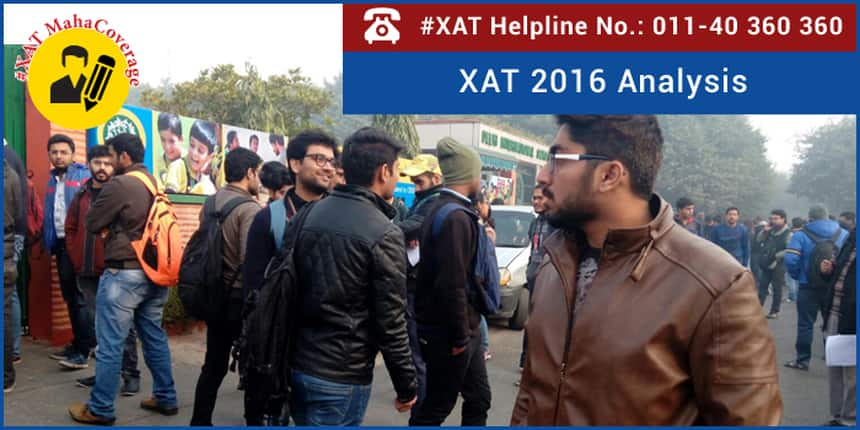 Recent Posts:
This year the question paper carried a total of 78 questions in Paper-1; and Paper-2 carried 25 GK questions along with Essay Writing. XAT 2016 Analysis brings you feedback from students and expert take on expected cutoff for B-school admissions through XAT 2016.

[Click Here to Enroll Complete Xavier Aptitude Test (XAT) Online Test Pack to get admission in XLRI's]
Also Check: XAT 2016 Exam Day in Pics - Live Reporting
Also Check: XAT 2016 Answer key
XAT 2016 Analysis:
According to the candidates who appeared for the exam, the change in pattern was good thanks to the increased duration of the exam. They, however, said the exam was more or less at the same difficulty level that of CAT 2015.
Brief Analysis by CL Expert - Gautam Puri
While announcing pattern changes in XAT 2016, officials had indicated that question paper would be of moderate difficulty level. "After XLRI had changed the exam pattern, we were expecting an easy paper this year. But this was of moderate level and was close to that of CAT 2015 paper," said Anurag Rathi, who appeared at an exam centre in Dwarka (Delhi-NCR). He said that the Quant section had a few questions which consumed more than expected time and led to a reduced number of attempts.
Ranjana Thakur, who appeared from another XAT exam center, said the overall the paper was good but the decision making had some really tricky questions. She also shared that it was her second attempt and she did find the difficulty level a little easier than the last year.
Though XAT had introduced negative marking for not attempting the questions, the majority of the candidates said it did not make any difference to their choice of attempts. "Since the negative marking was only .05 for one un-attempted questions, I did not think of it as a deciding factor for my attempts," said Ashmit, who took XAT for the second time.
The XAT takers told Careers360 reporting team at an exam center that General Knowledge section in Paper 2 was easy with most of the questions related to economy, international relations and politics. 
Students reaction form XAT Exam Centre-
XAT 2016, which is primarily the entrance exam for XLRI Jamshedpur, is also an accepted MBA entrance exam by over 140 B-schools across India. This year, Xavier Aptitude Test (XAT) had undergone several changes in terms of the exam pattern and marking scheme. 
For the first time, XLRI had revealed the total number of questions for its exam in advance. Despite reducing the number of questions from 84 to 78 this year, the duration of the exam was, however, increased by 20 minutes to 170 minutes for paper 1. The marking scheme for this XAT 2016 has also undergone change with introduction of negative marking scheme for un-attempted questions as well. Beyond 13 un-attempted questions, each un-attempted question will invite a negative marking of 0.05 marks.
XAT 2016 Pattern:
The exam pattern of XAT 2016 was as below:
| | | | | |
| --- | --- | --- | --- | --- |
|   |  Section |  Area | Number of Question |  Marks |
|  Paper 1 |  Section A |  Verbal and Logical Ability |  26 |  26 |
|   |  Section B |  Decision Making  |  23 |  23 |
|   |  Section C |  Quantitative Ability and Data Interpretation |  29 |  29 |
|   |  Total |   |  78 |  78 |
|  Paper 2 |  General Knowledge |   |  25 |  25 |
|   |  Essay Writing |   |   |   |
Section-wise Analysis by Vistamind:
Verbal and Logical Ability: Of the 12 questions in the Verbal & Logical Area, Six questions were critical reasoning questions, which had very close answers. Even the Vocab based questions were not direct and required high knowledge of vocabulary and Usage While the section heading says it is Verbal and Logical ability, the section was surfeit with critical reasoning and verbal logic. The Para Jumbles and Para Completion (logical completion of the passages) were not very difficult but required one to spend couple of minutes on each question. Of the two Para Jumbles questions, one has been taken from the Feynman Lectures and the second one from a book 'Lectures and Conversations on Aesthetics, Psychology and Religious beliefs".
Decision Making:  The composition of the section included 9 sets with 23 questions in total. Four sets of these were with 2 questions each and Five of them with 3 questions each.
One set on matching criteria for buying a flat was probably the easiest among all the sets. Another set on Crops and the decision to plan these crops across the months in a year was probably the only set which could have definite answers. Every other set had very close answers choices and were too close to call.
Quantitative Ability and Data Interpretation: The QA and DI section probably was easier than the other two. Of the 22 questions in Quant area, Numbers and Geometry/Mensuration accounted for 11 questions. The section had 6 questions of arithmetic and a question each in Venn Diagrams, Functions, Heights & Distances and a miscellaneous (Order ranking) question.
Data Interpretation was however, a different ball game. The two sets were very difficult to interpret at first glance. The bar chart on Salaries at a campus was solvable but required patience to understand. Even in this set, the answers to at least two questions were very close and could go either way. The set on 'Shop types' was much more difficult to interpret, especially in an exam situation.
XAT 2016: Sectional vs. Overall Cutoffs
XAT percentile is based on the performance of paper 1 only. The performance in paper 2 is considered at next stage of selection process by selected institutes. While XLRI, SP Jain and XIMB have sectional and total cutoffs, almost all other institutes using XAT score for short listing students for their MBA program do it on the basis of the total XAT score only.
Till last year, for XLRI, a double digit score in each section and an overall score of 28-30 was usually sufficient to clear all cut off (95%ile for BM). This year with the extra 30 minutes and lower level of difficulty this should go up. Since the extra time would be utilized mainly in QADI and DM, the cutoffs for these two sections could go up.
For a final conversion one should preferably have a score of 98%ile because XAT score has a 65% weight in the final score. The components of the balance 35% are 5% for work experience, 10% each for GD and Interview and 10% for Academics, Essay and GK,
Percentiles are calculated only on the basis of the three sections of Aptitude (QADI, VLA and DM).  While XLRI short lists students on the basis of their percentile scores in the aptitude section only but usually candidates with a very low GK score usually do not make it to the final list of XLRI.  GK and Essay scores are considered only by XLRI and that too at the interview stage. Other XAT institutes ignore (or do not have) the Essay and GK scores and short-list candidates for the interview only on the basis of the aptitude percentile score only.
The cut off for the last three XAT papers for XLRI, brings you a fair idea on your admission chances. Experts also suggest target score for admission 2016 in the table given below: The cut off for XIMB and SP Jain are typically same as that of XLRI BM but that of other top institutes are typically a couple of marks less.
| | | | | | | | |
| --- | --- | --- | --- | --- | --- | --- | --- |
| Section | 2016 | 2015 |   | 2014 |   | 2013 |   |
|   | Target Score | BM | HRM | BM | HRM | BM | HRM |
| Verbal & Logical Ability | 15 | 7.5 | 8.5 | 7.5 | 8.5 | 8.25 | 9 |
| Decision-Making | 15 | 8.5 | 8.5 | 8.5 | 8.5 | 9 | 9 |
| Quantitative Ability | 20 | 8 | 5.5 | 8 | 5.5 | 9.5 | 6.25 |
| Total Aptitude | 50 | 29.5 | 27.5 | 27.75 | 24.75 | 29.25 | 27.25 |
Arks Srinivas, CEO, VistaMind, however, expects the cutoff to be on the lower side this year. "Despite the time allotted for the exam going up, the cutoffs will still not be high in XAT 2016. For a person who has attempted reasonably well in the paper, it is advisable to apply to some of the institutes under XAT and expect GDPI calls!," he advises.
Also Read:
Top B-schools accepting XAT scores and cutoffs
Stay tuned to bschool.careers360.com for more news and updates on MBA entrance exams.
Questions related to XAT
Showing 870 out of 870 Questions