Why students should start early preparation for CAT 2020? - Expert Column by Director of Hitbullseye
Why students should start early preparation for CAT 2020 - In present times of COVID 19 pandemic, uncertainty looms large for students who are preparing for various competitive exams. Considering this fear of unknown grappling in everyone's mind, it is extremely difficult to keep oneself motivated and focused on career goals. A famous quote by Abraham Lincoln "Give me six hours to chop down a tree and I will spend the first four sharpening the axe" rightfully captures the essence of a student's struggle for achieving success in the CAT exam. In the following article, Hirdesh Madan - Director Hitbullseye tries to address your concerns about the academic trajectory that you should embark on and most importantly why you should start preparing for the Common Admission Test 2020 immediately. These unprecedented times and nature of events are obviously and rightfully creating anxiety and stress for CAT aspirants about how this situation shall unfold.
Latest- Candidates can now download CAT 2020 admit card. Know all about CAT Mock Test 2020.
Stay up-to date with CAT News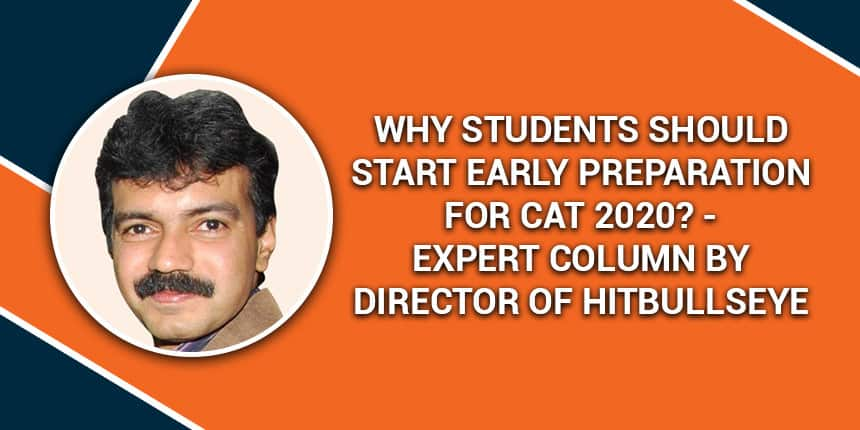 Important Points as to Why students should start early preparation for CAT 2020
First and foremost, you must acknowledge the fact that there are thousands like you who are sharing the same feeling of unease but you need to take the plunge and start your CAT preparation without wasting a single minute.
There are quite a few important points that we would like to bring to your notice which would convince you of starting your preparation for CAT 2020 right away. With academic institutions closed, students have ample time for self-study and strategy formulation. Due to forced lockdown students have to remain indoors which again is a blessing in disguise.
Understanding the CAT pattern
It is of utmost importance that you do a detailed study of the CAT exam pattern as it will familiarize you with the specifics of the exam such as time duration, number of questions in each section, tentative dates for registration and form filling, etc.
Course evaluation
Planning and strategy formulation is the second most important step in your CAT preparation journey. A thorough analysis of the study material that you need to cover in the time duration of around six months will give you an idea about the number of hours that you need to allocate for CAT preparation.
Assessment of one's weak and strong academic areas
Many students fail to realize the importance of this exercise as they think it is a waste of time. But from our past academic experience, we can vouch for the fact that assessment of your core strengths and weaknesses pertaining to various subjects will help you prepare in a better manner. It has been observed that those students who score well in the verbal ability section face difficulty in attempting the quantitative aptitude section or vice-versa.
Scheduling and a well-formulated time table
Discipline and persistence are two key traits that will help you crack CAT 2020. Many past CAT toppers have laid emphasis on the importance of a well-formulated time table as it helps a student to study systematically and in a structured manner. Allocating more hours for difficult concepts and less number of hours for easier ones should be the guiding principle in planning the time table.
Guidance from online platforms
CAT aspirants should not hesitate to seek help if they are facing a problem during their exam preparation. Online Classroom Coaching for CAT provided by hitbullseye is a comprehensive program for students as it incorporates all the essential elements necessary to clear CAT 2020.
Addressing problem areas through online counseling
The right study environment facilitates understanding and anything hampering the learning process should be addressed. Cloistered in a room and surrounded by books could be a disheartening sight but making the most of this distraction-free time could lead you to achieve your aim. Students should clear their doubts through online doubt sessions held by various coaching institutions.
Mock tests and analysis
The one thing you need to do right throughout your preparation is to constantly evaluate your learning and ensure that you are achieving your learning milestones. This can be done by regularly taking CAT mock tests as it will help you gauge which are the areas where you are lagging behind.
Follow a routine
It is extremely important that you follow a routine so that you devote a fixed number of hours for CAT preparation and not deviate from it.
Remain calm, stay focused and keep practicing
Remember that the time that you are spending on grasping the fundamentals of each subject area will boost your confidence. This preparation will help you have an edge over other CAT aspirants and moreover these initial months of hard work will enhance your knowledge of different sections.
Last but not least, make the most of this quarantine time that you are all in and put in efforts in the right direction so that you fare successfully in CAT 2020.
Questions related to CAT
Showing 9986 out of 9986 Questions