Why I Chose FMS Over IIMs - Radhika, CAT Topper 2021
Radhika Mohta, 99.65 percentiler in CAT 2021 indeed turns out to be a gem of a girl who has converted all the top IIMs and Faculty of Management Studies (FMS). She has completed her Bachelor's in Information Technology and during the course of her job as a UI/ UX developer, she realized her interests lie in the business side of things as well.
Latest Updates for CAT
27 Dec 2022:

Click here to check out CAT 2022 topper, Adarsh Khandelwal interview who got 99.93 percentile.

21 Dec 2022:

CAT result 2022 declared. Click here to get the CAT 2022 live updates.

06 Dec 2022:

Click here to know CAT 2022 result date and timings.
Stay up-to date with CAT News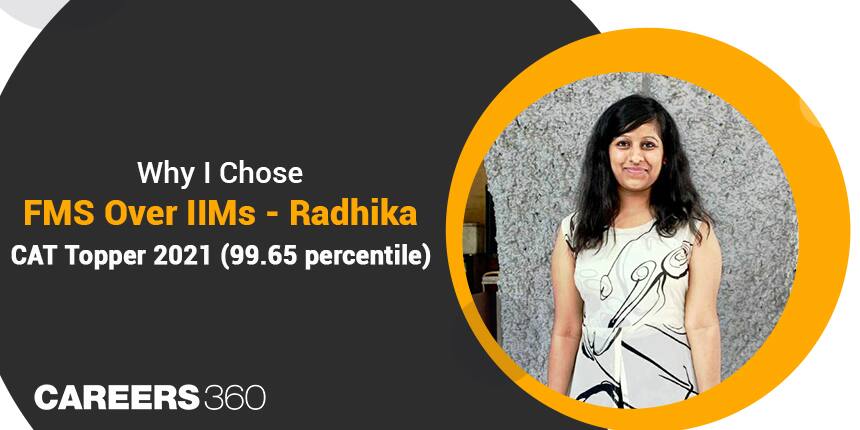 To cover that aspect she prepared and appeared for CAT in 2021, and as luck and her determination ofcourse, would have it, she has been offered IIM MBA admission by IIM A, IIM B, IIM L, IIM K, IIM I amongst other IIMs along with FMS Delhi. While she makes a choice between which one to join for IIM admission, she pens down her strategy for CAT and WAT/ PI process for IIM admission interview. Let us find out what CAT 2021 topper has to say for CAT 2022 aspirants via Careers360 platform about IIM MBA admission interview.
Read more-
Careers360: Congratulations on converting to your desired institute! How do you feel?
Radhika: Blessed and grateful.
Blessed to have the support of family and friends throughout the journey, and grateful to even have a chance to appear for interviews at such coveted institutes. I just used to see people making it to these colleges and I used to think will it ever be a possibility for me. To everyone on the same boat right now, I just want to say, do not be intimidated by the achievements of others. Just keep doing your best and eventually it will all make sense. And always ask for help when you are stuck, as all the students making it to the institutes were once aspirants, so they can guide you better towards your destination.
Careers360: Which top B-schools have offered you admission and which one have you finally chosen?
Radhika: FMS and BLACKI. I am going to the Faculty of Management Studies, Delhi as it has long been my dream college. After having converted all of the best ones, I could not find major differences between them based on what I expect from the institute where I pursue my MBA from. I put in a lot of thought and then arrived at the decision which seemed the best for me. The return on investment that FMS offers, along with the faculty, peer group and placement stats, and the location advantage of being in Delhi, there could not be a better match possible.
Careers360: How did you perform in CAT 2021? Please share your overall and sectional CAT percentile.
Radhika: I performed way better than I had expected from myself, my mock percentile never went beyond a 95, I guess. This also proves that one should not get disheartened by mocks ever, they are a reflection of your current level of preparation and not the mirror of your actual test. And analyze them to identify your strengths and weaknesses and plan out a strategy tailor made to suit you.
Overall score 111.05
Overall percentile 99.65
Section wise - name score (percentile)
VARC 99.20/ DILR 99.75/ QA 96.41
Careers360: How was your overall experience of the selection procedure followed at the said institute?
Radhika: The best thing about FMS is the legacy it maintains for declaring the first list of candidates who got in. So, the interviews went on from April 18 to 23, and first list was out on April 24. The process was a smooth one, with candidates being given days and slots based on the CAT percentile. On the day of the interview, after a document verification round, we were sent to our respective panels. And it was an extempore followed by the discussion of SOP (which we are very much expected to know line by line beforehand). One unique thing we felt was that extempore topics were not so random as they looked like. Each of us got something we had either mentioned in passing in our Statement of Purpose or had in our profiles somewhere. Say a girl called Drishti could have "Eyes" and a boy called Lakshya could have "Goal" for the topic. For me the panel was very friendly and supportive and they let me perform my best that day.
Careers360: In this pandemic situation, was your PI/ WAT conducted in person or was conducted online? How was your PI-WAT experience?
Radhika: Every college followed a different procedure for the PI/WAT, but definitely the online process saved us from travelling to and fro to the colleges and missing out on some other interviews. But the fact we could have seen the campuses in person would have been an altogether different experience had it been offline. While mostly all colleges have done off with the WAT round, IIM Bangalore still took it on the Mettl platform. And while all colleges had it purely online or offline, IIM Ahmedabad struck an in between path, they had virtual conference rooms, even for the ones who had the interview location as the campus itself, they too were in a Video conferencing setup. And yeah, the toffees were still there. FMS had it on campus, and they offered us snacks and beverages post the interview, and the chance to visit the campus in person too. We loved the hospitality offered by them to students who had travelled from far off places to appear for the interviews.
Careers360: What was your WAT/ PI topic and how did you prepare for it? Please share your personal interview questions.
Radhika: My personal interviews mostly used to be a discussion about my background and then about general awareness. For WAT, I used to practice typing essays and putting down my thoughts in a logical fashion, and also writing it in pen and paper without being very clumsy and making too many mistakes which would leave the paper illegible. Also, it is important to go through the previous year's topics to understand what could be expected. For PI, it is intensive preparation, because there is no defined material that one can refer to. Keeping a notebook of current affairs helps a lot, one can regularly update it and revise just before the interviews. And having clarity and knowledge about history of one's city, state, culture, country, organization they work for, college they went to, politics, demographics, hobbies they pursue, future plans, et cetera, is also necessary because they are the major talking points during an interview.
Careers360: Can you share some Do's and Don'ts when one cannot answer the WAT/ PI topic.
Radhika: Maintaining your composure and staying calm in difficult situations is what stands out in an interview.
Do's
Do maintain a pleasant smile and a calm composure.

Do prepare yourself well in advance with GK and Current affairs so that you are confident in the interview.
Don'ts
Don't get nervous as it shows up on your face.

Don't hesitate to say "I'm sorry, but I do not know that". You are not expected to be an encyclopedia or knowledge house.
Careers360: What were the most fascinating questions you were asked during IIM interview and what were your answers to them?
So, there was one Interview where the interviewer asked me 4+3=13. I honestly don't know if that was a question to test my aptitude or attitude towards it. What I did was, that I wrote it down, and tried working out a way to come to that. I wrote it in Roman numerals like IV + III = XIII and explained to the interviewer how they were all sticks and we could rearrange them in this manner. The interviewer was amused and laughed too at the thought process. He told me that is not what his variant of answer would have been, but he liked the method used. And guess what, I did convert that call (IIM Indore it was). To the panelist if he ever reads this, I'm still looking for an answer to 3+4=13 :p
Careers360: According to you, what are the attributes or qualities that the interview board looks for in a candidate while selecting him/her for final admission?
I think being real is what would matter in an interview. Being real to yourself and to the interviewer. They are looking for candidates who can put in the amount of dedication and hard work required in the 2-year course. So that is why they look into past acads as well to be sure of the consistency in performance. Similarly, they look for candidates who can get placed in top notch companies with the least amount of effort, past work ex and certifications can be a reflection of that. After giving CAT, interview is just the process where it is being seen that the right ones make through the doors of these institutes. And the attributes or qualities that the right one would have, is just to be able to give his/her best during the course and take be the torch bearer to the institute.
Careers360: Your final message and tips for candidates preparing for CAT 2022.
Radhika: Preparing for CAT is actually a management course in itself. You learn to balance work with your studies, to be effective inspite of sleeping for maybe 5-6 hours a day. You learn to prioritize things and say "No" to unnecessary activities that eat up your time. You learn "Consistency is key".
Parting thoughts, do not focus on destinations, the journey is life, and make it memorable. Because, "Safar khoobsoorat hai manzil se bhi"
Questions related to CAT
Showing 10442 out of 10442 Questions