Why is Experiential Learning a key component of Business Education
One of the objectives of management studies is that it enables the students to learn by doing. An MBA or PGDM programme is not just about theory or attending classrooms or studying in the library. It is often about learning by dirtying your hands, which is referred to as Experiential Learning. How important is Experiential Learning and why should one practice it in order to be a good manager? Gautam Lakhamraju, Co-Director Admissions, Great Lakes Gurgaon writes this exclusive column with Careers360 on all about Experiential Learning.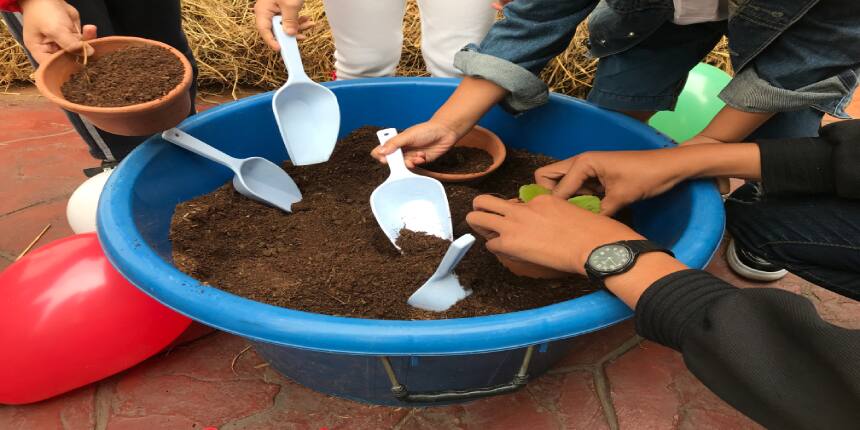 Gautam Lakhamraju is the Chief Marketing Officer and Director-Admissions of Great Lakes Institute of Management (Gurgaon Campus). He leads the marketing and admissions activities and has played a key role in the growth of the institution into one of the leading business schools in India. Prior to Great Lakes, he worked as a Management Consultant at ICRA Management Consulting Services. Lakhamraju has an MBA from MDI, Gurgaon and B.Tech from DA-IICT, Gandhinagar.

You May Also Like:
Read the column by Gautam Lakhamraju of Great Lakes Institute of Management below.
Experiential Learning, in layman's terms, can be defined as learning by doing and reflecting on what has been done. The term, coined by David Kolb in 1984, has become an integral part of quality Business education around the world.

The simplest example of experiential learning is going to the zoo or a jungle safari and learning through observation and interaction with the animals, as opposed to simply reading about them from a book. Thus, one makes discoveries and experiments with first-hand knowledge.
Likewise, in business schools, opportunities such as internships, job-shadowing, live projects, etc. in a student's field of interest offer valuable first-hand learning experience which significantly enhances his/her overall understanding of the real-world business environment.
See Also:

Here are a few major reasons as to why Experiential Learning has become a significant part of Business Education:

• Bridging the gap between theory and practice


As explained in the zoo example above, experiential learning provides the students with valuable hands-on experience, which plays an important role in retaining key concepts and ideas. The students get to experiment as they receive real-time feedback and the opportunity to reflect. Experiencing concepts like leadership in the real-world environments accelerates learning by allowing students to develop their critical thinking, problem-solving and decision-making skills.
Students also Liked:

• Personalised Learning

Experiential learning is a personalised approach towards education. Each student has the freedom to set their own pace and be as creative as they like. Mistakes are celebrated as valuable learning curves and there is no set formula for success. Studies have shown that personalised experiences positively affect how the brain receives and perceives new information and memories that are personal in nature are most likely to stay in the conscience for long-term available for later retrieval.

• Higher ROI and success rates

The knowledge and skills gained in an experiential learning course are adaptive and readily applicable. Thus, experiential learning produces self-driven professionals who have gained the first-hand knowledge of what is required to achieve real-world success. From a financial point of view, this makes them a great asset for the business as they bring in higher ROI and are able to command better compensation.

With time, the experiential learning models have evolved considerably and are no longer limited to summer internships, especially with one-year MBA programmes gaining popularity where 9-week internship model is not feasible. This gave rise to extensive innovation in the experiential learning models which aim to provide the students with hands-on experience in solving real-world challenges and developing leadership capabilities.

Read Also:

Prominent Experiential Learning Models

• Live Projects: Most B-schools offering the one year MBA programme focus extensively on live projects and empirical studies as experiential learning models to advance the students' business acumen and knowledge and turn them into business-ready managers. Under the live projects, students are required to do a real-life study and solve an actual business problem faced by an organisation under the guidance of best people from industry and academics.
Working side-by-side with the faculty and industry mentors to solve real problems is an extremely important form of learning for the students, the most practical benefit of which is hands-on insight of culling out relevant information, gathering, analysing and interpreting data, and presenting the output in a manner that'll have an impact on the functioning of the business.
Quick Links-

• Learning from industry leaders: Guest speakers who hold the top level managerial positions have become an important component of the educational experience for B-School students. The CXOs and seasoned professionals expose the students to the real-life experiences that they have gone through being right in the middle of the corporate action. They share the unique perspectives of working in their respective fields and offer a 360 degree understanding of the challenges and triumphs of the business world. Apart from getting a glimpse into the everyday life of the speaker, which they can't get anywhere else, the most important benefit that the students derive from such interactions is the networking opportunity with the speaker that can and will help them immensely in their careers.

• Experiential Learning Action Programmes: In order to deliver high impact learning that facilitates a complete overhaul in a student's approach towards finding solutions to problems, top-tier B-schools emphasise on action-oriented training. Where classroom teaching is rendered inadequate, such action programs with a focus on solving real-world problems with high stakes has proven to be one of the most effective teaching methodologies in modern education.


You may also Like:

For instance, under Michigan Ross' Experience in Action-Based Learning (REAL) programme, students are required to start and run their own business, invest and manage funds with assets worth tens of millions, consult with organisations on strategic issues etc. Stanford Global School of Business offers similar experiential action programmes which facilitate learning in the real world. Another example is Wharton's Leadership Learning programme focused on developing leadership qualities in the students. Similarly, Great Lakes Institute of Management's Karma Yoga Leadership Experiential Action Program (LEAP), focuses on cultivating leadership qualities by allowing students to enhance the self-esteem and self-efficacy of the less fortunate people and empowering them to lead a better quality life. Kellogg School of Management and MIT Sloan also share similar kind of action programs where students work as official consultants to organisations.

To conclude, the knowledge gained through experiential learning projects is in the form of insight into the real-life challenges and techniques of finding their solutions. This helps the students to develop leadership, critical thinking and prompt decision making qualities so that they can apply them at appropriate junctures in organisations.

Other Popular Universities
Read More:
Great Lakes Gurgaon Updates and Articles
Questions related to Great Lakes Gurgaon
Showing 38 out of 38 Questions