What after Graduation? Higher Studies or Jobs - Know Views of Satya Narayanan & Gautam Puri, Career Launcher
After completing graduation the most basic issue faced by students is whether to take up a job or pursue higher studies for advancement/betterment of career. Definitely there is inconclusiveness in the minds of students regarding the future scenario especially post COVID 19 world. Things are definitely going to change completely. Careers360 along with Satya Narayanan R (Founder Career Launcher) and Gautam Puri (VC & MD, Career Launcher) address issues related to what students should do in case of such a dilemma. Read the complete one on one conversation to have better understanding and insights of the same.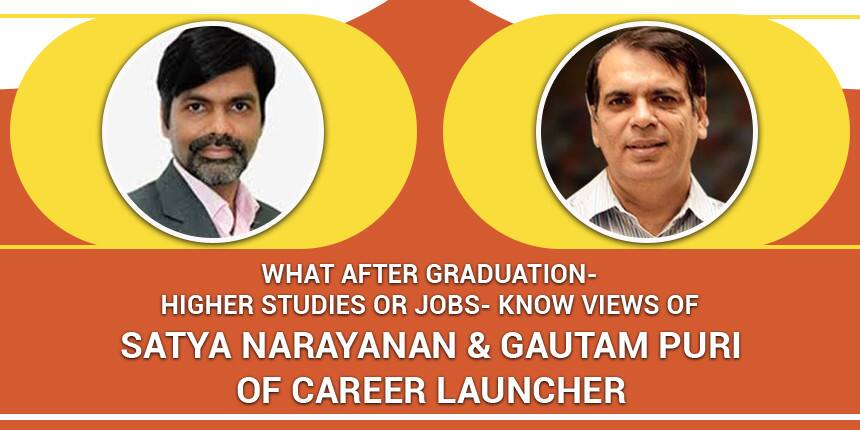 Question - What should be the critical attitude for a candidate to be an MBA graduate?
Satya Narayanan R - In all sorts of organizations, there is a need of all kinds of specialists who are good in operations, HR etc., and there is somebody who is good in all aspects but has more of a horizontal inclination towards everything. So, to pursue an MBA programme, students need to be horizontal experts in everything. As per Satya Narayanan R, a degree from a top institute is not a path to success. It is better to have work experience before pursuing higher studies (especially MBA) as the learning experience and outcome is far better.
Question - In this situation of COVID 19 where the jobs are in question, do you advise a child to leave a job and get admission in MBA or postpone the decision of doing MBA for some time?
Satya Narayanan R - Keeping in mind the current scenario, I would look at the situation into two-three aspects. Do we talk about a one year programme? Or a two-year programme? In one year programme from any institute, you get a brief about things and the year ends in a blink of an eye. Moreover, students need to check if it is bringing a financial burden in terms of education loan. Will the same be fruitful?
Whereas when we talk about the two years programme, if we say for students who will take up CAT 2020 and upcoming 2021-23, this is perhaps a very good time to attempt for the same simply because the economy is having a downturn and students who are already in jobs as productive members will be learners. If students join in 2021 after opting for CAT 2020, and graduating in 2023 the same will be perfectly conducive.
So as per experts Satya Narayanan R ( Founder Career Launcher) & Gautam Puri (VC & MD, Career Launcher), students should by default go for the two years programme. But in the case of programmes having a duration of one year, the whole scenario needs to be evaluated.
Question - Is there a difference between PGDM and MBA? What should a candidate opt for?
Gautam Puri - This is a topic on which a blog post can be written. Students need to understand that a degree can be given only by a University / Deemed University. Where an institute which is Autonomous gives a Diploma which is certified by AICTE. Even till last year IIMs were giving PGDM but since the IIM bill has been passed, IIMs can also give a degree. But this does not change things practically. Go for a programme that is cheaper. Why go for a programme that is providing equal opportunities but taking more money?
Question - What is the career path for students who have already done post-graduation in mathematics especially?
Satya Narayanan R - Two things need to be connected, what is the kind of career/job that students are willing to do for next 20-30 years which is mainly led by areas of interest. Then match the same with the external opportunities which are existing in the market. Such students can pick up civil services, management, hospitality, airlines, operations that have math-related background. All things will be funnelled by the area of interest.
Question - Should BBA-LLB students opt for MBA? If so, then what will be the career prospects?
Gautam Puri - A course like BBA-LLB puts students in a very compelling situation where students have two broad areas of career. Definitely BBA-LLB students can pursue MBA courses. What happens is students after completing grade 12 go for a course in which they have been influenced by people surrounding them. For Law aspiring students, there is a separate level of exam at both undergraduate and postgraduate level. The answer of doing an MBA completely depends on the area of interest of students.
Question - How does one decide if he/she should work hard for jobs or focus on getting an MBA degree? How should students find the intersection point?
Satya Narayanan R - If students are looking for higher education as considered in Northern India as "MBA ka Thappa", it may or may not give value addition in terms of learning or step jumps in terms of job/salary prospects. When the role changes the salary increases. Just because your friends are doing MBA it doesn't mean one should do it too. Whereas if we talk about jobs be it government or private after graduation, you can go for the same as work experience do count even if you plan to pursue an education in the later stage of career.
Question For a Pharmacy candidate, M.Pharm or MBA which is a better career option?
Gautam Puri - As mentioned above, both careers options will give good positions. Succeeding only in the pharmaceutical lane will have different options while going for an MBA will change the line of growth will be complementary. The only difference will be that the MBA curriculum allows students to study all areas in the first year and then choose your specialization of MBA on the basis of interest in the second year along with an internship. However, if pharmacy excites students they should not change the line and continue in the same line.
Question - What should parents suggest to their ward who is about to complete grade 10, in terms of the stream he/she should opt for?
Satya Narayanan R - It should completely be left upon the interest of the child. Especially those parents who have done well in academics, their role should be detached and focus on what their child enjoys studying as a subject. Let the area of interest be the dominating element/factor in choosing the stream. Parents should not force/burden their children by saying this stream is better and others are not. In the present time, even Universities are offering specializations in all streams apart from traditional science, commerce and arts.
Question - How does a candidate go about to start preparing for a UPSC / SSC examination?
Gautam Puri - All entrance exams, be it Civil Services, SSC or be it any the focus should be on reading aspects. Students need to get a grip on their reading habit. Read as much as possible i.e. the more students will read the better they will be. Planning is definitely essential.
As far as India is concerned, the focus of schools and colleges is very narrow. As they never encourage reading, they always focus on writing. Speaking never comes into the picture. If students wish to go for UPSC, they shouldn't wait for their graduation to be completed and then invest further two years in just preparation. Start with your first year of college, pick up the books of grade 9 and 10 NCERT books as they are essential for all competitive exams be it SSC, CAT, Banks which are aptitude in nature.
Moreover, all exams at the end will have a personal interview so be prepared. Start speaking in English as it is now the language of communication everywhere across the world. As per Gautam Puri, "It is ok to be laughed at by friends and be clear about what you need to do". The best time to prepare for anything is when you are in college because students have ample of free time there.
Question - Which is a better examination to give GATE / IES for higher studies?
Satya Narayanan R - GATE is still a next step higher order of engineering-driven technocrat jobs entry where students can get into the public sector. It allows entry to higher education and jobs not only in India but abroad as well. Whereas IES i.e. Indian Engineering Services is more of an administrative job and has a greater engineering interface. So IES will give jobs mostly in the government sector whereas GATE is a path to continue as an engineering technocrat. Both can merge at some point of time at senior levels by students.