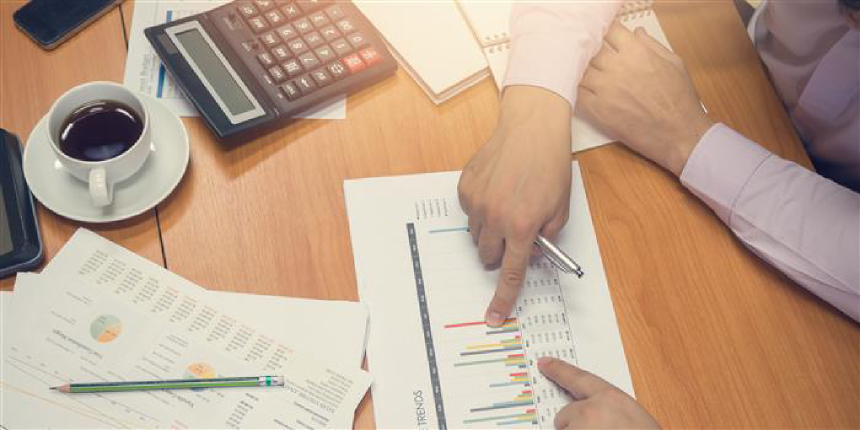 Top B-schools Accepting NMAT Scores and Cutoffs - The NMAT by GMAC 2018 exam is already underway from October 4, 2018, which makes it imperative at this time to understand the NMAT cutoff in order to boost one's preparation and secure desired percentile. Additionally, the ones who have already appeared for the exam will have a chance to improve their score since GMAC, the conducting body of the NMAT allows up to two retakes for the exam. Without further ado, let us look at the top B-schools accepting NMAT Scores and their cutoffs. 
MBA/PGDM Admissions Open 2019
IFIM Business School
The application process of NMAT 2018 has already concluded on October 14. Most of the top MBA colleges accepting NMAT 2018 scores will declare their notification for the upcoming academic year by the time the result of NMAT 2018 is released. However, based on last year's trends, the NMAT cutoffs for this year are expected to be on the similar lines as that of last year. The cutoffs for the NMAT by GMAC participating institutes are brought in the table below:
Pathfinder
Know your call chances for Admissions
Use Now
Top B-schools Accepting NMAT Scores and Cutoffs 2018
S.No.

Name of Participating Institutes

Expected Cutoff Score in NMAT

Intake seats

1

212

MBA in Finance, Information

Systems, Marketing, Operations; Decision Sciences and Analytics - 500




For MBA HRM - 60

2

Xavier School of Human Resource Management - Bhubaneswar

MBA-HRM: 87 percentile*

120

3

MBA rural Management - 50 percentile*

(*Additional cutoffs on sections are also applied)

120

4

MBA in Sustainability Management - 40 percentile

60

5

Xavier Faculty of management (Urban Management & Governance) - Bhubaneswar

MBA in Urban Management and Governance - 40 percentile

60

6

Average 200 score

140-160

7

ICFAI Business School (IBS), in Hyderabad, Kolkata, Jaipur, Ahmedabad, Pune, Gurgaon, Dehradun, Bengaluru & Mumbai

150+

NA

8

60 percentile

60

9

100+ 

180

10

85 percentile

NMAT score - 354: full fee waiver

NMAT score 325-345: 50 per cent fee waiver

120

11

For Non Sponsored category- 60 percentile

For Sponsored category- 50 percentile

NA

12

Amity Business School, Jaipur

65 percentile

NA

13

Amity Business School, Mumbai

65 percentile

NA

14

Amity Business School, Lucknow

65 percentile

NA

15

Amity Business School, Gurgaon

65 percentile

NA

16

Amity Business School, Gwalior

65 percentile

NA

17

140+

180

18

160+

120

19

140+

MBA Oil and Gas Management - 90




General MBA - 80




MBA in Logistics and Supply Chain Management - 80




MBA in Business Analytics - 50




MBA in International Business - 50




MBA in Power Management - 45




MBA in Aviation management - 30




MBA in Energy Trading - 30




MBA Port and Shipping Management - 20

20

GITAM School of International Business (GSIB), Visakhapatnam

140+ score

MBA (International Business)-120




MBA (International Banking & Finance)-60 




MBA (Global Logistics and Supply Chain Management)-60




PGDBA (Post Graduate Diploma in Business Analytics)-60

21

140+ score

NA

22

180+

60

23

 No cut off 

NA

24

40 per cent

NA

25

140+

NA

25

NA

NA

26

ITM Business School, Navi Mumbai

150+

NA

27

NA

90

28

NA

NA

29

NA

100

30 

School Of Petroleum Management, Pandit Deendayal Petroleum University, Gandhinagar




NA

60
Up to five programmes/ schools under the "School Preference" section can be opted during the time of NMAT registration. In case applicants want to select more than five programmes/schools, they will have to pay Rs.200 + applicable tax for each school/ programme. Before selecting the five institutes, candidates must extensively explore the terms and conditions as well as prerequisites of each management institution in the list of participating colleges of NMAT 2018.
Candidates who are shortlisted on the basis of their performance in NMAT by GMAC 2018, will be called for the selection rounds in accordance with the cutoffs of each participating NMAT college. The selection rounds are a set of procedures which candidates will be evaluated upon in order to finally seek admission in the desired programme. 
Typically, the selection of all NMAT participating colleges involves a similar pattern, comprising of all or any of the following stages:
Group Discussion (GD)

Written Ability Test (WAT)

Personal Interview (PI)
In some institutes such as SDA Bocconi, there is some weightage given to the following parameters besides the ones listed above:
Academic Abilities - Candidates with a consistent academic background and a demonstrated ability to work under pressure have an advantage in the selection process.

Extra-Curricular & Soft skills - Extra-curricular activities such as management experience, leadership potential, entrepreneurial experience, communication skills, creativity, and involvement in community/social clubs are additional considerations.
The selection process of NMIMS Mumbai has a slightly different approach. Instead of GD, NMIMS conducts a Case Discussion(CD) round which is not very different from Group Discussion. Candidates will be given a case brief of around one page to analyse. They will be given five minutes for the same. Once the time is up, they will be asked to discuss the case topic for about 10-15 minutes giving their inputs and will be evaluated on the same. This round evaluates the candidate's' public speaking skills similar to GD round. A personal interview (PI) round will follow thereafter. 


Gitam School of International Business, Visakhapatnam holds a selection process which is parallel to the rest of NMAT participating colleges. The selection procedures like GD/PI that are taken into consideration in GSIB Visakhapatnam during the admission process are:
Group Discussion & Personal Interview which will be conducted at Thiruvananthapuram/Bengaluru/ Chennai/ Hyderabad/ Visakhapatnam/ Bhubaneswar/  Raipur /Ranchi/Patna/ Kolkata / Guwahati/ Lucknow / Delhi/ Mumbai.

Applicants with a valid test score who suffice the cutoff can avail for the online mode of selection process. Candidates who will be unable to attend the GD in person can avail the option of appearing for Micro Presentation through Skype and also give their Personal Interview through the same medium. Slots will be available from October 2018 to February 2019 every Saturday between 10 am to 4 pm (excluding holidays).
As per the exam pattern of NMAT 2018, the exam is a two-hour computer-based test. It is conducted in a 75-day long window commencing from October 4. The last day to attempt and appear for NMAT exam 2018 is December 17, 2018. The final announcement of NMAT 2018 results will take place in the second week of January, 2019. The result will be available for download in the form of score card until March 31, 2019. 
Questions related to NMAT by GMAC