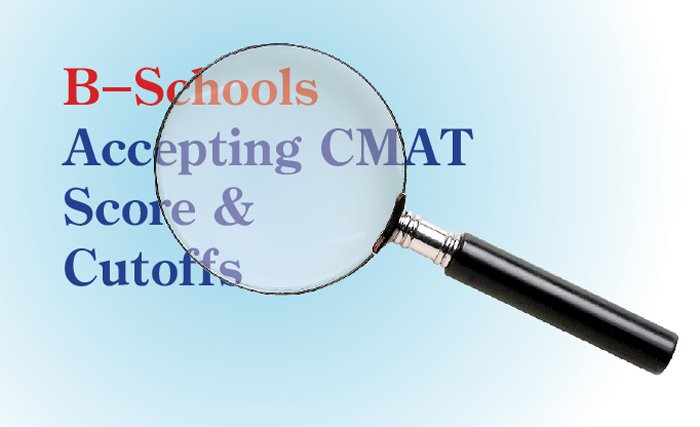 CMAT, commonly known as the Common Management Aptitude Test, is an MBA entrance exam conducted by the National Testing Agency (NTA). This year, more than 60,000 candidates have appeared for the exam out of 64,582 candidates. If you are a CMAT test taker, knowing the list of top B-schools accepting CMAT scores along with their cut off will not only help you in setting your goal but also prepare you for admissions once the results are declared.

Till 2018, CMAT was conducted by AICTE, which was taken over and conducted by NTA from 2019. Although the mode of the exam continued to be computer-based, instead of multiple day windows, the exam is held in a single day and slot across the country. The CMAT exam pattern also continues to be the same.
Latest: [Want to Know Colleges, Specialization to Apply on the basis of your CMAT Scores, Click here]
 
Unless you know which are the participating institutes and their cut-offs, you cannot really prepare yourself for the application process of a B-school of your choice. The list of CMAT cut-offs for top B-schools accepting CMAT scores will help you apply to the suitable institutes based on their applications vis-Ã -vis their scores. The cut-offs of the top B-schools accepting CMAT scores can be defined according to three parameters, scores, ranks and percentiles. In the table given below, we share with you the top B-schools accepting CMAT scores for the present and the upcoming academic year.
CMAT Pathfinder
Know your call chances for Admissions
Use Now