"Technology helped to remain connected with students, " says L.Gandhi Chairperson, Admissions - SDMIMD
Acclimatizing to the new challenge thrown to the education sector by Covid 19 pandemic, SDMIMD made adequate use of technology so as to keep in touch the students through virtual classes and ensure that the interests of the students are not jeopardized. Expressing his views on online education, L.Gandhi Chairperson- Admissions -SDMIMD stated that it is unlikely that full scale online education will replace the traditional, however, management institutes are likely to bat for blended learning. Read the full interview of L. Gandhi to know more about SDMIMD, their admission cycle, placement process, scholarships, selection process, whether preference is given to people with work experience etc.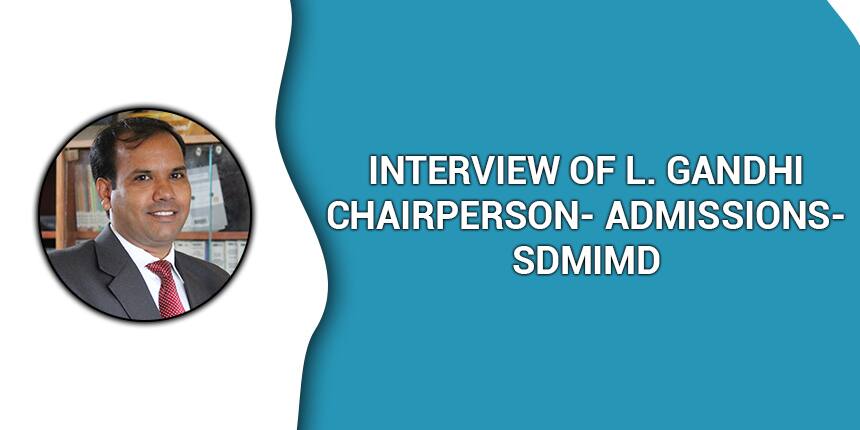 Careers360 : In wake of the COVID 19, what have been the challenges as well as the resulting impact faced at SDMIMD? What are the steps taken to combat them?
L. Gandhi : The global pandemic has thrown several challenges to the educational sector such as conducting classes, guest lectures, conferences, workshops, and campus placement interviews. SDMIMD has quickly acclimatized the challenges and implemented the most appropriate practices to conquer those challenges. Thanks to technology, we could connect with the students virtually and run classes, guest lectures, webinars, and placement processes smoothly. To keep our students constantly motivated and engaged, SDMIMD has conducted a series of webinar sessions for PGDM and PGCM students. We have also conducted panel discussions on selected topics, organized societal supportive activities during COVID time, and involved key alumni as part of the preparatory interviews and placement preparation seminars. Our alumni association 'Prerana' members have constantly helped in delivering online guest lectures and providing placement support.
Careers360: Online education is now the norm across the world. Do you envisage this to continue to become the education methodology in the future or do you think this is just a temporary phase? What according to you will be the future trends in this regard?
L. Gandhi: I strongly feel that technology support in learning is going to be crucial now and in the future. Online education cannot completely replace offline education, especially in the management field. As peer learning and activity-based learning are important components in management education, campus-based learning will stay relevant. However, the management institutes may give thought to blended learning wherever needed.
Careers360: With COVID-19 affecting the admission cycles in 2020, most institutes have shifted to an online selection process. Is SDMIMD intending to have an online selection process? If yes, please give details.
L.Gandhi: As far as 2020 admissions are concerned, SDMIMD was not at all affected by COVID and we could successfully fill all the available PGDM seats. Keeping the fingers crossed and we are looking forward to normalcy. However, we are prepared for online interviews as they are not new to our system.
Careers360: Please elaborate on your flagship programs and their notable features.
L.Gandhi: SDMIMD belongs to the Dharmasthala (https://www.shridharmasthala.org/) Trust, renowned for its philanthropic activities for the last 600 years. We have our campus in Mysore which provides residential learning to 400 students for Post-Graduate Management programs, every year. The flagship program is the 2-year PGDM (equivalent to MBA) and the students go through a host of compulsory courses, electives, projects, and cases apart from a 2-month summer internship in between the two years. This program has been recognized by the All India Council for Technical Education (AICTE) and is accredited by the National Board of Accreditation (NBA) and has been internationally accredited by ACBSP, and EFMD. We are members of AACSB as well. Recognizing the impact that our Institute has been having on its stakeholders, students, corporate bodies, regional eco-system, and the society at large, EFMD has accorded the BSIS certification to us earlier this year. Recently, our Institute has been rated in the topmost Diamond category by I-Gauge, the Indian wing of the world-renowned QS rankings. All details about our Institute can be had from www.sdmimd.ac.in.
SDMIMD has achieved 100% placements. Our regular recruiters have been with us for a long time from the domains of ITES, Manufacturing, Finance, Consulting, Equity, and FMCG fields. Every passing year we see many new recruiters coming on board for the SDMIMD campus recruitment.
Institute Highlights:
AICTE Approved | NBA Accredited | MBA Equivalence by AIU

International Accreditation by EFMD, ACBSP | Member of AACSB

BSIS Impact System Award | Diamond Rating by QS I-Gauge

Faculty with rich experience in academia and industry. Several of them have international teaching experience.

Innovation and Contemporary Pedagogy

Consistent 100% placement record with the best corporates among the regular recruiters

International Linkages with 15 Renowned Foreign Universities: Texas A&M University, USA; Shanghai University, China; University of Bordeaux, France; ESC Pau, France; University of Montevideo, Uruguay; Abu Dhabi University, UAE; British University in Dubai; Heilbronn University, Germany; National Sun Yat-sen University, Taiwan; Universidad Sergio Arboleda, Colombia; Business Analytics Institute, Europe & EAE Business School, Spain, Montpellier Business School, France, La Rochelle Business School, France, University of Dundee, UK.

National and international program accreditations and ratings creating new avenues for the students

Emphasis on Business Ethics, Values and Wellness Management

Scholarship for meritorious students worth 75 lakhs

Students from 20 states across India

Student Involvement in Research / Clubs/Fests

Best Architecture Awarded Campus

Single Occupancy hostel Rooms | Air-Conditioned Classrooms

SDMIMD is one of the site license holder institutes for Harvard Business Review (HBR) publications for their books, case studies, and teaching materials.
Achievements
5 international faculty teaching PGDM course modules.

More than 60 Corporate/Academic/Social relevant Guest Lectures by eminent speakers from India and abroad.

The record number of faculty publications

An active Centre for Research (CFR) dedicated to focused faculty research. Centre for Development Studies (CDS) for research in the areas of social relevance, NGOs, and Govt. organizations.

An active SDMIMD Alumni Association – 'PRERANA'.

Case Study based pedagogy using Harvard Business School's publications & other reputed sources

International conferences in several areas of management attended by academicians from across India and abroad. Students actively involved in the organization and conduct of the conferences

'Naissance' the students' driven management fest for B School students

Customized management education programs for the corporate executive
Careers360: Admissions are through CAT/XAT/GMAT/CMAT/ATMA/MAT. Which exam is given more preference and is there any cutoff for each exam that is used during selection?
L.Gandhi: SDMIMD selects candidates based on their profile. The competitive exams will carry a 35% weightage in the final selection. However, the candidates with high scores in CAT/XAT have a great opportunity to be on the merit list.
Careers360: Is preference given to students with work experience? What are the different parameters for admissions? Please give details for the weightage of each.
L.Gandhi:Candidates with work experience are preferred by the management institutes as they can bring their professional experiences to the classroom learning and stand a good chance in the campus interview processes. We give 5% weightage to the candidates with work experience the same may be increased from the ensuing year.
Following are the weightage for the final selection process
Competitive Exam Score: 35%

Academic Excellence: 25%

WAT & Personal Interview: 35%

Work Experience: 5%
Careers360: What is the SBI Scholar loan? Can you throw some light on it in terms of eligibility, terms, and conditions?
L.Gandhi: SDMIMD is added to the SBI Scholar Loan scheme by the State Bank of India under Premier Institutions
The education loan up to 20 lakhs can be availed without tangible collateral security

SBI Ashoka road branch, Mysore will be a single point of contact for all the students for the SBI Scholar loan scheme
Careers360: Are there any scholarships for students? Please give details
L.Gandhi: SCHOLARSHIP SCHEMES FOR PGDM 2021-23
Entry Merit Scholarship (Code: EMS) * – Rs. 75,000 for finally selected applicants with a minimum of 70% each in – 10th Standard; 12th Standard / PUC 2; and Degree.

Empowering Woman (Code: EW) * – Rs. 50,000 scholarship for finally selected woman applicants with minimum 60% aggregate each in – 10th Standard; 12th Standard / PUC 2; and Degree.

Student Exchange Subsidy (Code: SES): Students selected for student exchange programs abroad during the SDMIMD PGDM program are entitled to a subsidy ranging from Rs. 40,000 to Rs. 1,25,000 by SDMIMD based on the location of the host institute/university.

Student Merit Scholarship (Code: SMS) – 3 Students will be awarded Merit-cum-means Scholarship for Outstanding Academic Performance in each Term during the PGDM Program.

Scholarship Codes EMS.& EW is mutually exclusive. That is, an eligible student is entitled to anyone scholarship out of EMS & EW.

Scholarship amounts, except SES, will be adjusted against the last installment of fees during the PGDM program.

All Scholarships are subject to students joining & successfully completing the SDMIMD PGDM program on schedule.

50% of the amount in respect of eligible candidates under SES will be paid before the overseas trip and the balance 50% on return after successfully completing the program
The student must maintain a minimum CGPA of 3.25 in all the terms to merit this incentive. The financial incentive is awarded as follows:
Term

Rank

Amount in Rs.

I

1

10,000.00

2

5,000.00

3

2,500.00

II

1

20,000.00

2

10,000.00

3

5,000.00

III

1

25,000.00

2

15,000.00

3

10,000.00

IV

1

30,000.00

2

15,000.00

3

10,000.00

V

1

40,000.00

2

20,000.00

3

15,000.00

VI

1

50,000.00

2

25,000.00

3

20,000.00
The rank will be based on the CGPA at the end of each of the respective terms. The reward amount will be paid to students after completion of the course.
Careers360: Please elaborate on the industry connection with SDMIMD. Does it include internships and also placements? What are the benefits that students get from this?
L.Gandhi: At SDMIMD, learning does not stop classroom lectures, case discussions, projects, internships ad assignments. Students learn and adapt key skills like leadership, initiative, creativity, problem-solving, networking, working in teams, etc. through multifarious "beyond the classroom" activities. These include clubs and associations, conferences and industry programs, student-led events, etc.
Careers360: Please explain the placement process. Are students given the training to face the interviews and selection process? Please explain the same.
L.Gandhi: SDMIMD has built upon its legacy and has stayed resilient over the past twenty-five years, which will stand in good stead in crossing over the tough times. Our focus on academic rigour, learning that extends beyond the classroom, work ethics, integrity, and values have proven to produce management graduates who are most sought after by industry.
The "ACE framework" that the institute has adopted helps in equipping students to meet the demanding needs of the industry. In these tough times, we have further reinforced learning and industry orientation by providing students the opportunity to earn additional certifications from global universities and industry.
With the competencies, skills, and values our students bring in, I am sure that our students can prove themselves to be a valuable resource to any organization.
For the past many years, SDMIMD has been clocking 100% placements. While thanking you for your overwhelming support over the past years, we look forward to continuing and growing the relationship further.
Can you elaborate on the placement figures this year at SDMIMD. Kindly give some details in terms of mean salary, positions offered, etc.
L.Gandhi: Highest Salary: 9.5 Lakhs
Average Salary: 7.7 Lakhs
Median Salary: 7.2 Lakhs
Top Recruiters: Deloitte, Ernst & Young GDS, Morgan Stanley Infosys, IBM, TCS, Federal Bank Ujjivan SFB TTK Prestige, Freudenberg, HDFC Limited, Sundaram Home Finance, Feedback Consulting, Target Corporation, etc.
Sectorial Distribution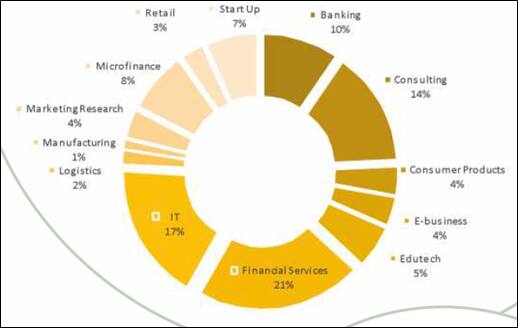 Is SDMIMD planning new age specializations in the near future? Please give some details on them
L.Gandhi: There must be changes in evaluation, pedagogy as the emphasis is on how to handle the crisis, the role of technology, online tools, etc. As these pandemic challenges are going to be a temporary one, we foresee any electives to be introduced as an aftereffect of the pandemic.
What is the support given to students wishing to look at entrepreneurship as an option after completing their course at SDMIMD?
L.Gandhi: SDMIMD's Entrepreneurship Cell is a place for all those who avoid taking beaten paths and believe in leaving trails in all walks of life. E-cell not only shows the doors of opportunity but also helps walk through it by providing options such as funding mentoring, networking with other entrepreneurs, frequent interactive sessions, and Competitions. It is a firm belief behind the idea of Entrepreneurship Cell that original thoughts and radical ideas take shape in young minds. Students are the greatest natural resource, and the Cell intends to nurture them and provide them with opportunities for excellence. It is the cherished dream of members of SDM-IMD E-cell to be job providers rather than job seekers.
Please give some details on the international collaborations and the benefits to students studying at SDMIMD.
L.Gandhi: SDMIMD has a robust and enduring relationship with several accredited and highly acclaimed foreign universities and institutes of higher management across the globe. These linkages provide an opportunity for SDMIMD students to study abroad for one term. SDMIMD hopes to send approximately 25-30 students on Student Exchange Programs to these institutes. International Accreditations have also resulted in faculty exchanges and research collaborations. Several regular faculties at SDMIMD have international teaching experience.
SDMIMD believes in the holistic development of the student with real-time inputs from the academia and the corporate world in a serene atmosphere and salubrious climate in the heritage city of Mysore.
SDMIMD has international tie-up arrangements with Texas A&M University, USA; Shanghai University, China; University of Bordeaux, France; ESC Pau, France; University of Montevideo, Uruguay; Abu Dhabi University, UAE; British University in Dubai; Heilbronn University, Germany; National Sun Yat-sen University, Taiwan; Universidad Sergio Arboleda, Colombia; Business Analytics Institute, Europe & EAE Business School, Spain, Montpellier Business School, France, La Rochelle Business School, France, University of Dundee, UK.
Would you have any insights to share with aspirants about how to choose an institute and specialization in MBA?
L.Gandhi: The student seeking admission should look for:
Faculty strength/profiles

Academic rigor

Course structure

Placement

Accreditation (International and National)

Rankings

Alumni support
Specialization in MBA can be chosen at the end of the first year. In their first year, students generally learn subjects in all functional areas such as Marketing, Finance, HR, Operations and Systems, Business Analytics, etc. Towards the end of the first-year students will have a clear idea about the specializations and their strengths & weaknesses. Accordingly, they can choose their specializations
SDMIMD Updates and Articles
Questions related to SDMIMD
Showing 41 out of 41 Questions
Shri Dharmasthala Manjunatheshwara Institute for Management Development, Mysore (SDMIMD)