MBA is applying management theories to solve business problems: Dr N Chattopadhyay, Dean, TSB Jaipur
Dr. Nilanjan Chattopadhyay, Dean Faculty of Management and Commerce, TAPMI School of Business Jaipur in this interview with Careers360 shares what makes the institute stand out from the rest. Being a part of the Manipal University, Jaipur, TSB shares the vision of the university. Unlike other B-schools, which includes one internship process in the two-year full-time programme, TSB offers two internships, Summer and Winter internships to the students.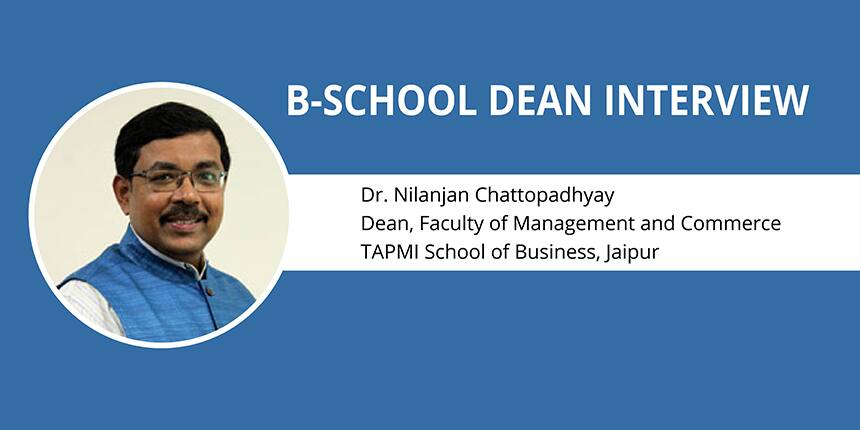 Dr. Chattopadhyay also talks about the admission process, industry interaction and the placement scenario of TAPMI School of Business, Manipal University Jaipur. He believes that MBA is all about application of management theories towards solving real business problems. A student can never be ready to manage a business problem scenario unless he or she is exposed to the same during the course of studying MBA. Read on the interview to know more about the institute and the programme.
Excerpts from the interview:
Careers360: Tell us something about TAPMI School of Business and its vision.
Dr. Chattopadhyay: TAPMI School of Business, better known as TSB was set up in 2011 as part of Manipal University Jaipur. The University has a sprawling 122 acres lush green campus and state-of-the-art infrastructure. TSB is at the heart of the campus with a very unique and unparalleled presence.
TSB shares the vision of the University to gain Global leadership in Higher Education and human development. Towards this vision, the School works hard for developing the leaders of tomorrow who will be catalysts of change in fostering inclusive growth through proper governance in business.
Careers360: Tell us something about the admission process at TSB. 
Dr. Chattopadhyay: TSB follows a multi-dimension screening process so that a deserving candidate gets enough opportunities to prove his or her worthiness to get into management profession. A candidate must have a Bachelor's degree in any discipline from a recognised university with a minimum of 50 per cent marks in aggregate and valid score from any entrance test to be eligible to apply. Every eligible applicant is invited to go through group work, oral and written communication process and a personal interview. TSB conducts its interview process in Jaipur as well as major cities in India. Applicants from far off places may complete the process over virtual mode to save the time and hassle of travelling.
Careers360: What kind of infrastructure can students expect at the institute?
Dr. Chattopadhyay: TSB believes in providing the finest infrastructure and facility for overall development with 127 acres of the campus of Manipal University Jaipur. It provides state- of- the- art infrastructure for academic activities, sports and other extracurricular activities. The campus provides best in class facilities which not only aid academic excellence but also the holistic personality development. The university has a separate hostel area demarcated for students' residence, where best quality hostel facilities are provided for both boys and girls in a safe, secure and funfilled ambience. TSB is proud to possess a Finance Lab, powered by Thomson Reuters' terminals, which is a rare opportunity in Indian Business Schools. These terminals not only give students hands-on training on the terminals used by professionals of Banks and Financial Institutions but also offers ample opportunity to do research projects in order to learn better.
Careers360: How do you ensure industry interaction?
Dr. Chattopadhyay: Industry interaction is the core strength of TSB. MBA in TSB follows a unique 20/20 approach, which means TSB students spend 20 weeks in live projects and full-time Internships in best of the companies in the span of their 20 months study of MBA. Every student undergoes one Winter Internship and at least one Live Project with our industry partners apart from a three-month Summer Internship. At TSB, we believe that MBA is all about application of management theories towards solving real business problems. A student can never be ready to manage a business problem scenario unless he or she is exposed to the same during the course of studying MBA. In every project, a student does contribute immensely towards learning real-life business problems and thereby gaining the confidence in solving those problems.
The Winter Internship comes to a TSB student within the first six months of his study, when his/her contemporaries in other schools are still busy getting the basic concepts right. Summer Internship in TSB is rigorous, fruitful and fun filled. Every student is mentored by a faculty member during the internship to take the project output to the next level. The output of this rigour is obvious when more than 10 per cent of students get final placement offers based on their performance during the summer internship. The live projects are like mini-consulting projects, where the second year students work hand-in-hand with corporate/NGOs/Hospitals on projects along with their employees. These projects give the much-required confidence boost in the students that they are ready to serve the real world business.
Careers360: Is there any collaboration of TSB with universities abroad?
Dr. Chattopadhyay: TSB is very young. Still, it has already established collaborations with a number of universities in different parts of the world. Being part of the Manipal Group, internationalisation is in the DNA of the school, and in days to come, there will be many active collaborations for student and faculty exchange. Currently, active collaborations exist with Rennes School of Business, France, Global Nxt. University Malaysia, California State University- Monterey Bay California USA and Daniels College of Business -University of Denver USA.
Careers360: Tell us about the placement scenario at TSB.
Dr. Chattopadhyay: TSB has a consistent track record of 100 per cent placements of its students who are willing to go for jobs. This is important to mention since quite a few of the students opt to get into entrepreneurship or decide to go back to their family business with an intention to grow further. Since batch 2018, many of the TSB students are getting multiple offers on campus so that they can make the best choice for their career. There is a dedicated placement cell in TSB which works in close collaboration with the Central Placement cell of the University.
Prominent recruiters in recent three years include ICICI Bank, Federal Bank, Axis Bank, Airtel, Vodafone, ITC, Byju's, MakeMyTrip, Radio Mirchi, Secure Meter, Decathlon, ICICI Securities, SG Analytics. Jobs come in from different industry sectors, from all over the country.
Average salary package on campus was Rs 5.5 lakhs per annum for the batch 2018 with the highest package of Rs 10 lakhs and the lowest package of 4 lakhs. Batch 2017 had the highest package of Rs 11.5 lakhs with lowest of 3.75 lakhs and an average of Rs 5.2 lakhs.
TAPMI School of Business, Manipal University, Jaipur Updates and Articles
Questions related to TAPMI School of Business, Manipal University, Jaipur
Showing 1 out of 1 Questions
1244 Views
what is nmat cut off at tapmi ?
Following overall minimum percentile in the CAT 2018/ XAT 2019/GMAT entrance exam should be scored by the applicants to get shortlisted for the final admission process by TAPMI Manipal. These TAPMI Manipal cutoff 2019 are applicable for the candidates with less than 24 months of Work experience.
| | |
| --- | --- |
| Components | TAPMI Manipal Cutoff 2019 |
| CAT 2018 | 85 percentile |
| XAT 2019 | 85 Percentile |
| GMAT | 650 Score |
TAPMI Academic Profile
| | |
| --- | --- |
| Qualification | Percentage |
| Graduation | 60% |
| Class XII | 60% |
| Class X | 60% |
TAPMI Profile-Based Shortlisting
For the candidates with work experience of two years or more TAPMI follows a Profile-Based Shortlisting. Following are the parameters for shortlisting:
Valid CAT 2018/ XAT 2019/ GMAT scores.
Academic Profile (10th, 12th, Graduation).
Quality and Duration of Work Experience.
Extra-curricular Achievements.
Students will be informed on the shortlist decision through email / SMS to their registered email id and mobile number.
Best wishes. Thank you.