TAPMI Director Madhu Veeraraghavan says, "Cornerstone of any management program is experiential learning
At present, having a good skill set is a must to survive in any sector. Therefore, a management programme not only helps students to develop a unique skill set but also makes the candidates job ready. A management degree gives boost to the leadership skills which are required in the corporate world. In conversation with Careers360 Madhu Veeraraghavan, Director of TAPMI, Manipal shares his views about the importance of management programme along with the specialisations that offered at TAPMI. Highlighting the importance of research and the role of the faculty, Prof Veeraraghavan stated, "The only way the curriculum can remain relevant for our graduates is for our faculty to be at the forefront of both research and practice." Read the complete Interview by Careers360 to know all about the TAPMI management programme by the Director of TAPMI,Madhu Veeraraghavan. .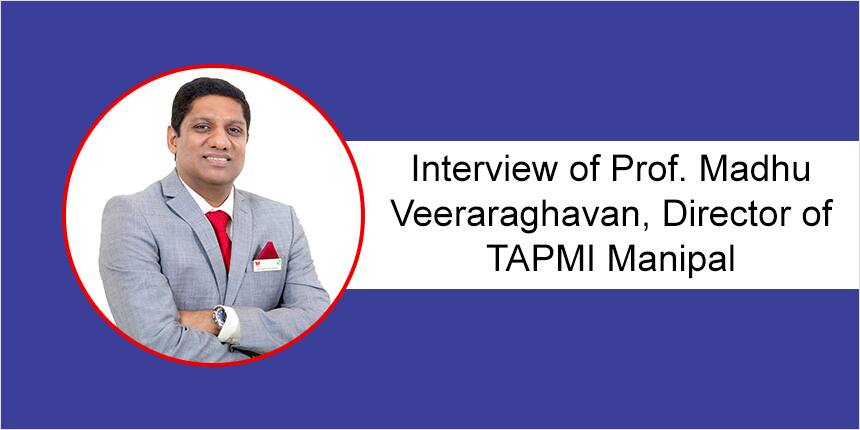 Careers360- The institute has scaled new heights with the passage of the time. To what extent do you see the growth that the institution has made in the field of management education?
Madhu Veeraraghavan- The last decade has particularly seen a lot of important milestones being achieved by TAPMI. We were the FIRST Indian business school (AICTE/UGC approved) to get the coveted AACSB accreditation. The fact that IIMs and other reputed private schools subsequently pursued the same is a testimony to our ability to look and plan ahead of the curve. We began the journey way back in 2003, and with no Indian school to benchmark to, we paved our path.
We are also among the handful of schools in our country that have a double crown (two out of three international accreditation – AACSB, AMBA, EQUIS).
Talking about our rankings, during the last couple of years, we have been consistently ranked in the 101+ band of the Global QS ranking in the Master's in Management category. Other ranks include Careers360 (Ranked 4th among Private B-Schools), Business World (Ranked 7th among Private B-Schools). We have been UN PRME Champions for two cycles in a row. In fact, in the current cycle of two years, we are the only business schools from India. The Government ranking puts at #27 among across all schools (IIMs, IITs, University Schools, Standalone private schools, etc.)
Our Innovative TAPMI-MUSIGMA, which is one of its kind in creating trained manpower for the Analytics space (and directly absorbed by MU-SIGMA) has been ranked fifth by The Analytics India Magazine across all Analytics programs in the country.
Some of the recent developments in the last year include our engagement with MIT Sloan. This includes running a course on Business and Impact Planning for Social Enterprise for all our first year PGP students and participation in the MIT-SOLVE initiative that gives our students an opportunity to work with cohorts around the world.
Careers360- The institute has always focussed on imparting education which is at par with the best institutions. Tell us something about the faculty and how rich is it presently in terms of education and experience?
Madhu Veeraraghavan- The only way the curriculum can remain relevant for our graduates is for our faculty to be at the forefront of both research and practice. The curriculum itself gets updated regularly with inputs from industry leaders. Additionally, each of the functional areas has their offerings matched with the best of professional programs. E.g. finance courses are mapped to CFA/FRM candidate body of knowledge; HR courses are mapped to SHRM certification, etc.
The research output by TAPMI faculty finds their place in the best of journals. We now consistently hit top journals (A* and A category of ABDC classification) across areas. Our faculty also consistently publish business cases in Ivey and top case journals. This has been possible only because of a judicious blend of research and industry experience among our faculty members. Even among research, TAPMI focuses on applied research.
Since this academic year, we have created a new cadre of faculty called Professor of Practice to appoint individuals who have demonstrated excellence in the practice as well as leadership in specific fields. The appointee shall have attained regional and national prominence and, when appropriate, international recognition of outstanding achievement. An example of this special cadre of faculty members, we have Mritunjay Mahapatra as Professor of Practice in the area of Banking and Finance. He comes with four decades of rich experience in senior leadership positions, the latest being the CEO of Syndicate Bank. During his two-year tenure, he turned around the public sector undertaking to profitability. On amalgamation of the said bank with Canara Bank, he has worked as Officer on Special Duty and has overseen the entire amalgamation process.
Careers360- What are your views about the recent trends in management education with a number of institutes mushrooming across India. What are the parameters which the students must keep in mind while choosing the institute?
Madhu Veeraraghavan- Due to a large number of business schools in India and also the prevalent Information asymmetry, students should always look out for signals that are not easily imitable.
More than the rankings, the most important quality signals are Accreditations and Recognitions. Both Indian and International accreditations come in handy. For example, AACSB, AMBA and EQUIS are reputed accreditations coveted by the best of schools world over. While getting them itself is difficult, maintaining the same cycle after cycle is even tougher. These accreditations demand extensive scrutiny, continuous improvement and benchmarking with practices followed by best of schools around the world.
Second, the extent of industry interface and the extent to which engagement with industry is embedded in their overall curriculum. Live Cases, Practitioner sessions, Leadership lectures, engagement with senior management within the company setting to observe various practices from close quarters, etc. are some of the examples that you can find at TAPMI. To some extent, this is also closely connected to Alumni Engagement. A school with a strong alumni base would be able to tap in practitioners across sectors, geography and most importantly, from senior echelons of management.
Gone are the days when the curriculum was exclusively business and function-oriented. The new-age business reality demands programs to have a mix of interdisciplinary courses, critical and design thinking, perspective courses and even exposure to international culture, practices and sometimes even languages.
Finally, the cornerstone of any management program is experiential learning. Look out for a school that puts a premium on experiential learning.
Careers360- What are the steps that are being taken by the institute to adapt itself to the new challenge that has been posed to the education sector more specifically management education) in wake of Covid 19 pandemic?
Madhu Veeraraghavan- Multiple changes were put in place to deal with the 'new normal'. To begin with, all sessions are conducted through Webex platforms. About 14 classrooms were equipped with large Senses monitors (86') that enable faculty to seamlessly switch between the whiteboard, various digital content, audio-video inputs and most importantly a mechanism to enable conversation with students. Further, we invested in an online examination platform that is powered by AI that enables to conduct various forms of proctored evaluation components such as Quizzes and Written Examinations. Regular off class meetings take place using platforms such as Zoom and Microsoft office teams. E-books are made available through Kindle Platform.
Careers360- Is the institute planning to bring about certain changes in the curriculum so that the students can keep pace with it as it is likely that the digitalization of the education sector and online learning is the new buzzword?
Madhu Veeraraghavan- Online teaching, reading of e-books and other material, submission of online assignments, and finally taking the quiz and examination in online mode drastically increases the screen time for the student. Keeping that in mind, we decided to split each of the trimesters into two parts (about six weeks each) with the idea that at a given point of time, each student goes through four courses with a maximum of four hours of sessions per day. Each session which was earlier for 90 min has been reduced to 60 minutes. We encourage both open and close book examination depending upon the nature of the subject and the level at the context has to be evaluated.
Within minutes after the session, the video recording is uploaded in the cloud so that the student can access them at any time. Class Participation is actively encouraged and evaluated.
Per se, there is no change in the course content. However, the faculty members are mindful of the additional time required for Q&A and recap sessions from time to time.
Careers360- How do you see the internships and placements being affected by the COVID 19. What are the steps that the institute has taken or will take to protect the interest of the students?
Madhu Veeraraghavan- For the batch of 2020, delayed joining was the key impact. We had completed our placements before COVID-19, and most of the companies have honoured their commitment. Around 20 offers were revoked, and we have successfully placed those students.
For the batch of 2021, Virtual placement process is the key change. We have received positive response our consistent recruiters and are sure of placing 100% of the batch before graduation.
This year, we have also seen an increase in the number of live cases being made available by companies for our students. This has improved the overall learning experience.
Careers360- Please share placement statistics with information on the average package, highest and lowest package, number of students placed and details of companies that have recruited.
Madhu Veeraraghavan- The entire placement report is shared on our website. We saw 102 companies visit our campus to recruit the entire batch of 425 students (across programs). This includes 76 accepted PPO Offers with an average PPO package of Rs 12.9 Lakhs with highest PPO package of Rs 25.0 Lakhs.
For the batch, the average CTC was Rs 11.5 Lakhs while the averages for the top 50, 100, 200 and 300 students are Rs 16.1 Lakhs, Rs 15.0 Lakhs, Rs 13.3 Lakhs and Rs 12.3 Lakhs respectively. Between PGDM and BKFS programs, the averages were Rs 11.5 and Rs 12.7 respectively. Average CTC for the experienced students was Rs 13.0 Lakhs while that for the freshers was Rs 9.8 Lakhs. The salary upturn observed for this batch of experienced students was 2.8 times their pre-program salary.
The IT, Analytics and E-Commerce sector absorbed 30% of our students while BFSI and Consulting about 28% and 25% respectively. FMCG and Retail has a moderate presence of 12% while the remaining was absorbed by the Core Manufacturing sector. The highest average CTC was offered by Consulting sector (Rs 12.4 Lakhs) while the lowest average CTC was offered by IT, Analytics and E-Commerce (Rs 10.9 Lakhs).
You can look up the report for the list of key top recruiters as well the recruiters who offered PPOs from our detailed report posted on our website.
Careers360- Not only your institution but others also produce some of the best brains. However, Indian institutions and universities lag behind in international rankings. What is your take on this contradictory position?
Madhu Veeraraghavan- The two most important criteria used in most of the prominent international rankings is the median alumni salary (placed with companies that are part of some prominent indices) and quality of research output. For Indian B-schools to be consistently able to break into international rankings, they will need to place their students in internationally reputed companies as well as have their faculty publish in not just any ABDC ranked journals but something even more exclusive (say UT Dallas list of 24 journals or FT-40 journals). We haven't reached a stage where even best of the Indian B-schools can achieve both these feats consistently over a period of time. We also need to be able to recruit faculty with international PhD so that they are attuned to the culture of hitting the top most journals.
It is only because of the advent of international accreditation such as AACSB, AMBA and EQUIS that emphasis on quality research as well as internationalization of student, curriculum, faculty and placements have acquired importance. Till 2010 no Indian school had AACSB accreditation. From that stage, within the last decade, we have seemed emergence of 2 triple crown schools and half a dozen double crown schools.
Careers360- What are the major accomplishments of the institute and what are the challenges that you are facing? How do you plan to overcome them?
Madhu Veeraraghavan- As highlighted above, TAPMI has come a long way in its 40 years of existence. Mainly the last decade has seen the school making rapid progress on multiple fronts. We are now a double crown school with a good track record of our faculty being able to publish in top research journals. We have been consistently ranked among the best private schools in India. And in the last couple of years, we have made the foray into the MIM QS Rankings as well.
The challenges that we currently face are:
The entrance of Management Departments (DOMS) of various top IITs into the NIRF has crowded out private schools.
Any reduction in the pool of students appearing for CAT/XAT automatically translates to lower absolute number of candidates available in the top 15 percentile to pick from
Coupled with the point above, the decision of IIMs to increase intake further reduces the absolute number of students available in the top 15 percentile pool for private schools to pick from.
Our plans to overcome some of the challenges include:
Focus on international rankings as well as accreditations such as BGA and EQUIS to strengthen our core.

Proposed merger with MAHE (Manipal Academy of Higher Education). MAHE is ranked currently as the top 9th University among all universities in India and also holds IOE (Institute of Excellence) status. We expect the merger with the University to provide us access to international students via GMAT route as well provide lot more opportunities for collaboration with close to 200+ Universities around the world for both faculty and student exchanges. Further, this also gives us the flexibility to introduce various humanities courses and interdisciplinary courses for our students.

We are also steadily looking into hiring international PhDs as well as Professors of Practice.
Careers360- What is the future course of action?
Madhu Veeraraghavan- In the immediate one year, we are up for re-accreditation of AACSB and AMBA. It is crucial to maintain the accreditation and also make a strong case for EQUIS.
As we move forward, one of our key thrust areas is to organically embed Sustainability, Responsibility and Managerial Ethics (SRME) much more that we currently do., As part of UN PRME Champion School, we have taken various initiatives. Our partnering with MIT Sloan on the SOLVE imitative is one such example. We look forward to deepening our commitment to SRME.
On matters of research, we aspire for our faculty to hit both top journals with the A*/A Category, but also publish impactful teaching cases with Ivey and similar outlets. Our industry engagement has become much deeper in the past three years. We intend to cement these relationships with meaningful Executive Education. The more embedded the Industry is with our program; greater is the value derived by your students. Last, but not the least, increase the nature and scope of engagement with our Alumni network.
TAPMI Updates and Articles
Questions related to TAPMI
Showing 148 out of 148 Questions