Entrepreneurship: Students start-ups on the rise
Jijo Paul was studying industrial trials and controls as an electrical engineering postgraduate at Rajagiri School of Engineering and Technology when he was hit by the entrepreneur's bug. "My friends and I started out as technology enthusiasts, but the excitement soon turned to entrepreneurship," says Paul, now the CEO of a start-up company functioning from the Maker Village, India's largest hardware incubator situated on the outskirts of Kochi, Kerala. Paul and his friends registered their company, Vesnova Technologies, when they passed out in 2014. Paul's company is set to launch its new product, a dairy management system that could identify diseases in cows and alert the farmer.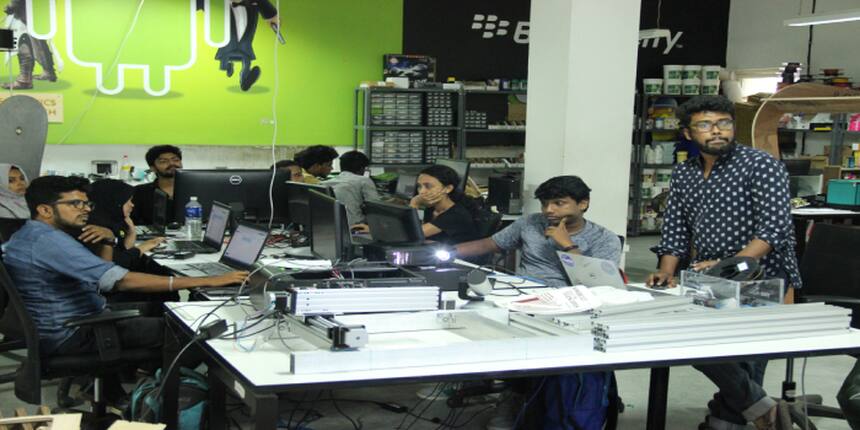 Johns T Mathai and Kannappa Palaniappan were students at the College of Engineering in Thiruvananthapuram when they met for the first time. In 2016, six years after they graduated in electrical engineering, Mathai and Palaniappan launched their start-up at the Maker Village. Last December, Eye Rov, their company, received its first order from the Defence Research and Development Organisation (DRDO) for its product, an underwater drone.
Entrepreneurial burst
Paul, Mathai and Palaniappan represent a growing entrepreneurial burst in India's technology and manufacturing arena led by young engineers fresh out of colleges. Out of the 48 start-ups in Maker Village, 32 are run by young engineers, who founded their first enterprises while they were in college or after only a few years of work in other companies. For many of the students working hard to turn entrepreneurs. Their creative efforts point towards solutions for social needs. Like a service robot for the sick, the elderly and the disabled, or a machine to cut a coconut. There are others who dream big, to target the market for innovative solutions.
Athul Ram
CEO
IEDC
Rajagiri School of Engineering & Technology
Our first product is called Auto Survey, which can be attached to a vehicle and can measure the condition of the road.
 Maker Village
The Maker Village (makervillage.in) focuses on hardware development compared to many start-ups before that aimed at software development. The startups in Maker Village are working on various products like home automation, 3D scanning and measuring of dresses and robotics for healthcare. The Maker Village, an exclusive electronics incubator like the Electropreneur Park in national capital Delhi, encourages talented engineering students to join its facility.
With start-ups slowly becoming a vital component of Indian manufacturing, higher education institutions are joining the fray to spot the talent early. Many engineering colleges today organise events seeking start-up ideas from students. At the Idea Fest held by the Rajagri School of Engineering & Technology in Kakkanad, Kerala in March, as many as 113 colleges sent 185 applications from their students. "We select the best ideas, which receive a start-up grant of up to Rs. 10 lakh each," says Tom Thomas, Project Director (Operations) of the state government-run Kerala Startup Mission, which also supports the Maker Village.
Applying to become a start-up in the Maker Village is easy. Successful ideas are given the green signal almost immediately. "Student projects have become realistic and relevant," sums up Kerala government's IT Secretary M Sivasankar.
Dr. Vandana Sonwaney,
Director,
Symbiosis Institute of Operations Management
Ecosystem of synergies
A functional collaboration of institutions and corporates to really create a fitment for each other is an urgent need to bridge the gap between industry expectations and job readiness of candidates. One is contributing to the knowledge, skills and resourcefulness of people, while the other is putting it to use. Both bear the complex challenge critical to sustain development, economic and social activity in a knowledge society. This fitment should not be restricted to specific recruiting outcomes but should rather be of collaborative synergies those can be created with the association in the field of research, development and innovation complementing both.
Not only the academia and the industry, but also other stakeholders like government could be part of this synergy. The trend is to view it as an ecosystem where 'the multiple actors need to work cooperatively and in a coordinated manner' where each stakeholder benefits.
Functional collaborations are now increasing. Campus Connect programs of companies are strategically designed through which they organize and connect the students and also plan training activities. Corporates are also seen connecting academia for consultancy and advisory services as well as in-house training programmes for their executives. Some companies have co-created curriculum and training with academic institutes to address their specific industry requirements helping transition into industry roles smoother.