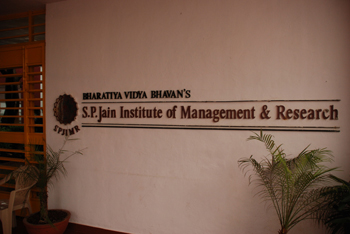 SPJIMR Mumbai Final Placement Report 2013 - SPJIMR Mumbai or S. P. Jain Institute of Management and Research, Mumbai has completed the final placement for the 2011-13 batch. In the batch of 175 students, 97 companies participated in the recruitment process. The average salary saw a phenomenal increase from last year, which is Rs. 16.3 lakh. The following table will give you the highlights of the SPJIMR Final Placement 2013.
Admissions Open Now
SPJIMR- SP Jain Institute of Management and Research
Apply Now for SPJIMR PGDM Admissions 2019| Ranked among the Top 5 B-Schools
| | |
| --- | --- |
| Participants in the batch | 175 |
| Number of students opted out of the placement process | 2 |
| Total number of offers made | 206 |
| Number of participating companies | 97 |
| Number of first time recruiters | 33 |
| Number of lateral offers | 65 |
| Total Number of Pre Placement Offers | 80 |
| Number of offers per student | 1.7 |
| Average Salary | Rs. 16.13 lakh |
In the Class of 2013, 49% of the students received Pre-Placement Offers and Pre-Placement Interviews through their Autumns Internships at top corporate houses, some of which included
Compare Colleges
College Comparison based on Courses, Placement, Rank, Fee
Compare Now
Accenture Management Consulting, TAS, Microsoft, HUL, P&G, J&J Consumer, Colgate
Palmolive, Citibank, General Electric, Flipkart, Philips, HSBC, GSK, JP Morgan, Miebach
Consulting, Pepsi, Kraft Foods, Edelweiss Capital, Axis Bank, Texas Instruments among others.
Some of the key highlights of the SPJIMR final placement 2013 are as follows:
61% of the batch has offers of Rs. 15 lacs and more

83% of the batch has salaries of Rs.13 lacs and more

The median salary for the batch of 176 students was 15.95lacs

Foreign offers were made by Ranbaxy, Jumbo Electronics
Top Recruiters
The sector specific top recruiters are given below.

General Management
Tata Administrative Services, Mahindra & Mahindra, Reliance Industries Limited,
Ranbaxy and Raymonds made about 16 offers in several middle management positions. The roles pertain to application of business understanding in all relevant domains and also entail close co-ordination with CXOs.

Consulting/IT Consulting
22% of the batch was placed in top consulting firms which included Accenture Management
Consulting, Bristlecone, Capgemini, Cognizant Business Consulting, Deloitte, Ernst & Young, KPMG, Miebach Consulting, PwC , PRTM Consulting, TSMG among others. The profiles offered by the consulting bandwagon at SPJIMR included strategic consulting, operations consulting, financial advisory and IT consulting.

Finance
The top recruiters in this sector included JP Morgan, Franklin Templeton, Citibank, Deutsche Bank, ICRA, Axis Bank, Yes Bank, SBI Caps, Nomura, GE, Edelweiss and TATA Capital. The roles offered were in Investment Banking, Corporate Banking, Institutional Equities, Equity Research, Credit Rating, Credit Risk, Treasury, Project Finance and Corporate Finance.
Multinational firms like AC Nielsen made exclusive offers for their Emerging Leaders Program.16% of the batch got offers in the Financial Services and Banking sector.

IT/ITeS
IT companies like Microsoft, Google, Dell and HCL Technologies offered Sales roles to the SPJIMR students. Corporate IT roles were offered from noted companies like General Electric, Unilever, Duetsche Bank and Citibank. Global IT majors like Amazon, Directi, Makemytrip and Interglobe offered several roles.

Marketing and Operations
Top FMCG companies lining up on campus to make offers to the Marketing and Operations batch. 27% of the batch were given offer from this sector. Sales, Marketing and Supply Chain roles were made by FMCG majors that included Hindustan Unilever Ltd., P&G, Kraft, PepsiCo, GSK, Johnson and Johnson Consumer, Asian Paints, Britannia, Marico, Coke, L'Oreal, Reckitt Benckiser, Marico and Wipro Consumer.
Lateral hires were picked up by HUL, GSK CH etc.
Telecom roles were offered to students by Bharti Airtel and Vodafone.
Niche roles mapping across other sectors were also offered by Ranbaxy, 3M, Cummins, Philips, Raymonds, Dr Reddy's Labs, Asian Heart Institute etc.
Procurement, Inventory and Product Life Cycle roles were offered by top manufacturing companies such as Texas Instruments and Shell.
Retail roles were offered by Jumbo Electronics and Mahindra & Mahindra.
Source: http://www.spjimr.org/pgdm/pdf/SPJIMR-PGDM-fINAL-Placements-2013.pdf
Questions related to SPJIMR, Mumbai