SNAP 2020 topper Minkesh Devani says "A leader should have knowledge and courage to bring it on table"
SNAP 2020 Topper Interview, Minkesh Devani - Once the result is released, there are smiles and cheers for some. The happiest moment is for those who are among the toppers. A lot of SNAP toppers shared their views on how the exam pattern was, how they managed to score a 99 plus percentile and their tips and tricks behind the same. One such SNAP 2020 topper, Minkesh Devani, who scored 99.96 percentile in SNAP 2020, has also shared his views about the preparation strategy and so on and so forth. Along with appearing for SNAP 2020 exam, he had appeared for CAT 2020. SNAP 2020 topper Minkesh Devani spoke about how he prepared for the exam through self-study, which can be very helpful as a lot of aspirants cannot afford proper coaching. Careers360 interviewed SNAP 2021 topper Minkesh Devani and asked him the secret behind his success. Continue reading the article to know more about the success mantra for scoring a 99 plus percentile in the SNAP exam 2020.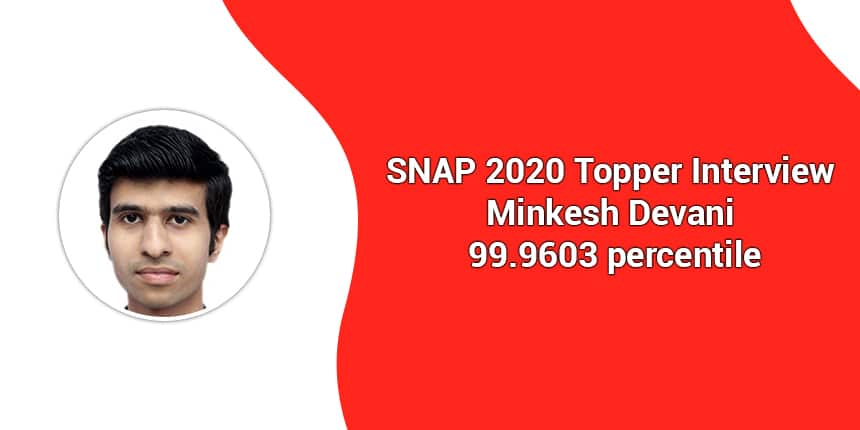 Careers360 - What was your SNAP 2020 overall percentile? Apart from SNAP, which other entrance exams you appeared for and what were your scores?
Minkesh Devani - My overall percentile in SNAP 2020 is 99.9603. I also appeared for CAT 2020, where I scored 98.75%ile overall.
Careers360 - What was your preparation strategy? Please share the section-wise strategy in detail.
Minkesh Devani - Since the syllabus for SNAP is similar to other entrance tests, I did not prepare separately to clear the basics.
My preparation for SNAP was based primarily on taking mocks and analyzing them well. Since the new pattern of SNAP gives an average of 1 minute per question, I ensured to be prudent in this regard.
Careers360 - With the change in SNAP 2020 exam pattern did it affect your preparation strategy? Do you think it was appropriate to remove the General Knowledge section?
Minkesh Devani - This time, there was no differential marking scheme. Also, 60 minutes were given for 60 questions vis-à-vis 120 minutes for 110 questions last year. Hence, eventually, SNAP remains a speed-based exam. Given that one acquaints himself/herself well with the new SNAP exam pattern 2020 before the actual exam, the exam would not pose any challenge.
The scope of the GK section is vast, hence, the removal of the section reduced some burden of preparing for an additional section. So, the step is in the favor of test-takers.
Careers360 - How did you prepare - Self-study or Coaching? If you took coaching then from where? Please explain which one is better- self-study or coaching?
Minkesh Devani - I prepared on my own without any coaching.
For anyone who is yet to start preparations from scratch, I would suggest taking a demo mock/solving a past year paper first with a timer, and based on the scores and projected percentiles in each section, one can decide if coaching is required.
Careers360 - When did you start preparing for SNAP? Please share in detail your month-wise preparation strategy for SNAP.
Minkesh Devani - For SNAP, I started my preparation after CAT. I took four mocks before the actual exam with a gap of a day in between. The only aim was to score better in every subsequent mock.
Since my basics were clear, I used to beg most of the negatives from silly mistakes. For which, I tried to remain mindful of the 'error-prone areas' in the subsequent mocks.
Careers360 - Are you working? If yes then how did you balance your preparation with a job? Please share your timetable.
Minkesh Devani - Yes, I am a working candidate.
Since Quant is my strong suit and was above average in the rest of the two sections, I had to be consistent in taking mocks and analyzing them.
I ensured to spend around 2 hours daily. The time varies based on how comfortable one is with the test. Apart from the SNAP preparation and job, I also took out time to pursue my hobbies.
Careers360 - According to you, what is the most important aspect of preparation?
Minkesh Devani - Strategy. One should also note that strategy varies from person to person. An ideal strategy does not exist, as it depends on one's strengths and weaknesses. One should try experimenting with different strategies in mocks, eventually zeroing in on the one which works.
Careers360 - What are the best study materials for SNAP or other exams? Please name some study materials you had referred to during preparation which includes the names of books which you consulted for each section.
Minkesh Devani - For Quants, I referred to the book from McGraw-Hill Publication (How to Prepare for Quantitative Aptitude for the CAT by Arun Sharma). The rest of the two sections do not have any syllabus as such.
I used to solve past year mocks from coaching centres and took proctored mocks and analyzed them well.
Careers360 - How does one with non-English background prepare him/herself for the exam as the mode of the exam is only English?
Minkesh Devani - I too did my schooling in a vernacular background, Gujarati. To any such person, inculcating reading habits can help a lot. It improves one's comprehension and reading speed. Also, the aim of reading books should never be to clear the exams. One should enjoy reading; learning will be a byproduct.
Careers360 - What was your exam day strategy in terms of question selection, time management, accuracy and sectional attempts/cutoffs?
Minkesh Devani - My aim was to attempt as many questions as possible with the best possible accuracy. Since I am comfortable with vocabulary-based questions and the quant section, I targeted to finish them first with minimal mistakes. I would then move to the last section— 'Analytical and Logical Reasoning', and the rest of the questions from Verbal Ability. This way I could maximize my attempts (I attempted all the 60 questions in the actual exam).
Careers360 - How do you suggest one should keep his/her calm and confidence during the long and tiring preparation process for a management entrance exam?
Minkesh Devani - Yes, maintaining the enthusiasm throughout can be challenging. However, the only panacea to this is enjoying the process. Also, have a group of friends who share the same goals as you do. Such an environment can help in many ways.
Careers360 - What is your message for future SNAP aspirants?
Minkesh Devani - The quality of any leader is not just to have knowledge but to have enough courage to bring that to the table. The same philosophy applies to any test. No matter how well you have prepared, if you panic or stress out during the exam, you would not be able to demonstrate your capabilities. Hence, do consider these subtle factors, right from the beginning of your preparation, which can make or break your D-day.
Careers360 - Do you think it is a good idea to have three attempts in the near future also?
Minkesh Devani - It helps psychologically at least. Also, if an attempt does not go well, one can hope to do better in the next one.
Careers360 - How were the arrangements at the test centre for COVID-19?
Minkesh Devani - Exams this year gave a unique experience. The students were made to sit with a gap in between, compulsorily wearing masks. Also, the staff at the centre was cooperative and followed all the guidelines given.
Questions related to SNAP
Showing 706 out of 706 Questions