Sharda University Conducts Seminar on the Importance of Social Media
Sharda University Conducts Seminar on the Importance of Social Media
Sharda University, Greater Noida organized a day long seminar on Future of Marketing Social Media: A Virtual Storm Brewing. Prof. Luiz Moutinho, Foundation Chair of Marketing, Founding Editor-in-Chief, Journal of Modelling in Management, Adam Smith Business School, University of Glasgow, UK delivered the talk.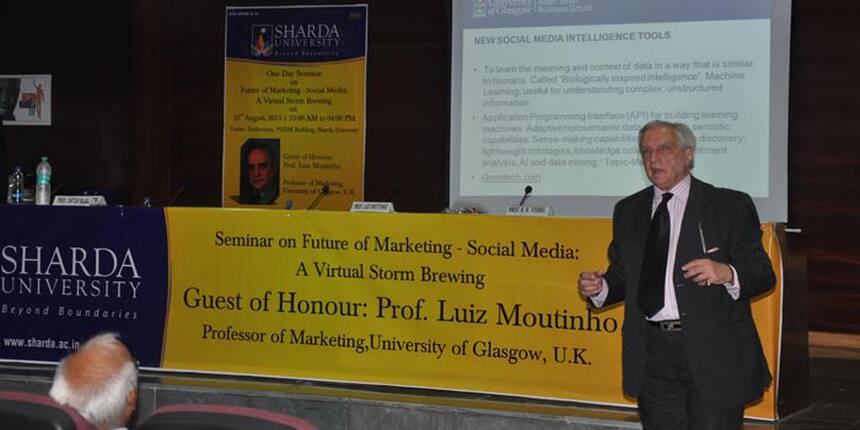 Professionals like Ajay Jain, Director, BFS, Dell; Ajay Pandit, FMS, Delhi University; Vivek Srivastava, Founder & Director, P.H. Techconsultants Pvt. Ltd. and Gaurav Garg, Business Development, NIIT also shared their industry insights on the subject matter.
The seminar addressed the issues and challenges faced by the online marketing industry in integrating the social media with their marketing plans and familiarized the audience with emerging technologies of social media and their application in advertising, branding, obtaining feedbacks, etc. The seminar also highlighted the usage of Social Media with the audience like Facebook, Twitter, LinkedIn etc. and the impact they have in the life of students.
According to the speakers, Social Media in the new era has seen a paradigm shift in the usage of marketing tools, thereby revolutionizing the Social Media or Marketing Space, where consumers and customers are curators and are actively broadcasting, connecting and reviving.
R.K Verma, Director, Corporate Affairs, Sharda University said, "Digital Marketing is the need of the hour for a brand selling luxury cars or a debutant Bollywood Star who needs to connect with his fans. Our Department of Corporate Affairs and School of Business Studies has carved out a special seminar for the students planning their career in online marketing and professionals involved in this field."
He also added, "We want to keep our younger generation abreast with the innovations and latest developments evolving in sector across with such unique programs like Online Marketing, which is pretending to be a different stream altogether now-a-days. The future of marketing will be led by Social Media."
Sharda University Updates and Articles
Questions related to Sharda University
Showing 239 out of 239 Questions