SDMIMD Director Dr. N.R. Parasuraman says, "For online learning, we set up digital writing and cameras"
In today's world, it is not enough to have a bachelor's degree. A master's degree is essential in shaping your life and getting a job. An MBA degree could be one such stepping stone to climb the professional ladder. Having a management degree will not only help anyone to enter a good company but also be in a good position. It is a dream of every student to pursue a management degree from a reputed institute, one that excels not only in academics but other activities and most importantly in placements. One of the colleges which is making a mark in the field of management studies is Shri Dharmasthala Manjunatheshwara Institute for Management Development (SDMIMD), a premier B-school located in Mysore. In an exclusive interaction with Careers360, director of the institute Dr. N.R. Parasuraman talks about the infrastructure, placements that the measures that they adopted for smooth learning due to COVID 19.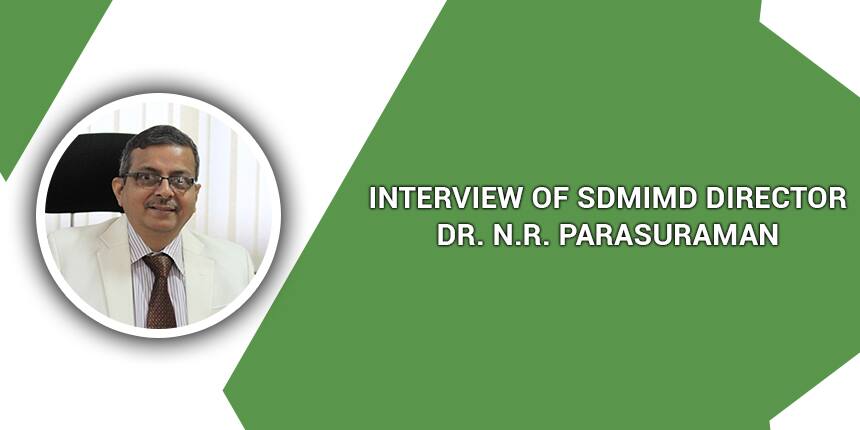 Careers360: The institute has scaled new heights with the passage of time. To what extent do you see the growth that the institution has made in the field of management education?
Dr. N.R. Parasuraman: One of the greatest challenges in any B-school is to ascertain and maintain the relative level of quality on various parameters - curriculum, pedagogy, projects, evaluation, and overall preparation of students- compared to globally accepted standards. Over the last few years, we have put in place a well-oiled system of constant monitoring and giving shape to transparent assessment rubrics. The 15 international tie-ups that SDMIMD has enables us to freely exchange views and best practices with our partners. In my view, it is the open-mindedness and the conviction that perfect quality is a continuous process that sets the SDMIMD team going. We have benefited greatly from the accreditation process and the subsequent interaction with senior Deans and faculty of many reputed overseas universities. The approach has been to lay down clear parameters and consistently work on record-based improvement on these. Of course, this is a continuous process, but we feel that the direction is right, and the message is clear. The impact on students who are the principal stakeholders can be seen in their improved performance and subsequent growth. As regards recruiters, we would like to believe that they get students better rounded now and also suited to their specific job requirements. This improvement is a result of the change in systems that we have been practicing to orient students on a continuous basis for a final double goal- a good first placement, but concurrently grooming intended to make them total personalities.
Careers360: The institute has always focussed on imparting education that is on par with the best institutions. Tell us something about the faculty and how rich is it presented in terms of education and experience?
Dr. N.R. Parasuraman: Right from the beginning when the Institute was set up more than 25 years back, the emphasis has been on academic rigor riven by Faculty. The initial mentorship from senior Professors from IIM Bangalore has been the foundation for this. We have a strong team of faculty – several with a good stint in the corporate sector and some career academics- with a strong commitment to the Dharmasthala principle of quality with Indian ethos. One of the hallmarks of SDMIMD has been the fact that we have a very low number of faculty leaving. In recent years, Faculty have demonstrated their high capabilities in the other areas of academics- research and case study. A look at the faculty profile of SDMIMD shows us the richness of qualifications and experience of the team.
Careers360: What are your views about the recent trends in management education with a number of institutes mushrooming across India. What are the parameters which the students must keep in mind while choosing the institute?
Dr. N.R. Parasuraman: I have a feeling that in a short while, the number of mushrooming institutes will come down and we will come to 'survival of the fittest". I have always maintained that students should keep in mind three academic parameters in selecting a B-school - the nature and commitment of the promoter group, the infrastructural and support facilities in the center of learning, and academic rigor which includes faculty quality, facilities for supplementary learning, international exchange and discovering oneself. Apart from these academic imperatives, a consistent placement record is an added feather.
Careers360: What are the steps that are being taken by the institute to adapt itself to the new challenge that has been posted to the education sector more specifically management education) in wake of the Covid 19 pandemic?
Dr. N.R. Parasuraman: SDMIMD was one of the few institutes in the country to commence classes online right on schedule. That way, we did not waste time and enabled students to go through their courses on schedule. To make online learning as effective as possible, we set up studios on the campus with digital writing facilities and multiple cameras to enable faculty to conduct classes better. We also enabled students to go through a number of online supplementary offerings from Coursera. While there is no denying that face-to-face cannot be fully replicated, SDMIMD has endeavored to make online learning as effective as possible.
Careers360: Is the institute planning to bring about certain changes in the curriculum so that the students can keep pace with it as it is likely that the digitalization of the education sector and online learning is the new buzzword?
Dr. N.R. Parasuraman: We had a recent Governing Board meet and a subsequent Faculty meeting in which these were discussed. We plan to introduce a host of cross-functional courses next year and give greater emphasis on the emerging area of Business Analytics. Our present tie-up with the Business Analytics Institute in France will be strengthened. Side by side, students will be given greater opportunities to pick up topics like design thinking, innovation, and sustainability. All in all, the avowed objective of churning out high-quality management qualities with a strong sense of Indian ethos will be continued.
Careers360: How do you see the internships and placements being affected by the COVID 19. What are the steps that the institute has taken or will take to protect the interest of the students?
Dr N.R. Parasuraman: There are several sectors where the numbers of possible recruitment per company could come down, but the situation is not alarming. We launched our Placement activities in August and side by side have also given students facilities for toning up their soft skills. We have engaged professional agencies for working with the students on their right approach as also in giving students quick orientations on interview-facing and presentations. Additionally, our alumni and faculty have teamed up to conduct several supplementary sessions for the benefit of students getting ready for placements
Careers360: Please share placement statistics with information on the average package, highest and lowest package, number of students placed, and details of companies that have recruited.
Dr. N.R. Parasuraman: The Placements process for the year 2019-20 was completed in December 2019, three months before the completion of the course with the increase in average salary and spread of companies
Highest Salary: 9.5 Lakhs
Average Salary: 7.7 Lakhs
Median Salary: 7.2 Lakhs
Some of the top recruiters are Deloitte, Ernst & Young GDS, Morgan Stanley, Infosys, IBM, TCS, Federal Bank, Ujjivan SFB, TTK Prestige, Freudenberg, HDFC Limited, Sundaram Home Finance, Feedback Consulting, Target Corporation
Placement 2020-21- the journey till Dec 2020
Despite this global pandemic outbreak and the prevailing tough conditions, almost 50% of the 2020-21 batch has already been placed. Some of the top recruiters this year are Morgan Stanley, Deloitte, Oracle, Infosys, HDFC, Ernst & Young GDS, Tech Mahindra, Naukri, BFIL.
Careers360: Not only your institution but others also produce some of the best brains. However, Indian institutions and universities lag behind in international rankings. What is your take on this contradictory position?
Dr. N.R. Parasuraman: Internationally, the ranking has emphasized more on research output and on the institution's size. In India, the outcome-based approach as seen in the Western world is fairly new. However, things have changed in recent times and one can see that more and more Indian schools are gaining international recognition. Having said that, I feel that the evaluation system in our country has to tighten up so that merit and hard work are discernibly rewarded.
Careers360: What are the major accomplishments of the institute and what are the challenges that you are facing? How do you plan to overcome them?
Dr. N.R. Parasuraman:
EFMD - EPAS
Recognizing the quality of management education and internationalization, the Global accreditation body European Foundation for Management Development (EFMD) has awarded the prestigious EPAS International Accreditation to SDMIMD's flagship PGDM program. SDMIMD is the first Indian B-school to receive EPAS accreditation. The accreditation was originally awarded in 2017 and has subsequently been renewed.
ACBSP
SDMIMD received the International accreditation from Accreditation Council for Business Schools and Programs (ACBSP), USA, for the 2-Year Residential flagship program – Post Graduate Diploma in Management (PGDM). The accreditation is valid for 10 years.
SDMIMD is the first and only B School in India to get dual accreditation from EFMD and ACBSP. These accreditations help students to learn from an environment that meets global quality standards and international orientation.
QS I Gauge
Recognizing the overall excellent practices at SDMIMD, I Gauge, the Indian wing of the global ranking agency Q has rated us in the highest Diamond category.
These rankings and accreditation are a vindication of our efforts towards total quality. These have certainly helped us in our visibility and consequently better acceptance by the corporate houses and admission-aspirants.
Challenges arising out of unfair competition and the absence of a transparent way in which a school can project itself. The regulatory environment and possible branching out of management education into part-time, online, and shorter duration programs, are the challenges. We seek to face these challenges by being present in these spheres as well. We will be strengthening the 1-year AICTE approved PGCM offering and also working on launching a number of blended programs.
Careers360: What is the future course of action?
Dr. N.R. Parasuraman: There are several plans on the anvil. First and foremost is the progressive aligning of the program to social, ethical, and sustainability dimensions by drawing heavily from the ethos of our parent Dharmasthala Trust. These will involve more projects, more practical exposure, and general sensitization of the students towards these lofty ideals. Secondly, we wish to develop the 1-year PGCM program at a higher level. For this, we are in the process of finalizing arrangements with the National Stock Exchange, and a leading entrepreneurship support body Silicon Road Inc. for orienting students towards specializations in Investment Finance and/or Entrepreneurship. Thirdly, we are working on new blended offerings to cater to the corporate requirements. Lastly, we wish to work on the exciting possibilities of international study and collaboration, including multi-country degrees.
SDMIMD Updates and Articles
Questions related to SDMIMD
Showing 41 out of 41 Questions
Shri Dharmasthala Manjunatheshwara Institute for Management Development, Mysore (SDMIMD)