SCMS Vice Chairman Interview: "Train and groom students to become effective managers and leaders"
With the passage of time, the Business world has changed and developed a lot, so is the case with Business education. Nowadays, before recruiting, the recruiters mandatorily consider the fact whether the candidates have a management degree or not. This compulsion makes everyone pursue a management course whoever wants to build their career in the Business sector. Just the thought of having a degree in management brings a lot of questions to a candidate's mind. In a conversation with Careers360, Prof. Pramod P Thevannoor, Vice Chairman, School of Communication and Management Studies (SCMS) has elaborately discussed all the questions concerned with a management course.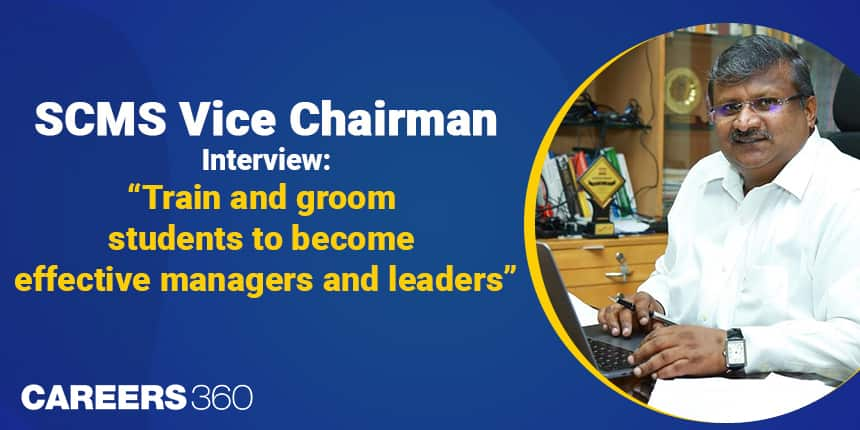 Careers360- Tell us something about the institute; when it was set up, vision and mission.
Pramod P Thevannoor- SCMS or School of Communication and Management Studies was founded in 1976 by an edupreneur and visionary Dr.GPC Nayar. SCMS Cochin School of Business was set up with the vision to train and groom students to become effective managers and leaders. Its vision is to be a leader in providing value-based education in harmony with the changing global order and its mission is to develop globally competent and socially responsible business leaders through an innovative education system. The training at SCMS is rigorous and is designed to prepare students to face the challenges of a career in management in the dynamic corporate world. SCMS utilizes its expertise and resources to guide and support students and help them successfully make the transition from being a student to becoming a professional.
Know all about SCMS Cochin School of Business
Careers360- Tell us something about the admission process?
Pramod P Thevannoor- Aspiring candidates are required to submit an online application through our website scms.edu.in. Upon receiving the applications, eligible candidates are given a slot for Group Discussion and Personal Interview. Students are selected based on various parameters like, score in entrance test, performance in qualifying exam, performance in GD & PI, Work experience, achievements in sports and extra-curricular activities, etc. Students with 2 years or more of work experience with good academic scores are given scholarships worth 40% of their tuition fee.
Careers360- What kind of infrastructure can students expect at the institute? Please elaborate?
Pramod P Thevannoor- SCMS provides its students with some of the best facilities including air-conditioned classrooms, seminar halls, library, and gymnasium. The expansive library is spread over 6,732 sq. ft. and has a collection of over 40,000 books and journals and online information resources. The wi-fi-enabled campus provides hi-speed internet connectivity for students. Classrooms are equipped with high-end presentation equipment and gadgets. The ladies' and gents' hostels can accommodate over 300 students each. The SCMS cafeteria is known for its hygienic and delicious food. Sports and games facilities, both indoor and outdoor are provided and Intra and inter-institutional matches and annual sports meets are held.
Careers360- There is a lot of stress that is being made with regard to interaction with the industry as well as companies that recruit. What are the steps being taken by the institute in this direction?
Pramod P Thevannoor- At SCMS, we conduct industry interface sessions periodically by inviting practising managers in various fields. Distinguished guests from industry and government visit SCMS Cochin School of Business regularly and share their wisdom and expertise with students. The interface includes a lively Q&A session where the practitioner talks about the challenges he faces and solutions he arrives at. These interactive sessions provide practical insights into problem solving and decision-making. Subsequently, case study discussions are held, which give students a real picture of the business operations they are soon to embark upon.
Careers360- Internships are now mandatory as per AICTE guidelines. Does the institute help students with this? If yes, how?
Pramod P Thevannoor- SCMS Cochin School of Business has an active placement cell which helps its management students take up internship opportunities. All PGDM students undertake internship during the 4th trimester. We insist that students do their internship outside their home state. This is to enable them to get out of their comfort zone and learn to work in unfamiliar settings. Several students receive Pre-Placement Offers after successful completion of internship.
Careers360- Can you please share details if there is any collaboration with universities abroad?
Pramod P Thevannoor- SCMS COCHIN SCHOOL OF BUSINESS has tie-ups with several international universities / institutions in USA, Europe, Bangladesh, Russia, Japan, Australia etc. The collaborations are in areas of knowledge sharing, faculty and student exchange, etc. The faculty from these universities give a global focus to business education at SCMS COCHIN SCHOOL OF BUSINESS. Students of SCMS have the option to choose for Dual Degree through International Exchange Programme, whereby students receive a PGDM from SCMS Cochin School of Business and MBA from Lincoln University College, Malaysia.
Careers360- Please share placement statistics with information on the average package, highest and lowest package, number of students placed and details of companies that have recruited.
Pramod P Thevannoor- SCMS has a track record of arranging placements for all eligible students. Students are groomed for placements through the active placement cell at SCMS. In the academic year 2020-21, over 60 leading corporate houses hired students from SCMS. The pandemic did not have much of an impact on recruitment activities at SCMS. On the contrary, SCMS attracted a few new recruiters during the year. Placement Training, Group Discussion and Personal Interviews were conducted online. The average pay pack was Rs 7 LPA with the highest being 12.5 LPA. Some of the leading companies recruiting PGDM students from SCMS are Aditya Birla, Deloitte, ICICI Bank, Federal Bank, IOAG, PWH, Flipkart etc.
SCMS Cochin School of Business, Cochin Updates and Articles
Questions related to SCMS Cochin School of Business, Cochin
Showing 70 out of 70 Questions