SCIT Campus Virtual Tour - Symbiosis Centre for Information Technology (SCIT) is located in Pune, Maharashtra. The institute offers MBA programme in IT. Careers360 presents a virtual tour of SCIT campus which is going to help the aspirants to know more about the campus environment and facilities available there.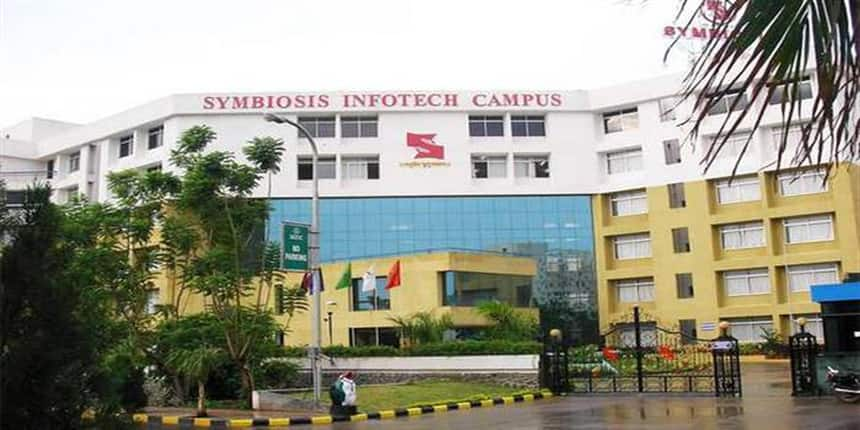 The SCIT campus has sports facilities, hi-tech classrooms, mess, amphitheatre, library, healthcare, hostel etc. Let's know more about the institute with its virtual tour.
Atrium
This is the place for all celebrations during the festive season at SCIT campus. The Atrium of the college, the common point which connects all the different areas/sections.
Conference Room
This is the place where everyone including students, faculty, guests come together for meetings and discussion sessions.
Faculty block
All the faculty members of the college sit here. Students are always welcome here. The faculty is ever ready to help them out with any kind of problem.
Cafeteria
The cafeteria at the campus is named Symbieat. A place where students make their tummies happy. The campus also has Nescafe alongside Symbieat for all the coffee lovers.
Ground
The SCIT campus has a huge sports ground which is the spot for all the tournaments, practice sessions and festive celebrations. There is also a mini basketball area right behind the girls' hostel.
Amphitheatre
For some fun activities, there is an open amphitheatre right next to the sports ground. Students can sit here and enjoy the lovely weather.
Healthcare
The campus is also well-equipped with primary healthcare facilities which are 24*7 available for all the students and faculty.
Auditorium
The campus also has an auditorium with a seating capacity of 200+ for guest lectures, special occasions, seminars, festivals, competitions etc.
Director's Office
This is the Director's office, showing the many laurels won by the institute and its students.
Gym
Fitness is a must for all and that's why a well-equipped gym with trainers and all the necessary equipment is here at SCIT campus.
Library
For the students and faculty who love to study, SCIT campus has a well-equipped library with more than 1000+ books.
Mess
The mess at SCIT campus serves snacks and meals 4 times a day to students.
Virtual lab
The campus has a hi-tech virtual lab well equipped for a better learning and understanding of the concepts.
Reading room
A 24*7 reading room is available for all the students. The place usually sees Group studies, presentation preparations, test studies and assignments happening.
Swimming
Swimming pool facility is also available to all the students inside the campus.
Stay tuned to bschool.careers360.com for more information on Campus Virtual Tours
Symbiosis Centre for Information Technology, Pune Updates and Articles
Questions related to Symbiosis Centre for Information Technology, Pune
Showing 471 out of 471 Questions