School of Business, UPES: Interview with Dr. Githa S Heggde, Dean on Admissions, Cutoff, Placement
UPES School of Business is ranked 66th by NIRF for management. The school offers management programmes at the undergraduate and postgraduate levels. Speaking to Careers360, Dr. Githa S Heggde, Dean, School of Business, University of Petroleum and Energy Studies discusses the legacy of the institution, facilities, admission modalities, placement statistics and more. Read the interview with Dr. Githa S Heggde, Dean, School of Business, UPES.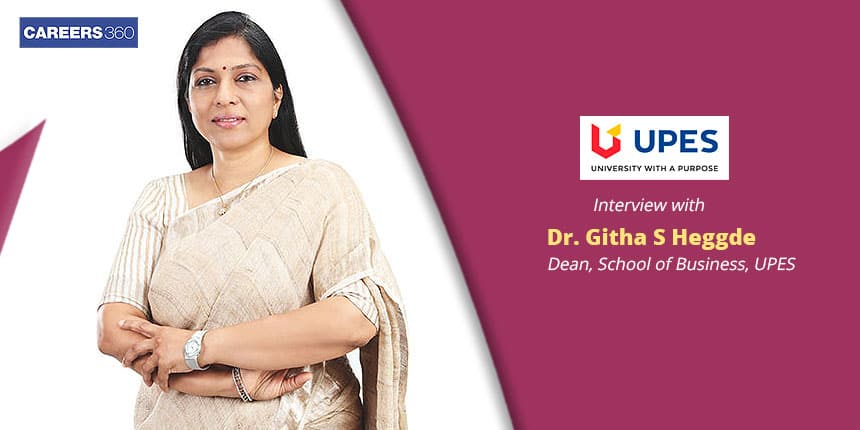 To view the interview with Dr. Githa S Heggde, Dean, UPES School of Business, click here.
Careers360 - Tell us about UPES School of Business.
Dr. Githa S Heggde: UPES Business School is among the top 30 business schools in the country, as per Outlook. Our school is different in various aspects as it offers both undergraduate and postgraduate courses. The Business School is not standalone and is affiliated with one of the leading universities of India - UPES. The school is led by a multidisciplinary approach towards bachelors and masters degree programmes. All the degree programmes offered by UPES School of Business are domain specific and offer diversification.

Careers360 – What are the courses and specializations offered by UPES School of Business?
Dr. Githa S Heggde: We have twelve BBA degree programmes, two B.Com degree programmes, six integrated BBA, B.Com, and MBA programmes, five MBA programmes, and one Ph.D programme.
A wide range of specializations are offered among these programmes such as marketing, finance, human resource, operations management. Apart from this, we also offer specializations such as foreign trade, aviation management, analytics and big data management, oil and gas management, power management, logistics and supply chain management. Another new programme in our curriculum is integrated MBA programme. This is a four-year integrated and a very rigorous programme specially designed for students to be company ready and move directly to the industry. We are providing multiple interventions with this programme such as live projects, internships, along with certificate programmes. The course is fast-paced, intervened, and industry-oriented.
Careers360 - How does the student select these specializations?
Dr. Githa S Heggde: The entire curriculum and structure is in the format called ABLE - Academic Blueprint for Learning Excellence. In this curriculum, we provide four specialization subjects and a core subject known as minor. Right from the beginning, the core subjects from these functional areas are taught so that students are familiar with their field and industry. In third and fourth semesters, more specializations are introduced with new challenges that provide a different perspective to the industry. For instance, a student who will join the undergraduate programme in BBA aviation management will be familiar with the specializations from beginning to end. And the students with BBA core or MBA core programmes, have the option to shift towards specialization according to their area of interest and availability of courses.
Careers360 - Please explain the admission process for UPES School of Business.
Dr. Githa S Heggde: For admission to undergraduate courses, we follow a GD PI process along with an essay writing i.e. statement of purpose so that the school understands the passion and purpose of the student and UPES Business School can help those students achieve their purpose. After this, students are introduced to the faculty members in order to get familiar with the courses and select the one that suits their area of interest. For postgraduate programmes - MBA, we take top management entrance tests scores into consideration such as CAT, GMAT, NMAT, MAT, etc. Students who pass the required percentile are required to sit through Group discussion and Personal Interview and pass them as well.
Careers360 - Kindly throw some light on scholarships offered by UPES Business School.
Dr. Githa S Heggde: UPES School of Business offers various kinds of scholarships such as scholarships for meritorious students, scholarships for girl students, and also for domicile students. Scholarship amount is 100 percent of tuition fee for meritorious students and 20 percent for female students.
Careers360 - What kind of students are admitted to UPES School of Business in terms of region, gender, and stream?
Dr. Githa S Heggde: At UPES School of Business, we have students from interstates as well; about 77.5 percent of our students are from outside the state. The students are offered a multidisciplinary environment. School of Business interacts with different schools of design, computer science, modern media etc. and collaborates on various live projects and business ideas. Such a multidisciplinary environment is very important for business students as it helps them develop insights of different industries and their work culture.
Careers360 - How are the placement statistics at UPES School of Business?
Dr. Githa S Heggde: Our placement records have done pretty well in terms of ROI and diverse backgrounds. According to the recent placement report of 2020, ten students have achieved a package of 30 lakh per annum in a company from South Africa. Some of our top recruiters are Amazon, Decathlon, Godrej, Nestle, Vedanta, ITC Limited, Berger, Adani, Dell, and ONGC. 95 percent of the 2020 batch has been placed with a median CTC of 6 lakh per annum. The rest 5 percent of students have opted for higher students at international universities. Our school has been awarded as one of the top schools for an analytics programme. Companies from diverse backgrounds such as aerospace, logistics, and supply chain management participate in the placement fair of UPES School of Business.
Careers360 - What kind of hostel facilities are provided to students of UPES School of Business?
Dr. Githa S Heggde: Dehradun is a very beautiful place and our campus is one of the beautiful campuses in the country. Our School of Business has both - a girls and boys hostel that accommodates about 40 percent of the students. We provide students the option to stay on campus. The campus has a sceneric beauty and all the facilities that a student needs. Additionally, we also have tie-ups with various facilities outside the campus that accommodate our students.
Careers360 - How is the internship scenario at UPES School of Business?
Dr. Githa S Heggde: At UPES School of Business, more than 600 companies come to elect students for summer internship programmes. From the first semester, students are required to enroll themselves in a workshop according to their level of interest which helps and guides them in achieving their industry goal. The school works on a learning -enabled curriculum and from the beginning students are required to choose a life skill programme that helps them reach the holistic goal of their degree. The school also sponsors entrepreneurial projects for students. Along with this, it is also mandatory for students to undergo social internships where we connect them to NGOs and they work with our students to teach them how to give back to society.
Careers360 - Please tell us about international collaborations of UPES School of Business.
Dr. Githa S Heggde: Our students studying in specializations such as finance, marketing are provided lectures from various global universities such as London Business School, University of Canada. Students are also given a mandatory term abroad with our partner universities. About 10 percent of lectures are delivered directly to students from faculties of foreign universities.
Careers360 - What is your advice to prospective B-school students?
Dr. Githa S Heggde: As I mentioned earlier, our school offers core and intensive courses on business management at both undergraduate and postgraduate level. We have researchers working with our students from top companies. UPES School of Business also has a decent amount of international collaborations along with a term abroad. Our university offers a holistic approach and development of a student which is difficult to find in any other university.
School of Business, University of Petroleum and Energy Studies, Dehradun Updates and Articles
Questions related to School of Business, University of Petroleum and Energy Studies, Dehradun
Showing 669 out of 669 Questions