Saintgits Institute of Management Placement Report 2017-19: Financial and Banking Sector take lead
Saintgits Institute of Management Placement Report 2017-19: Saintgits Institute of Management has released the placement report for the academic year 2017-19. The institute witnessed the highest CTC of Rs. 7.62 lakhs per annum with Financial and Baking sector taking the lead. The placement drive of Saintgits Institute of Management consisted of a total 201 students. Also, the institute witnessed the participation from 95 companies among which 33 companies were first time recruiters. Check the complete details of the Saintgits Institute of Management placement drive in the article below.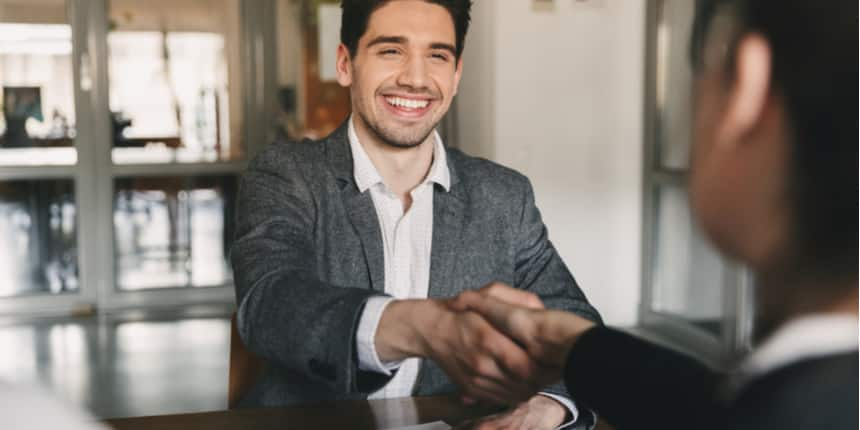 Saintgits Institute of Management Placement- Features
| | |
| --- | --- |
| Feature | Details |
| Highest Salary | Rs. 7.62 Lakhs per annum |
| Average CTC | Rs. 3.38 Lakhs per annum |
| Number of offers | 169 |
Saintgits Institute of Management- Batch Profile
Total number of 206 students enrolled for the placement drive. This year saw an increased number of students enrollment as compared to last year.
Batch Profile
| | |
| --- | --- |
| Feature | Details |
| Students Enrolled | 206 |
| Students Participated | 201 |
Saintgits Institute of Management- Highlights
Saintgits Institute of Management witnessed the participation of 46 new companies also of many first time recruiters.
Highlights of Placement
| | |
| --- | --- |
| Feature | Highlights |
| Companies Participated | 95 |
| First time recruiters | 33 |
| Total offers made | 169 |
| Average Salary | Rs. 3.38 LPA |
| Highest Salary | Rs.7.62 LPA |
Saintgits Institute of Management- Recruiters
Financial Services and Banking dominated the placement drive of Saintgits Institute of Management with more than 60% of the placements held in these sectors. The highest recruiting domain was Marketing and Finance offering the roles in Sales and Client services. The company which made the highest offer was Federal Bank Rs. 7.62 LPA
Some of the top recruiting companies are:
Byju's The Learning App, Mondelez International, Federal Bank, Luker Lights, Berger Paints, TCS, Ramco Cements, S&P Global, HDFC Bank, ITC, FlipKart, OYO Rooms.
Saintgits Institute of Management Placement
The corporate relations team take care of placements and related activities. The team ensures mutually beneficial Industry interaction through various activities which in turn leads to rewarding relationships and placements. During placement season either corporate are invited, or they approach the campus for pre-placement talk and recruitments.
A well-structured training programme from day one and small group mentoring programme, ensure individual attention for student development. Pre-assessment of skill and rigorous internal and external training programmes specific to areas like Aptitude test, Group Discussion, Resume preparation and Mock Interview is done on a regular basis. Further, sessions and activities for building confidence, communication, team spirit, leadership etc are add on training conducted. Also, Job-specific and Industry oriented discussions and training during the placement season equips students fit for the market.
SAINTGITS Updates and Articles
Saintgits Institute of Management's Dean Dr Roji George talks...
29 May 2020
Questions related to SAINTGITS
Showing 3 out of 3 Questions
17 Views
placement in computer science in saintgits college kottayam
Hi, as you want to know the placement statistics of Saintgits College of Engineering, Kottayam in CSE branch so let me tell you first that this college ranks one of the top most college in state Kerala. And coming on the placement section of this college(specially CSE branch) so many top MNC's, companies used to visit in the college for placements every year. Some of them are Amazon, Attinad Software, BYJU's, Cognizent, TCS, HCL, IBM, Infoses and many more. One good thing of this college is that it help to get placement and they gave placement training during the course. The point is that the highest salary package offered is 19.50 LPA from VMWare. As well as approximately 180-200 students got placed every year with the highest package of 6 Lacs per annum. Infosys is one of the main company visit the college. So on this data you can easily decide yourself what this college offers in terms of placements.
Good Luck.
14 Views
which is better cse from saintgits kottayam or sjcet palai ?in terms of placement
Hello Aspirant ,
According to web results Saintgits College of Engineering is quite better compared to St Joseph's College of Engineering and technology . Let's know some information about Sanitgits college of engineering  .
It is Established in 2002 year and affiliated private university .
Courses offered is B.tech , M.tech  and FPM .
Average package offered is 3.60 LPA .
Good Facilities .
If you want some more information like Fee , Admission process , Student reviews , Exams accepted for admission e.t.c. go through it you get some idea .
https://www.careers360.com/colleges/saintgits-college-of-engineering-kottayam
I think this answer will help you lot .
Stay safe Keep learning my friend
All the best !!!!!