Sadhguru discusses Human Evolution and Future of Artificial Intelligence with students at Bennett University
The renowned spiritual leader Sadhguru Jaggi Vasudev, founder of Isha Foundation, visited the Bennett University in Greater Noida to interact with the students in 'Youth and Truth' session on February 7. The mega campaign was a platform for embracing the truths of life, that make us unique yet let us be a part of this cosmos. In September 2018, Sadhguru launched a nationwide movement called 'Youth and Truth' which is simply an invitation to young people to ask questions for which they never found answers.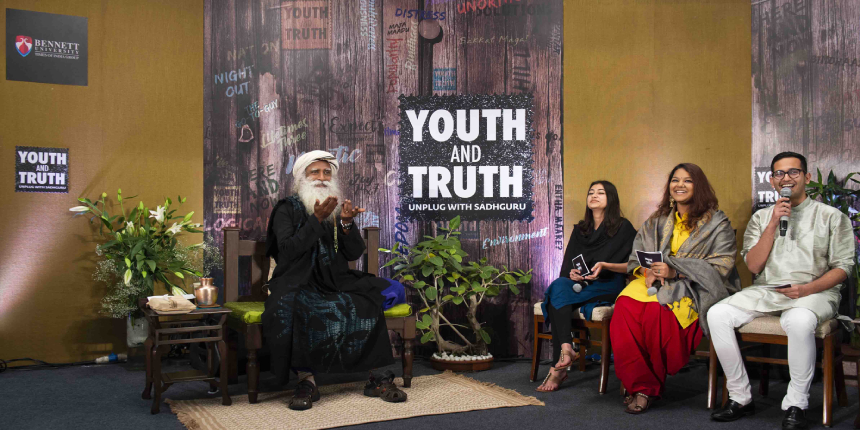 While discussing human evolution and the future of artificial intelligence with the students, Sadhguru said, "Memory is not intelligence. Having more information does not make one more intelligent." He further added that "Alertness and consciousness are what will make a person superior," as artificial intelligence takes up the task of remembering and carrying information.
Flooded with questions on a wide range of subjects by an enthusiastic audience, Sadhguru responded with wit, wisdom and liberal doses of humour.
Hinting at teachers, he joked that the crowd of students was being tortured by a few people because "they read a book ahead of us". However, he also attacked religious leaders for posing as superior beings. "They read a big book and make you feel like they know the universe. The universe cannot be contained in one book," he told the students.
The students wanted to know if Sadhguru was a PUBG fan, but had to instead introduce him to the popular phone-based game. He was also questioned on heartbreaks, and how to "undo" the love.
He said attraction is nothing but the hijacking of the system by hormones. However, one must be alert to the changes in the mind, especially because serial heartbreaks can make a person paranoid and keep one from building human bonds. "Serial heartbreaks will look like fun for some time, but after a while, you will just have no interest in anybody in your life. Because another human being is a problem," he warned.
He was also asked for his take on many controversial issues, including the entry of women in Sabarimala. He responded that the issue was less about gender equality and more about fulfilling political wishes. According to Sadhguru, Sabarimala is the deity's abode, and his wish -- that women not enter his "bedroom" -- should be respected.
"There is no question of women entering or not entering. They are making it out like they are not being allowed because of the menstrual cycle that a woman has. But this is not the case. This one deity, he is a monk. He said this is my abode, where women don't come. This (controversy) is a manipulation, political wills are being fulfilled," he said.
Popular RJ Raunak also visited the Bennett University campus to attend the event. The young RJ talked to the students about Sadhguru and the transformation he experienced in his life after attending the inner engineering session in Coimbatore. Further sharing his experience with the students, Raunac said Bennett University is giving a unique opportunity to students to seek answers to their lingering doubts. He encouraged students to forego limits, boundaries and taboos. From sex to drugs to relationships and midlife crisis, from fashion to freedom, from astrology to homosexuality, Ramayana, ambition, the beef ban, reincarnation, love, artificial intelligence, purpose of life, career choices, no question is irrelevant. 
The University campus is celebrating the week of February 4th, 2019 as Youth and Truth Week. The students from different programmes enjoyed the event to its full extent. Nandana Varshney, 3rd year B.Tech student, said, "This event brought me closer to reality as I was amazed to discover what remains undiscovered." 
"I wasn't well aware of Sadhguru but working with the Isha Foundation team, I gradually understood the ideology and a changed perspective of life," says Souvik Mishra, 2nd year BTech student, a member of the organizing team.
Bennett University, Greater Noida Updates and Articles
Questions related to Bennett University, Greater Noida
Showing 116 out of 116 Questions