Prof. Vishwanathan Iyer of TAPMI Manipal says, "Management education can no longer be India centric"
Management education is seeing transformation in wake of the developments that are taking place across the world. The year 2020 has posed some serious doubts in the minds of management aspirants when every other day one sees a person losing his job. However, Prof. Vishwanathan Iyer, Dean (Academics) at TAPMI Manipal has some interesting insights on how this phase has been a learning experience for all who are in the sphere of management education. Prof Iyer, who has an experience of 17 years of teaching and research and 2.5 years of professional practice in the area of Finance and Accounting, provides details about the admission process. The institute will close its PGDM application process on January 18, 2020. TAPMI Manipal admission to PGDM is offered on the basis of CAT/ XAT or GMAT score followed by weightage given to other parameters in the final selection process. In conversation with Careers360, Prof. Vishwanathan Iyer shares details on the TAPMI Manipal admissions, importance of upskilling, placement process and proposition for students planning to join TAPMI.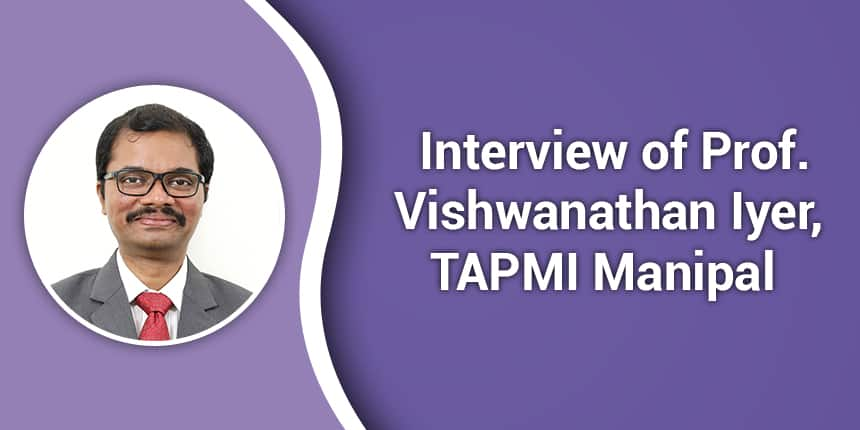 Careers360: Please elaborate about your flagship programs and their notable features.
Prof. Vishwanathan Iyer: TAPMI's flagship programme has always been the Post Graduate Diploma in Management (PGDM) Programme. With a rich legacy of over 3 decades, this program is known for its content and the rigour. What makes it stand apart amongst its contemporaries, is the high emphasis on experiential learning, values and ethics, leadership focus, and development of a balanced view of life. Some of the notable features of the flagship PGP program are:
Continuous upgradation of the courses to make it relevant to industry standards.

High level of industry-academia engagement through guest lectures, webinars etc.

TAPMI-Young Leaders Program (YLP), a unique opportunity for the selected students which provides development opportunities via. extended coaching, mentorship by alumni and executive internship with senior leaders from corporate India in year II.

TAPMI-Leadership and Assessment Centre (LADC), where every student undergoes the psychometric tests and is assessed by trained faculty members who provide them a one-on-one advisory about their transformational leadership abilities.

Connecting the students to the rural community and applying their learnings to enable the deserving people through courses like SEVA.

Hands on experience in real time situations through courses like Samnidhy and SMIC.
Careers360: Shortlisting of candidates is on the basis of CAT/ XAT or GMAT scores followed by the weightage to performance in graduation, class 12 and 10. Which exam is given a higher preference and why?
Prof. Vishwanathan Iyer: For candidates with work experience of less than 20 months as on March 31, 2021
| | |
| --- | --- |
| Test | Cut-off (minimum) |
| CAT 2020 | 85 percentile |
| XAT 2021 | 85 percentile |
| GMAT (2016-Feb 2021) | 630 |
| Graduation | 60 percent |
| Class 12 | 60 percent |
| Class 10 | 60 percent |
*As per APH-2020: Subject to change
For Candidates with work experience of more than 20 months as on March 31, 2021. TAPMI also follows "Profile-based shortlisting". Profile considered for shortlisting consists of
Valid CAT/ XAT/ GMAT scores (whichever is higher)

Academic profile (10th, 12th, Graduation, Overall academic performance, etc.)

Work experience (type of company, total experience in months, etc.)

Extra-curricular achievements (State/ National/ International) if any

The Statement of Purpose plays an important role in shortlisting
Shortlist for each programme is separate and independent of each other. The weightages for individual components are in line with the recommendations of the AICTE-Approval Process Handbook.
Careers360: Students who have appeared for both XAT and CAT- which exam should they indicate in the TAPMI application form?
Prof. Vishwanathan Iyer: TAPMI considers the best score amongst the eligible entrance examinations (CAT, XAT, and GMAT). However, it is advisable to indicate all the scores so that the best can be considered.
Careers360: Selection process involves an English proficiency test, Group discussion and personal interview. Since CAT or XAT already have the verbal ability and reading comprehension sections, what is the purpose of this English proficiency test and how is it different in testing students?
Prof. Vishwanathan Iyer: English Proficiency Test (EPT) has been introduced to help assess the Language Proficiency across Listening, Reading, Writing and Speaking Skills. The testing environment of CAT/XAT is structured to assess the "knowledge" of English as a language whereas EPT is structured to assess the communication skills of the applicant. In that sense, EPT looks at the "application" capability of the applicants that they are likely to face over the course of the management program.
Similarly, one can argue that in many ways Speaking skills are assessed as part of Group Discussion and Personal Interviews. It is important to appreciate that while GD performance has a large 'Group Dynamics' element the Personal Interview is dominated by 'context'. The speaking segment within the EPT is neutral of the candidate's background and thereby brings in a level playing field to compare the skill in a uniform setting.
The Listening and Writing skills are not tested directly within the GD and PI process. The Writing segment shall replace our earlier WAT component.
The scoring for EPT has been benchmarked against global standards. We use the CEFR (Common European Frame of Reference) Scale. Even those candidates who do not make it to TAPMI, they will still benefit from this detailed assessment of language proficiency.
Careers360: With the COVID pandemic stalling the academic processes for all, how has TAPMI made the adjustments needed for its students to cope up? What have been the challenges faced? Please elaborate.
Prof. Vishwanathan Iyer: COVID-19 has posed some major challenges for the TAPMI community that includes students, Faculty, Staff and housekeeping and garden workers. The following are the initiatives taken up by TAPMI to mitigate the risks posed by COVID-19:
Mental Health and Wellbeing: The Director of TAPMI has initiated a call with the students every 15 days to understand their concerns and to boost their morale. This call is conducted using CISCO Webex facility. A wellness initiative has been launched with two dedicated Faculty counselling the students.

We transitioned to online sessions (synchronous) in the month of July 2020. All major classrooms are enabled with SENSES Smartboards.

Students faced challenges with networks throughout the past six months. Hence recordings of the sessions are made available.

Live projects for students have been arranged.

A Standard Operating Procedure (SOP) has been released for the students.

Sanitisers and hand wash facilities have been installed at the main gate. Sanitisers are placed right from the main gate to all hostels, academic blocks, library, food centre and classrooms.

Special counselling support is also being provided to students in the campus to ensure mental well-being during these testing times.

Maingate entry has thermal scanners.

Academic delivery will be flexible based on the directives of MHRD/AICTE. The Institute has already ramped up CISCO Webex facility for online learning.

To support students, TAPMI has initiated specific Coursera courses for all students.
Careers360: The selection and shortlisting process of TAPMI indicates separate criteria for applicants with work experience above 20 months and less than. How does this bode for a fresh graduate who has no work experience as the final selection also gives weightage to students with work experience?
Prof. Vishwanathan Iyer: TAPMI has been admitting fresh graduates (approximately 24-30% of batch size) along with students with work experience above 20 months. TAPMI encourages fresh graduates with exceptional track record to apply as they bring creative ideas in class.
Careers360: The year 2020 was unprecedented and a lot of management institutes had to go online not just with classes but their admission process. Do you think this new norm is to stay in the future also? What are TAPMI's plans on this front?
Prof. Vishwanathan Iyer: The entire admission process of 2021 shall be done online. Going forward from 2022, it is likely that we may retain some parts of the process.
Careers360: Online education is now the norm across the world. Do you envisage this to be the future norm or just a temporary phase? Please elaborate.
Prof. Vishwanathan Iyer: Perspectives are extremely difficult in the online mode. There is a significant proportion of group work and learning from peers through direct interaction. Most of the pedagogy deployed in the class such as Case method of teaching, Simulation, Role Play, Discussion, etc are most efficient when students are on campus. There is a very good reason why schools around the world have residential requirements for MBA programs.
In nutshell, we will see things reverting to pre-COVID practices. However, there are some interesting lessons learnt in this period that will see continuity even in the post-COVID pandemic world. We can definitely offer a few courses along with partners schools around the world wherein the class can be a mixed cohort of both schools. In this way, international experience can be provided for the students for certain courses without having to necessarily travel. Guest sessions from practitioners can also be arranged in similar format.
Careers360: Dr. Ramdas Pai Merit Scholarship is offered to about 50 students. What is the scholarship about? Who can apply and what is the process?
Prof. Vishwanathan Iyer: For aspiring students, TAPMI provides scholarships up to Rs. 2.9 crores. Under Dr. Ramdas Pai Merit Scholarship scheme, around 50 students can bag scholarships worth Rs. 2.26 crores. The objective of Dr Ramdas Pai Merit Scholarship is:
a. To celebrate and appreciate merit
b. To financially support meritorious students with limited financial means
Visit at https://www.tapmi.edu.in/admissions/scholarships/ for more details about this scholarship.
Anyone who joins TAPMI can apply for this scholarship. The applications are invited in specific format along with supporting documents for all categories except category- I. All applicants of category II/III/IV undergo the interview process, post scrutiny. The award of scholarship is announced to the most deserving applicant. For availing the scholarship for the successive year, the recipient must maintain minimum CGPA requirement at the end of the first-year of the programme.
Careers360: Are there other scholarship programmes?
Prof. Vishwanathan Iyer: Yes. The details are furnished below:
| | | |
| --- | --- | --- |
| Particulars | Eligibility | Amount |
| Dean's Roll of Honour | Top 10 performers of the batch | Rs.. 2 lakhs each |
| TAPMI-SHRM Scholarships | All eligible students of PGDM-HRM | Upto Rs.. 31 lakhs |
| CFA/ FRM/ CMT Scholarships | All eligible students of PGDM-BKFS | Upto Rs.. 10 lakhs |
| Young Leaders Programme Stipend | All eligible students | Upto Rs.. 6 lakhs |
Careers360: Please throw some light on Tapmi's industry collaboration? What are the activities undertaken in this regard? How does this help in the placement of students?
Prof. Vishwanathan Iyer: We are transitioning into the new learning environment seamlessly, for which we have undertaken various initiatives. A specific set of COURSERA courses have been designed for the batch to impart additional skill sets to facilitate placements. The Office of Corporate Engagement ensures industry interaction on contemporary issues via Leadership Lecture Series, Webinars, CXO Series, Industry Immersion Workshops. Guest Lectures and Course Inputs. We aim to help navigate the complex and ever changing world of business and provide opportunities to apply the theoretical underpinnings learned in the classroom. We create excellent opportunities for summer internships and placements. The corporate engagement team works closely with leading recruiters, HR experts, career coaches, and senior alumni. We have designed an exciting professional development program (PDP) that would assist in getting high-quality internships and placements.
Careers360: Please explain the placement process. What is the training given to students to face the interviews and selection process?
Prof. Vishwanathan Iyer: At TAPMI, we consider excellent placements as a logical conclusion of our rigorous academic processes. Therefore, we have redesigned our PGDM programs with flexible learning at its core to ensure increased industry alignment. This includes – regular industry inputs via advisory panels, a new basket of electives (sectoral/contemporary concepts) based on industry inputs, increased co-teaching and delivery of courses in the second year, extended internships, student onboarding in term 6, industry specified and designed courses on offer in term six and recruiter specified courses via COURSERA to strengthen onboarding. The students undergo Multiple Intelligence Psychometric Tests (MIP) to fully understand their strengths, empowering them to leverage these capabilities to further their career. Students continue to undergo Professional Development Training on conclusion of the MIP activity. The PDP training sessions aim to facilitate their skill set for internships, placements and job roles.
Careers360: Can you elaborate on the placement figures this year at TAPMI Kindly give some details in terms of mean salary, positions offered etc.
Prof. Vishwanathan Iyer: We saw 102 companies visit our campus to recruit the entire batch of 425 students (across programs). This includes 76 accepted PPO Offers with an average PPO package of Rs.12.9 Lakhs with highest PPO package of Rs. 25.0 Lakhs.
For the batch, the average CTC was Rs. 11.5 Lakhs while the averages for the top 50, 100, 200 and 300 students are Rs. 16.1 Lakhs, Rs. 15.0 Lakhs, Rs. 13.3 Lakhs and Rs. 12.3 Lakhs respectively. Between PGDM and BKFS programs, the averages were Rs. 11.5 and Rs. 12.7 respectively. Average CTC for the experienced students was Rs. 13.0 Lakhs while that for the freshers was Rs. 9.8 Lakhs. The salary upturn observed for this batch of experienced students was 2.8 times their pre-program salary.
The IT, Analytics and E-Commerce sector absorbed 30% of our students while BFSI and Consulting about 28% and 25% respectively. FMCG and Retail has a moderate presence of 12% while the remaining was absorbed by the Core Manufacturing sector. The highest average CTC was offered by Consulting sector (Rs. 12.4 Lakhs) while the lowest average CTC was offered by IT, Analytics and E-Commerce (Rs. 10.9 Lakhs).
Careers360: Entrepreneurship is now an interesting option for many students and there are management programmes to that effect too. Are TAPMI students given support in such endeavours and how?
Prof. Vishwanathan Iyer: We support students on multiple fronts. In our regular curriculum to support entrepreneurial mindset and innovation, we have Design Thinking, Innovation Management, Shark Tank and a general course on Entrepreneurship. In terms of social innovation, we run a course on SEVA (Society, Environment, Values and Attitudes) and follow it up with a 75-100 hours Social Internship.
This year, we have entered a partnership with MIT Sloan and are now members of MIT SOLVE Global Network. As part of the network, students have access to the SOLVE X Course, Certification in Design Thinking for Social Innovation offered jointly by Sloan School and TAPMI as well as the annual SOLVE CHALLENGES wherein they work with students drawn from around the world. Similarly, we have relationships with International Innovation & Entrepreneurship (I&E) Ecosystems, namely INKUKATOR DE (BA SACHSEN) and SPINLAB, Leipzig.
Over the past years, students have had access to MAHE's Incubator and all funding that goes with it. Manipal Academy of Higher Education (or MAHE) is one of the few Universities to be granted Institution of Eminence (IOE) status. TAPMI is part of the extended MAHE family and over the next one year is expected to merge with the University.
TAPMI has incubated a Student Managed Investment Fund, Samnidhy, to give students a comprehensive experience of managing an enterprise. This Fund is a registered entity and is managed by the students entirely. The Board along with Analysts and other members run the entity and pay the taxes. While the Chief Investment Officer and Chief Review Officer (CIO & CRO) come from Fin majors or PGDM-BKFS cohort, the Chief Marketing Officer (CMO) comes from our Marketing majors or PGDM-Marketing cohort, the Chief Human Resource Officer (CHRO) is from PGDM-HR cohort. The financial analysts and marketing team chosen from across the student cohorts. Currently Samnidhy manages an AUM of a corpus in excess of Fifteen Lakhs.
Careers360: Management programmes are seeing a shift in the specializations offered. In addition to core programmes, AI, Digital Marketing are some of the new age specializations that are being looked at? Does TAPMI have any plans to introduce other specializations? Please give some details.
Prof. Vishwanathan Iyer: Our electives offerings are reviewed each year based on the inputs from the faculty members part of the Corporate Engagement team as well as the Program Advisory Committee. Over the last couple of years, we have introduced a new cluster of courses that focuses on increasing the interface of technology with functional areas of management. A basket of courses such as Emerging Technologies, Digital Transformation, Social Media Data Mining, Data & Analytics Industry Infusion Program with KPMG, Fintech and Emerging technologies in Banking and Finance with senior management (Directors) at Virtusa.
In addition to the above, we are in the process of setting up an AI Lab that shall offer cutting-edge courses on Analytics for both students and executives. Our Finance Lab with 16 Bloomberg and 7 Reuters terminals are the largest in the country for an educational institution. Bloomberg as part of their outreach talking about 20 years in India, spoke extensively about engagement with TAPMI. Our engagement with Bloomberg has metamorphosed into TAPMI Bloomberg Olympiad now extended to students from South East Asian Schools as well. A unique opportunity for students across all schools/universities to fight it out and demonstrate their prowess in innovative application of Bloomberg to tackle complex problems from the financial world.
Careers360: Choosing the right institute and specialization is important. Can you give some pointers to students in this regard?
Prof. Vishwanathan Iyer: It is often important to make a distinction between first job versus the career. I say this, because, unfortunately, sometimes students do not distinguish between the two. While accepting a job that offers a high RoI is in the short interest of the student and the school (in terms of bragging about it), it is extremely important to take a comprehensive view of student's aptitude, personality traits, long term interests, etc before deciding upon the sector, company and job roles to apply for. TAPMI walks the extra mile to see the alignment. We have in-house processes as well as consultants do Multiple Intelligence Psychometric Profiling to understand their greatest strengths, career development and career options. We believe that relationships with our students do not end within two years. Au contraire, the two years spent at campus is just the beginning of the long relationship as Alumni of the TAPMI brand.
Here are my two cents. While choosing the right school keep in mind that management education can no longer be India centric and indifferent to what is happening around the world. The basic hygiene therefore must be International Accreditations. Look out for schools with AACSB, AMBA and EQUIS accreditations. Enormous efforts go into it and schools need to benchmark with best practices around the world and need to demonstrate continuous improvement if they intend to maintain their accreditation. I am happy to see that TAPMI has led the internationalization among Indian schools in that sense. We were the first AICTE/UGC approved institution to get the AACSB accreditation in India. The fact some of the premier IIMs and top private schools choose to follow this path is a testimony to our ability to look and plan ahead.
The second is the quality of Industry Interface and Interaction. Unlike other Masters programs, a PGDM/MBA degree prepares you for a career in Management. Hence, it is natural that the two-year program should embed as many industry practices as possible. As a management student, it is important to understand how the world of business is seen by the mid-level and senior level management executives. So, a school that integrates industry intelligently is the most suitable one.
Third in line is the flexibility in learning processes. Flexibility is provided both in terms of content as well as structure of the program itself. Even for a school with the largest pool of expert faculty, it is impossible to offer courses on varied bodies of knowledge. The top schools understand this and partner with comparable schools and offer courses that would not have been possible as individual schools. Such bilateral and multilateral arrangements benefit students of all schools involved. Such arrangements can take shape in many ways – International Exchange and Immersion, Joint courses being offered by faculty members across the partner schools, etc. At TAPMI, in addition to these, we also have a professional arrangement with Coursera. Each student is entitled for their own licence.
Last, but not the least, is the strength of the Alumni. Ultimately, the most important stakeholder of the school is the Alumni. We engage them, listen to them and most importantly involve them in critical activities of the school. They play an important role in shaping the current students.
TAPMI Updates and Articles
Questions related to TAPMI
Showing 148 out of 148 Questions