Producing efficient Managers biggest challenge for B-schools, says Dr Pooja, Director, JIMS Rohini
With classrooms transforming into digital classrooms, industry-academia collaborations, and student exchange programmes, the Management education in India is evolving every day in some way or the other. Dr. Pooja Jain, Director, Jagan Institute of Management Studies (JIMS), Rohini, believes that the landscape of management education has undergone considerable change over the years. She also believes that the essence of good management education is to train people for managerial positions in corporations. Talking about the biggest challenge for a B-school, she says that producing efficient managers is one of the biggest challenges that B-schools face today. In conversation with Careers360, She explains the beauty of management education in the country and how JIMS as an institute working on improving the different aspects of it.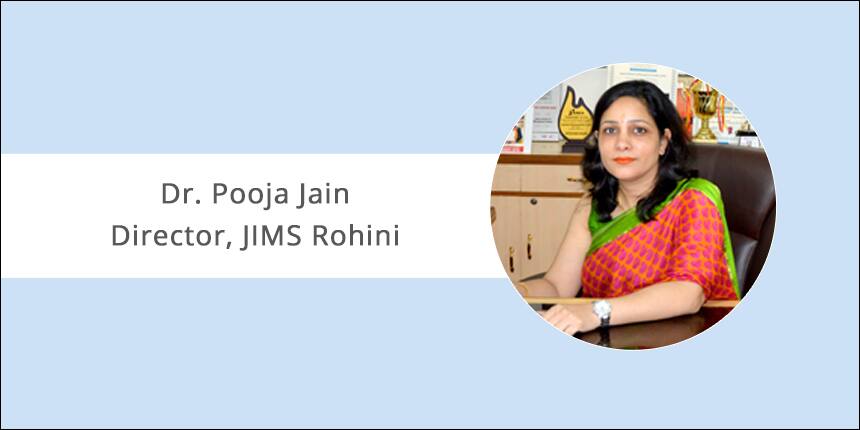 Read the complete interview here:
Careers360: How is JIMS Rohini different from other institutes of similar stature? What are the USPs or factors that make your B-School stand out?
Dr. Pooja: We believe that beyond academics, we are creating leaders of tomorrow. JIMS faculty believes in pushing the boundaries of inquiry. Their insights travel from our classrooms and research centres to the boardrooms of organizations that are shaping the future. The institute has several academic alliances with reputed universities and institutions all around the world to prepare for global mobility and continue your learning journey. The institute also has an Innovation and Entrepreneurship Cell which aims to instil entrepreneurial mindsets in the students. The PGDM programme encourages students to develop their own unique leadership style by participating in campus events.

Careers360: Please share the intake and fee structure of your flagship programme.
Dr. Pooja: We have 180 seats for the PGDM programme. The total fee for the course is 
Rs.7,15,000 + Rs. 5000 (security refundable). The entire fee can be paid in three instalments. 


| | | |
| --- | --- | --- |
| 1st Installment (Payable at the time of admission) | 2nd Installment | 3rd Installment |
| Rs. 2,50,000 + Rs. 5,000 (Refundable security) | Rs. 1,30,000 November 21, 2019 (Thursday) | Rs. 2,00,000 Payable by July 10, 2020 (Friday) |

Careers360: For the academic session of 2018-20, did you introduce anything new related to admission, curricula or placement? What is your plan for the upcoming session of 2019-21?
Dr. Pooja: In our admission process, we introduced alumni interactions, peer group sessions in which aspirants could discuss their piece of mind with current students and alumni.

Careers360: What is your opinion about the Integrated MBA? Do you think Integrated MBA is lucrative than normal MBA? Would you like to initiate the course at your institute?
Dr. Pooja: Integrated MBA is an innovatively designed dual degree programme that combines the undergraduate and postgraduate programmes – BBA and MBA. One of the core advantages of doing an Integrated MBA course is the fact that student can maximise their career impact in a short time-span. Yes, we would like to initiate the course at our institute.

Careers360: What are the functional specializations offered at your institute? What are the current industry trends in terms of different functions such as HR, Sales & Marketing, Operations, Consulting etc.? 
Dr. Pooja: The functional specialization offered are PGDM, PGDM IB, PGDM RM, MCA, BCA, BBA. All these functional areas are taught incorporating in the curriculum, the trends and changing business dynamics.
The role of analytics has seen a steep rise in the last few years. We introduced courses like Business Analytics, Marketing & HR analytics in our curriculum to ensure the students are placement ready.

Careers360: How is the current industry-academia sync at your institute?
Dr. Pooja: We strongly believe in building a firm foundation for the corporate interface through intense industry connects and practices. Our students are highly encouraged to undertake industry projects, presentations, case studies, research work and working as trainees to get practical experience of the industrial working environment. 
We have undertaken various special initiatives such as Pre-placement Training, Industry-Institute Interface, Conferences and Seminars.

Careers360: How do you prepare your students for the placement process?
Dr. Pooja: We sincerely believe that activities must have a positive bearing on a students' academic and personal development. Keeping these demands in consideration, Corporate Resource Management Centre (CRMC) acts as a vital interface among the student, industry and the faculty. It actively conducts varied activities like workshops, seminars, industrial visits and etc. to support its core objective of formulating need-based and result-oriented training programs. The team constantly tries to add value to the professional life of the students by various initiatives such as Final Placements, Summer Internships, Industrial Visits and Live Projects, Student Assessments, Seminar & Workshops, Personality Grooming and Communication sessions, Guest Lectures.

Careers360: How successful was the placement programme at your institute this year?
Dr. Pooja: A total of 214 students were placed from 2016-18 Batch. The highest salary offered was Rs. 15.12 Lakhs and around 180 companies visited the campus for the recruitment process.

Careers360: How do you support students who wish to start their own venture just after completing MBA? Do you have an incubation cell? If yes, how does it function?
Dr. Pooja: JIMS aims to instil entrepreneurial mindsets in the students as well as to encourage them to develop and showcase their business ideas.  Considering that present generation is highly creative, has risk-taking abilities and has got lots of exposure, JIMS has established Jagannath Incubation Centre (JIC) to encourage, support and promote entrepreneurial abilities among the students across all programs.

JIC ambitious plan is to give a boost to 'Make in India' and 'StartUp India' initiatives of the Government of India and make the students 'Employment Provider' rather than the 'Employment Seeker'. The programme has been divided into (a) Classroom Training (b) Market Study (c) Field Project.

Throughout the programme, every participant would be attached to a mentor, who would provide guidance throughout the duration of the programme. Participants, depending upon the practicality of their business idea, its growth prospects and project progress, may be awarded funding of up to Rs.50,000 on completion of six months of the programme. Those pursuing Startup Incubation programme may also earn credits as per the policy of respective course programmes. The students on successful completion of the programme shall be awarded 'Certificate of Participation', subject to fulfilling the eligibility criteria. 

Careers360: Do you allow NRI candidates to join your institute? If yes, what are the eligibility criteria for the NRI aspirants?
Dr. Pooja: NRI candidates cannot join institute directly but we have tie-ups with Foreign University and Students can study through foreign exchange programmes.

Careers360: According to you, how has the management education evolved over the last few years?
Dr. Pooja: The landscape of management education has undergone considerable change over the years. In the initial days, the demand for management education had to be created and the institutions had to invest in exploratory marketing,

This trend started changing with the realization among executives working in professionally managed companies that their professional growth in their organizations could be facilitated by a management degree or diploma from a good institution.

Careers360: What are the key challenges that management education face today? How do you plan to meet those challenges?
Dr. Pooja: The biggest challenge of management institutions is to produce efficient managers. We are in an era when knowledge is expanding at an unprecedented rate. The essence of good management education is to train people for managerial positions in corporations.
We are nurturing and sustaining quality faculty with industry experience, teaching ability, international exposure, and research outputs for future managers.
Also, we transforming the classrooms into digital classrooms for providing a platform to students for generating industrial skills. Digitalisation in classrooms enables our faculty to adopt innovative teaching pedagogy.

Q. Do you have any message for MBA aspirants who wish to join JIMS Rohini?
Dr. Pooja: Jagan Institute of Management Studies (JIMS) is a place of learning for knowledge-driven learners. It has been built with an aim to impart education that surpasses the benchmarks of excellence. It has esteemed faculty members with their vast experience and expertise. It also takes pride in providing its students with world-class facilities which are second to none. On behalf of JIMS, I extend my invitation to all MBA aspirants for a mutually beneficial long term association.
JIMS, Rohini Updates and Articles
Questions related to JIMS, Rohini
Showing 268 out of 268 Questions