Praxis Business School Director Dr Prithwis Mukerjee says, " Institute encourages independent thinking"
Managers today face this herculean task of managing a sea full of information which cannot be handled with ease on spreadsheets and by following conventional statistical methods. Dr Prithwis Mukerjee Praxis Business School Director in an exclusive interaction with Careers360 bats for the importance of independent thinking and talks about the PGDM in 7 concentrations at length and how the institute is working towards creating leaders who will play a pivotal role in influencing the digital transformation process.. Read the full interview of Dr Prithwis Mukerjee to understand the placement process, salary and roles offered to the students of the institute and other vital information related to management education.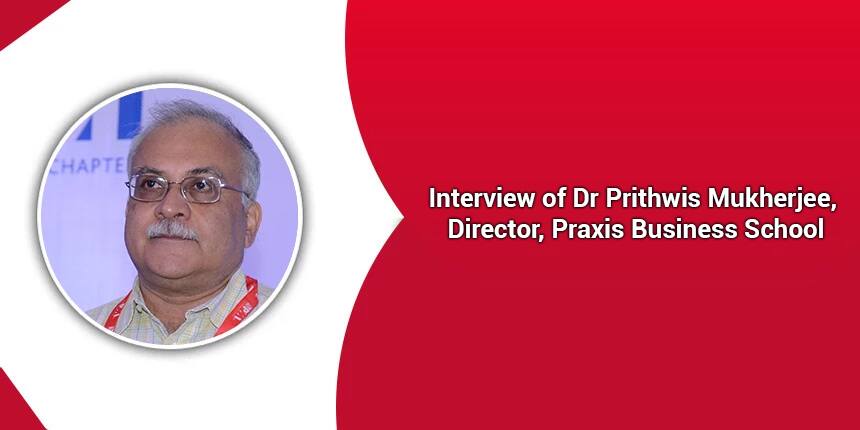 Careers360: PRAXIS offers PGDM in 7 concentrations. What is the path for each after completing the course? Please describe the strength of each concentration in a few words so future aspirants get an idea?
At Praxis Business School, in addition to the specializations, students can opt for an area of concentration or sub-specialization in:
· Digital Business Management
· Business Analytics
· Data Science
· Customer Insights & Market Intelligence
· Corporate Banking and Project Finance
· Financial Risk Management (this is a replacement for Risk & Treasury)
· Human Resources
Digital Business Management
This vertical specialization in Digital Business Management is aimed at preparing professionals in a business environment that is increasingly driven by digital technology. The curriculum and pedagogy are designed to impart knowledge about technologies that are required to manage business in the digital world. There is a strong focus to learn the relevant technologies to a reasonable depth through intensive hands-on assignments, projects and case studies backed by a sound background of theory and industry use cases.
Business Analytics
Managers today are faced with a deluge of information that cannot be handled easily with spreadsheets and traditional statistical methods. Business Analytics goes beyond mere coding for MIS and IT. Students who take this concentration will learn to use new tools and techniques like Python, Machine Learning, Neural Networks, Artificial Intelligence and will be able to create predictive models based on classification, clustering and association rules. Business Analytics is a new-age core skill that almost every manager needs to run a data driven business into the future.
Data Science
Students who qualify for this concentration will be allowed to take all the courses offered to nationally ranked Post Graduate Program in Data Science offered by Praxis and on successful completion will be eligible for campus placements opportunities offered to PGDS students.
The Post Graduate Program in Data Science at Praxis Business School is ranked a prestigious 2nd amongst all full-time post-graduate Data Science programs by Analytics India Magazine and 3rd amongst the top Data Sciences programs in the country by The Economic times.
Praxis graduates have been well received by the industry as they have contributed across various leadership positions in data science practices across a multitude of domains. This prized alumni network is immensely important for the Praxis Data Science success and anyone joining this program gets instant access to it and the resultant benefits.
Consumer Insights & Market Intelligence
Understanding of "consumer needs" and sourcing of "market-related data" have always been the starting points of all Marketing or Business activities. In today's environment, the importance of these have increased manifold with larger availability of data on consumer transactions, growth in media channels, increase in online buying and even digitization of consumer feedback. Businesses stand to gain substantially if such plethora of data on consumer insights and market structures can be mined creatively. Praxis Business School has created a unique course in this fast-growing area of Consumer Insights and Marketing Intelligence by integrating relevant subjects of Marketing, Analytics, IT and Operations. The program will be relevant for careers in Consumer Insights for several verticals like FMCG, Consumer Durables, Media, Banking, Telecom and Retail. It will also groom students for industries like Advertising and Market Research.
Corporate Banking and Project Finance
This area is facing rapid transformation due to the impact of technology, data and digitization. Traditional banking and financial services have been affected in the areas of industry structure, the legal/ regulatory environment, service delivery systems, security markets and customer expectations. The course comprises inputs in the areas of finance, marketing, analytics, operations and information technology management - enabling the students to understand the cross-functional play in the finance industry and preparing them to create successful careers for themselves in this area.
Financial Risk Management
Corporates and Banks are implementing risk management practices to combat risks arising from the highly integrated and volatile financial markets. There is also a lot more focus on treasury and forex management functions to manage the volatility in forex rates and high levels of liquidity constraints. Praxis has partnered ICICI Bank to offer a concentration in Treasury and Risk Management to leverage the demand for well- trained professionals in this field. The jointly developed curriculum captures both the relevant theory and practice elements.
Human Resources Management
In this digital age Human Resources are at the center of a company's digital transformation and the HR function needs to be equipped to facilitate adaptation to the digital age. Our HRM concentration consists of courses like Competency Based Performance Management, HR Analytics and Strategic Human Resource Management. This helps the students to:
Develop distinctive competence in terms of performance advantages in the transformed business models;

Derive detailed inferences by analysing the HR data through HR analytic tools and techniques;

Frame and execute agile HR strategies that contribute to business strategies.
To provide a better understanding of the specializations with regards to profiles that the organizations' offer to the students at Praxis, we have listed a few of those profiles:
| | | |
| --- | --- | --- |
| Organization | Profile | Function |
| ICICI BIU | Deputy Manager (Band 2) | Analytics |
| L&T Finance | Management Trainee | Analytics |
| Influidity Solutions | Management Trainee - Research | Market Research |
| Nielsen | Research Executive | Market Research |
| Indusnet Technologies | Client Servicing | Client Servicing |
| Byju's | Product Specialist | Product Management |
| Byju's | Business Development Associate | Sales and Marketing |
| HDFC Bank | Management Trainee | Sales and Marketing |
| ICICI Bank | Deputy Manager (Band 2) | Sales and Marketing |
| ICICI Prudential | Management Trainee | Sales and Marketing |
| Embio Ltd. | Executive - Business Development | Sales and Marketing |
| IndusInd Bank | Management Trainee | Sales and Marketing |
| Tata Steel BSL Ltd. | Management Trainee Commercial | Sales and Marketing |
| Kotak Life Insurance | Management Trainee Sales | Sales |
| Marico Ltd. | Sales Trainee | Sales |
| IndusInd Bank | Management Trainee - Corporate sales | Corporate Sales |
Careers360: Do students from the different specializations participate in the same placement drive? What kind of positions are they generally placed in?
Dr. Prithwis Mukerjee: Students from all specializations and programs participate in the placement drive together. There are several companies that visit and recruit for both PGDM & PGP Data Science students and conduct the process on a single day itself. The Day Zero for the 2019-20 batch had 19 companies visiting the campus with 14 companies recruiting from both PGDM & PGPDS profiles. Most of the PGDM students (73% of the batch) are placed in the Management Trainee position - in the domains of Marketing, Sales, Branding, Digital Marketing, Finance and Analytics/Data Science.
Careers360: What is the average package that a student gets after completing PGDM from PRAXIS?
Dr. Prithwis Mukerjee: The average salary offered to students of the batch of 2018-20 was INR 7.02 Lakhs per annum. The Highest offer was 10.5 Lakhs.
Careers360: What do you think are the skill sets that a PGDM student from PRAXIS develops during the course that would help build a great career?
Dr. Prithwis Mukerjee: The focus Praxis has today is creating leaders who will influence the digital transformation process, with the belief that this can be done by fostering a learning ecosystem that encourages a high level of debate, discussion and independent thinking. The student develops hard skills around data and technology – the two vital components of the digital world – in their functional areas, and soft skills like communication, critical thinking, problem-solving and collaboration.
Careers360: What are the activities undertaken by PRAXIS to ensure their students are ready as per industry standards after PGDM?
Dr. Prithwis Mukerjee: The curriculum at Praxis aims to instil the right attitude for a compelling career:
· Adopting ethics as the underlying imperative
· Examining the relationship between business and society
· Respecting 'time' and the sanctity of deadlines
· Maintaining data discipline
· Understanding the importance of soft skills
Careers360: In your opinion, what are the upcoming trends and concentrations that students should look out for? What are the plans by PRAXIS in this regard?
Dr. Prithwis Mukerjee: As I have already articulated, students should opt for skills that are going to be sought after in the digital age. These include, at a high level, proficiency in the two main components of the digital age – data and technology. Business students will need to have the ability to work with enormous amounts of data to be able to help businesses make better decisions. They will also have to understand how technology can be leveraged to improve or disrupt current business models. Irrespective of the functional specialization they opt for – like marketing, finance, HR, systems etc., skills with data and technology will be mandatory.
Praxis Business School has therefore created the seven concentration areas I spoke about. These concentration areas - Digital Business Management, Business Analytics, Data Science, Consumer Insights and Market Intelligence, Corporate Banking and Project Finance, Financial Risk Management - will be part of specializations like Systems, Marketing, Finance etc. but will train the students to meet specific industry requirements that may require multi-disciplinary skills like Business Analytics or Digital Business Management.
Praxis Business School, Kolkata Updates and Articles
Questions related to Praxis Business School, Kolkata
Showing 4 out of 4 Questions