Praxis Business School Alumni Jayesh Baldania says, "Institute gave exposure to real business-like problems"
There are a lot of candidates who wish to pursue an MBA programme but what happens most of the time is that they get confused with the planning, programme specialization, what to do after the MBA programme, etc. But, one big question that arises in each aspirant's mind is choosing the right B-School which will provide them with all the amenities. To clear all such doubts, Careers360 has interviewed Jayesh Baldania, a director, pricing strategy & analytics at Walmart Canada and an alumni of Praxis Business School and how the B-School helped him in mending his career in his own way. Continue reading the Praxis Business School Alumni interview of Jayesh Baldania to know the role played by the institute in shaping his career.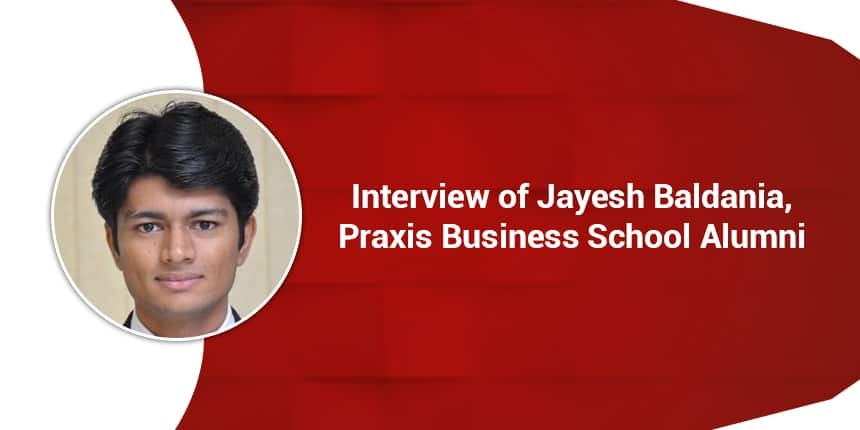 Careers360: Tell us about your domain and your work profile. At the professional level, did you pursue the same field you were interested in or you switched?
Jayesh Baldania: As a Director at Walmart, I am currently leading Walmart Canada's Pricing Strategy, Technology and Data Science. I have 8+ years of experience in the analytics domain and I am skilled in leading on-site and offshore teams.
I was keenly interested in how technology was enabling businesses to perform better and I enjoyed playing with numbers. Praxis helped me identify that Analytics was the area where I could best utilise my skills and interests. The Praxis program focuses a lot on building data discipline into its students. That helped me crack HP Analytics during the campus placements. Thus, I was able to kickstart my career in the field of interest and have remained and grown in this very field.
Careers360: Can you briefly tell us about your career path so far?
Jayesh Baldania: I joined the Praxis Business School 2 year business management program at Kolkata as a fresh pharma graduate. I joined HP Global Analytics as an Analytics Consultant at their Bangalore office from campus. I was with HP for more than 3 years. I was part of Flipkart as a Senior Business Analyst for a short while. Then I joined Walmart Labs as a Project Manager. I was based out of their facility for 2 years before shifting to the Ontario office of Walmart Canada as a Senior Manager. I moved into my current roles as the Director of Pricing Strategy, Technology & Data Science around 6 months back.
Careers360: Is industry work different from what you learn at B-School?
Jayesh Baldania: There are surely some differences, but luckily at Praxis the learning experience is focussed on the practical application of concepts through project work which helps a lot later. Praxis provides the opportunity to practice a wide variety of concepts in a short timeframe. Praxis taught me how to think and not what to think. My B School prepared me with different approaches in problem-solving. These are aspects that are relevant to any industry. A critical difference would be that in the industry the focus would be on a deep dive into a specific area.
Careers360: How do you think your MBA programme has added value to your life, both professional and personal?
Jayesh Baldania: Praxis MBA program helped me to be industry ready; it gave me an early exposure to real business-like problems and taught me how to solve them. It laid the foundations of the correct thought processes that are needed to make strategic decisions as well as day-to-day tactical decisions. Personally, I came across so many role models at Praxis - the faculty members. The second community that helped immensely in my learning process was the peers - working with a group of smart people was critical to my development.
Careers360: What was your initial thought process when you joined your MBA programme?
Jayesh Baldania: Even prior to joining my MBA, I was clear that any institute is as good as its faculty team. I wanted to join an institute that has a strong faculty team and delivers a curriculum that is relevant to the industry. I came across Praxis that was talking about Business Analytics among other concentration areas way back in 2009 and I was very impressed by that.
For the next couple of years, I had a simple focus - to gain knowledge, improve my skills and kick-start my career.
Careers360: You must have spent memorable time at your B-School. Do you miss being a part of it? Share a few good memories.
Jayesh Baldania: For sure I miss those days, Praxis was a full-time residential program so I miss both being in class and being in the hostel.Praxis is academically a very serious institute. Deadlines, deliverables and data - are taken very seriously. The program was fairly rigorous and every subject had projects and assignments that required us to work in groups. Working with people from different educational, geographical and cultural backgrounds was not only enriching but also a lot of fun!
I miss our late night discussions on projects in the terrace canteens! I fondly remember the presentations in particular - the ones where you had to defend each and every word on your ppt in front of very senior faculty members; and the huge sense of achievement on receiving that little pat on the back!
Careers360: Briefly take us through your life at the campus, the activities you used to do and your routine life. What were the other activities you were involved in and how did it enrich your life?
Jayesh Baldania: Life at Praxis is eventful. Each class would have some pre-read or assignment or presentation that we had to be ready with. We were always encouraged to ask questions in the class - this helped me come out of my shell and develop the confidence to interact with senior people.
We used to have so many debates and discussions post-class - that we felt was one of the best ways to understand the concepts and applications. Apart from academics, we had cultural and sports events like Rang Manch, Spardha, Khoj which the students organize in different terms.
I was part of E-cell (entrepreneurship club) where we used to organize sessions and events; it helped me apply my learnings from MBA classes. I loved playing badminton, going out with friends.
Careers360: You are a proud alumnus of this top B-School. What is the best part of Praxis Business School from a student's perspective?
Jayesh Baldania: Faculty.In my opinion, the quality of faculty is the most critical factor for any B School and Praxis students are blessed to have a team of absolutely awesome profs. These professors have themselves studied at great places, have had illustrious careers and are in academics by choice, with an intent to make a difference to the lives of the students. The time and effort the faculty invests in the students are unmatched!
I have seen people transform in this place, including my own self. And it is greatly a function of the faculty and the ecosystem they have been able to create
Careers360: What is your suggestion/guidance for the MBA aspirants?
Jayesh Baldania: Be clear why you want to do an MBA and be honest to yourself about what you are capable of. That will help you determine what you want out of the B-school. Then once you are at the B-school make sure you stay true to your commitment. Choose your school carefully - and if you spend your 2 years wisely, you will reap the rewards throughout your life.
Response by: Jayesh Baldania
Director, Pricing Strategy & Analytics at Walmart Canada
Praxis Business School, Kolkata Updates and Articles
Questions related to Praxis Business School, Kolkata
Showing 4 out of 4 Questions