PI-WAT Experience: I flubbed a lot of interview questions but kept a smiling face throughout, says Ashish Shrivastava of IIM Lucknow
Tongue-tied situations is something that a lot of candidates have faced during interviews. They feel embarrassed and extremely nervous and it might end up as a bad experience for them. Something of the similar sort happened with Ashish Shrivastava, when he sat in front of the panellists interviewing him. With a high CAT percentile of 99.44, Ashish made it to IIM Lucknow- one of the most reputed B-schools of India.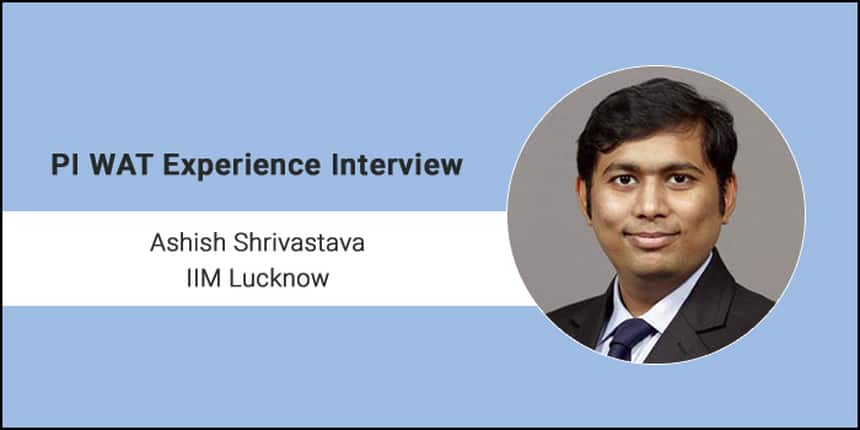 Hailing from Gorakhpur, with work experience of 35 months, Ashish shares his exhilarating PI-WAT experience in this interview with Careers360. His hard work and smart preparation strategies like writing essays on recent topics and timing himself, keeping calm and honest answers during PI turned out to work well. Read on to find out more tips by the topper on how to crack your way to the top B-schools in India.
Excerpts from the interview:
Careers360: What are the shortlist and selection criteria at IIM Lucknow?
Ashish: IIM Lucknow shortlists based on CAT score and the candidate's profile i.e., 12th marks, graduation and work experience. Next up comes the Written Ability Test and Personal Interview.
Careers360: Could you tell us in detail about your overall experience during the selection procedure of IIM-Lucknow?
Ashish: It got quite stressful throughout the day as it was my first interview, but exhilarating in the end. I reached the venue early for document verification and everyone was distributed in panels. Then we were taken for the WAT, which lasted for 15 minutes. The interviews started 20 minutes after the WAT and each panel had eight candidates in it. Interviews lasted for 15 – 35 minutes. I was the seventh person to go from my panel and I came out of my interview thinking this was the worst interview ever, but then realised that all candidates were thinking the same thing. So all was well.
Careers360: Did you appear for selections at any other B-schools apart from IIM Lucknow? How did it go as compared to your institute?
Ashish: I appeared for selections at IIMs like IIM Bangalore, IIM Kozhikode, IIM Indore, NITIE Mumbai and SJMSoM, IIT Bombay. All selection procedures were similar, though some B-schools did conduct a GD as well.
Careers360: Please tell us about your WAT topic and how you structured it. Were you comfortable with the topic?
Ashish: My WAT topic was "All decisions in a democracy should be taken through referendums". Firstly, I tried to structure it. I started by introducing the topic and stating how I will approach it. I thought analysing the pros and cons would be great so I mentioned both positive and negative aspects of holding referendums and gave relevant examples. In the end, I concluded by comparing the pros and cons and taking a stand on the topic.
My topic was easy and I had practised writing WAT essays and timing myself, so I did not face much problem in this section.
Careers360: When did you start preparing for WAT? Please tell us about your preparation strategy in depth.
Ashish: I joined a coaching centre for WAT-PI preparation after the declaration of CAT results. It helped me, as I got a starting point to prepare and also got good feedback on what I was writing. I prepared for WAT by writing essays on recent topics and timing myself. I also started reading editorials and opinion pieces of newspapers to gather more content as well as to improve my vocabulary.
Careers360: So surely joining an institute doesn't seem enough for most candidates. In some cases, extra practice and effort is necessary. Do you agree?
Ashish: Most candidates are not into 'writing', so some guidance and practice is needed to get used to it. Not much strategy is needed, one only needs to know a few frameworks on how to approach various topics. Rest all is practice. I would suggest that making newspaper-reading a habit is a must for WAT and also helps to prepare for PI.
Careers360: Share the WAT topics you were asked during the admission rounds last year.
Ashish: At IIM Lucknow, I was asked to write on "All decisions in a democracy should be taken through referendums". IIM Bangalore tested my writing skills on "Suggest ways to reduce the problem of teacher absenteeism in primary and middle schools". My topic at SJMSoM, IIT Bombay was "Is Immigration a boon or a bane". Finally, at IIM Kozhikode, the WAT topic given to me was "It takes less time to do something right than that to explain why it went wrong."
Careers360: What if someone is given a tough topic about which s/he has little knowledge? How does one take a stand on that?
Ashish: If you have little knowledge about the topic, it is best to use the binary approach, i.e. list the merits and demerits, pros and cons etc. Conclude in a diplomatic manner.
Careers360: Please share some pointers on how to approach WAT in terms of Do's and Don'ts.
Ashish: Be concise and have a clear flow in your writing. Don't mix multiple viewpoints together. It's always better to write different aspects or views in separate paragraphs. Wherever possible, give examples or figures to support each argument in your essay. Be level-headed in your analysis and don't get emotionally biased with one view or the other. Also avoid bringing too many points, as
the time is limited and you must give a logical conclusion for your analysis.
Careers360: How should one time themself in order to write a complete structured WAT?
Ashish: Time management skills are most important for WAT. Candidates should time themselves during practice and make sure that they can write the whole essay in as little as 10 minutes. Also, they should be able to figure out which sections to expand and how, if they get more time. For instance, IIM Bangalore gave 25 mins for their WAT, which becomes very long if you don't know how to add more content in your essay. Candidates should finalise the framework and content after they have heard the time limit.
Careers360: How was your personal interview experience? How big was the panel and what were your feelings while facing them?
Ashish: My PI panel consisted of two professors. However the adjoining panel got free early and they joined in my interview as well. I was very nervous in front of my panel, as IIM Lucknow was my first interview. I was asked questions on my Engineering stream, business model of Jio, my home town, last movie I had seen etc. I flubbed a lot of questions but I kept a smiling face throughout the interview and did not become tense or rude, and that helped me a lot.
Careers360: Tell us about your favourite or best interview amongst all the ones you appeared in?
Ashish: The interview experience at SJMSoM, IIT Bombay was the best. I liked it mostly because the interviewers were very nice and the interview mostly played with my strengths. Other than that
the environment and the seniors at IIT Bombay had put me in a very good mood. So I was very relaxed before going for the interview.
Careers360: What about the not-so-easy ones? What were your answers to those questions? Please share some difficult questions you faced.
Ashish: I had an answer to 'becoming a leader' and I was asked to explain leadership. This was very difficult to explain as I was myself not sure on what 'leader' meant. Also be prepared with the standard "why MBA" and "strengths and weaknesses". Most importantly, be ready to get probed on the answer you give to these questions. If you are not convinced about your answers for these questions, the interviewers will keep probing you on this and it will turn into a bad experience.
I have a relatively high work experience so, questions related to my academic stream (Electronics and Communication) were very troublesome for me as I had not revised those
concepts. I was even asked to explain my B.Tech project (which was completely theoretical) in one of the interviews and explain its relevance in the practical world. Such questions were difficult as I was not prepared with them. Apart from these, there were questions like, which crops are Rabi and which are khareef, why does encephalitis only spread in Gorakhpur etc.  These questions were unexpected, so I had trouble with them.
Careers360: How did you tackle the questions for which you had no answer or became tongue-tied? Was the panel rude or easy on you?
Ashish: I tried to explain as much as I knew, and politely said "I don't know" when I couldn't. It is much better to say that you don't know something than to waste the interviewer's time. If you come clean early, they will ask you another question. But if you try to make stuff up, you lose your own interview time and they might end the interview early.
Careers360: Please share some interesting questions you were asked and also your answers to them. 
Ashish: I was asked to name the most influential leader in world history and Indian history in the past 25 years and defend my pick in the Bangalore interview. That was a good question as there was a lot of discussion between me and the panellists about why or why not some leader is more influential than others.
I was also asked how will I start a new company in the NITIE interview, this was also open ended as we discussed the relative importance of various functions in an organisation.
Careers360: How is an IIM interview different from a non-IIM yet top B-School interview?
Ashish: Apart from IIM Bangalore which was an SOP based interview, all other interviews were on similar lines. My IIM Lucknow interview was a little stressful as they asked questions in very quick succession and I was not able to think clearly. But other than that, all other interviews were very cordial and interviewers tried to make the candidate feel at ease.
Careers360: How did you prepare yourself for PI? What were the PI questions that you searched for your preparations?
Ashish: I started reading the newspaper after the announcement of CAT results, so I was very well versed with current affairs etc. Since I had a good amount of work experience, I studied my company and industry. I also looked up basic facts about my home town, my undergrad college and the town I was living in.
Careers360: What is it that the PI panel looks for in a candidate? Are there some qualities or factors that are specifically looking for during the interview?
Ashish: I think they are looking for general knowledge about your surroundings like your city, company, industry etc. They want to know whether you have some idea of why you want to do an MBA and how will doing an MBA help you. Other than that, it depends on the interviewer, they might look for ability to think on your feet, your temper, ability to handle stress etc.
Careers360: Was there any embarrassing moment for you when you weren't able to answer a question? What was your reaction that time?
Ashish: In my Lucknow interview, I was asked which movie had I seen last to which I answered -  Star Wars. Then the panellist asked me to order all the Star Wars movies chronologically. That was when I flubbed. It was very embarrassing as I had just said I was a big fan.
In the IIM Indore Interview, I was asked to list 10 train stations between Bangalore and Gorakhpur. I could not answer that one as well, so the Interviewer asked me to draw the map of India and show the location of Bangalore and Gorakhpur on it and list the states in between. Thankfully, I was able to do that!
Also Read
Questions related to CAT
Showing 9103 out of 9103 Questions