"Our process is extremely rigorous, but it is also inclusive to schools…"
Tom Robinson, President and CEO of American Association of Collegiate Schools of Business (AACSB), in an interaction with Rajaram Sukumar, shares his views on India's management education and related issues…
Q. India's B-Schools do not figure much even in Asia Pacific rankings, let alone world rankings. However, it is tougher to gain admission to a top B-School in India, compared to a Harvard or an MIT. How do you look at this paradox?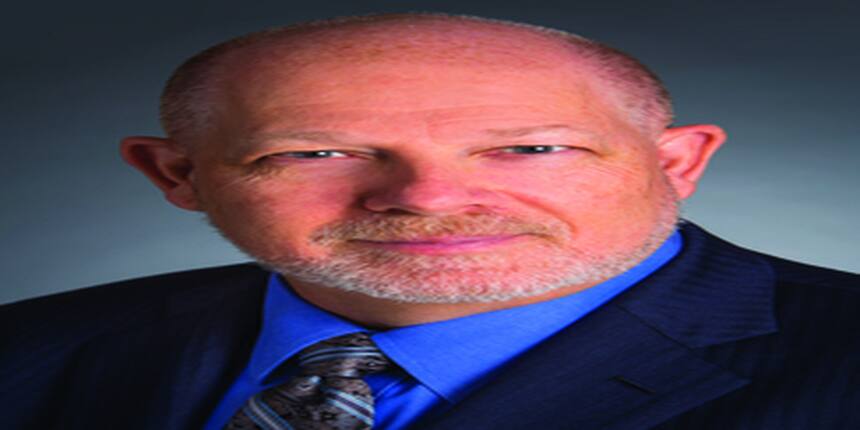 A. The admissions model and size of applicant pools for IIMs in India, and those identified as "top" schools globally, is a bit of an apples to oranges conversation. Given the vast number of students seeking admission to IIMs, the percent admitted and yield rates represent different fundamental measures. Similarly, rankings themselves follow varying methodologies—with data points for each being weighted differently—resulting in inconsistencies in school rankings. For both examples, reducing the "quality" of education to a simple number does a disservice to education systems worldwide. Students, whether studying locally within India or going abroad, can rely on AACSB Accreditation as a common denominator in their evaluation process. With more than 800 schools accredited globally, and seven in India, our peer-reviewed evaluation and approval process can serve an objective measure of quality. 
AACSB's Business Education Alliance Accredited Members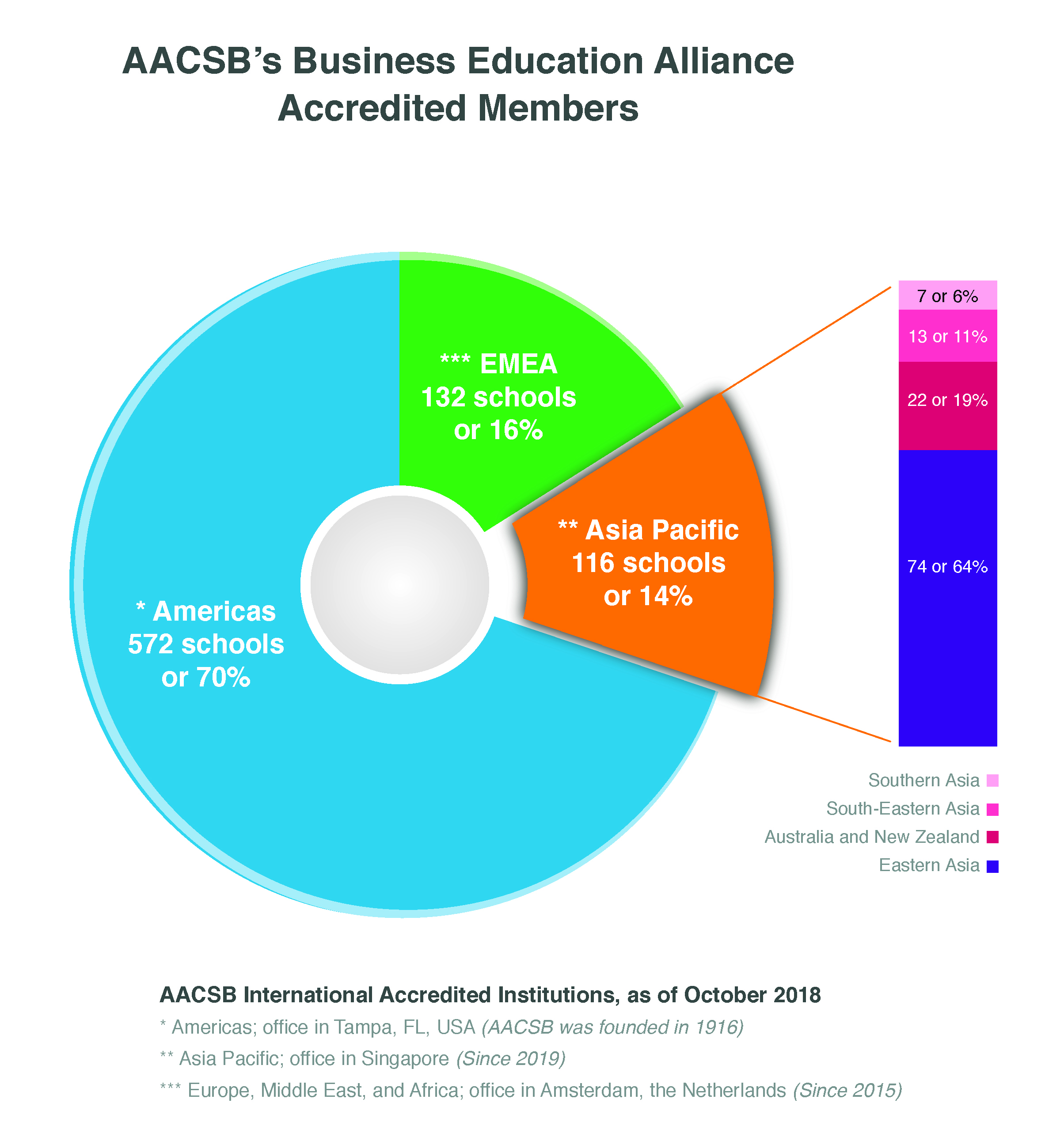 Q. Accreditation is looked upon as a quality enhancer, but only within the academic circles. Do other stakeholders see it as important?
A. Absolutely. In today's dynamic environment, accredited schools are able to respond to the changing needs of business by providing skilled graduates who can tackle both the smallest of tasks—to the largest of challenges—all with positive impact. Recruiters, business professionals, students and parents see that AACSB Accreditation is a way to identify that an institution and its programs have gone through a rigorous quality review process. This quality process assures all stakeholders that a school's faculty, curriculum and methods of instruction are at par or above the best in the world.  Likewise, advancements in technology and increased partnerships with the business community have provided the chance for businesses to team with local or regional schools to create experiential learning or degree programs that better meets the diverse needs of their workforce model.
Q. Only half-a-dozen Indian B-Schools are AASCSB-accredited. Is there any reluctance on the part of Indian B-Schools or is it because your norms for accreditation are too tough to meet?
A. Achieving AACSB Accreditation is not easy and takes time, commitment and a dedication to quality. The standards are designed and implemented in a way that validates the quality of education that a school provides to its students, as well as the institution's faculty composition, its curricula content, instructional resources, intellectual contributions, and a variety of other critical areas. It is not a matter of reluctance per se, but more a matter of how the capabilities of the school match against our standards and a steadfastness to the task and evaluation procedures. Our process is extremely rigorous, but it is also inclusive to schools that vary in their approaches to teaching and learning, as well as those that have different areas of industry expertise. Accreditation also serves as a nod of confidence for schools who want to collaborate globally, and are seeking partnerships. It also helps schools to increase awareness of their institution outside of their own country. Some of the oldest and youngest schools in India have attained success—each of which have varied models, but a common dedication to quality and improvement.
Q. Most of the Indian students pay more attention to the placement reports rather than accreditation while choosing a management school. Do you feel there's enough brand awareness about AACSB in India? 
A.  Students across the world look at placement, just in different terminology. When you look at students going to high-profile schools, their focus is often to pursue a job at a top consulting or financial firm. Other students look to pursue a degree at an institution that specializes in a certain discipline, with the hopes of utilizing the school's vast alumni network for employment in specific industries. Either way, it is about the student choosing the right school that is the correct fit for his goals and aspirations—with AACSB Accreditation as the common base for quality. 
This past year we launched a global brand awareness effort to promote the value of business education and AACSB Accreditation among prospective students, business and educators. When reviewing statistics, engagement in India has been very high and has been repeatedly one of the top countries that visit AACSB.edu and BestBusinessSchools.com. India is an important market to AACSB, and a country where we will continue to grow our presence and support for students and schools across the region.
Q. Management graduates play a big role in decision-making for the federal and state governments as they are part of the think-tanks that have a say in policy-making. Moreover, a number of them are absorbed in various key positions of the government, especially in positions that impact financial decisions. So, these management graduates do have a say in financial governance of a country. Do business schools take this aspect into consideration while imparting learning?
A. Ethical behaviour and corporate social responsibility is woven into the fabric of AACSB's accreditation standards, starting at square one within our 'Eligibility Criteria'. To participate in the accreditation process, schools must commit to this mindset, and as such, many focus on teaching values-based education as well as conducting research to improve ethical business processes. AACSB-accredited schools know that what students learn can sometimes conflict with real world encounters, and graduates' career paths could place them in opportunities where there is a need to develop policies that discourage misconduct. As a result, they aim to produce graduates who can work to make change for the good of society. Moreover, AACSB's own organisational vision of 'transforming business education for global prosperity' and core values of inclusion and diversity, maintaining a global mindset, ethics and social responsibility should be critical to all.
Q. With your long years of experience in accounting, where do you think India's B-Schools can improve in this area?
A. Accounting education in India differs from most models offered in other parts of the world. Students wishing to practice accounting are not encouraged to pursue what is equivalent to a formal degree in accounting. Business schools and businesses in India could benefit from the elevation of the accounting discipline as a way to improve both research and practice applications of banking, finance and accounting systems. As we know today, many accounting professionals are vulnerable to automation disruptions. Advances to the accounting curriculum will be necessary for sustained employability in the field. 
In fact, AACSB has recently revisited and updated its own standards for Accounting Accreditation, which is a supplementary accreditation for schools which have already received, or are in process of completing AACSB's Business Accreditation. What is particularly important about the new accounting standards is that we involve accounting practitioners within the peer-review process to ensure that the needs of the profession are met through curriculum and use of technology. In the spirit of innovation, I encourage all Indian B-Schools to reach out to colleagues within accounting accredited schools to establish how they could incorporate a formal training model into their education curriculum.
Q. Lastly, any thoughts on what Indian management schools should do to enhance their international appeal?
A. We find that this is a weaker point not only for Indian schools, but also for schools across developing economies. My suggestion is to get out there and learn from the global education community. Engage with peers—and in particular aspirant schools—to learn best practices or new ways of doing things. Through technology, engagement is happening more and more via low-cost models (mobile, video conferencing, online webinars, etc.) To the positive, this weakness has a strong fix through 'AACSB's Collaboration Concourse'. 
Similarly, Indian schools should consider establishing more transcontinental collaborations within 'AACSB's Business Education Alliance'. For accredited schools, reach out to other accredited schools and ask to partner. For non-accredited, there are more than 1,500 academic institutions within our membership body, of which almost 600 are not accredited. Reach out, make connections, and ask. 
When collaborating, Indian business schools also have the unique opportunity to differentiate themselves through partnerships on rural emersion projects. Indian schools should offer to partner with institutions, and their students, on projects that test student leadership and collaboration skills as they step outside their comfort zones and engage with communities in rural India. More and more students are looking to make an impact firsthand so schools (accredited or not) should consider establishing emersion projects in a way that participants can learn by doing, while giving back to society.