Online MBA: Myths Busted by Arks Srinivas (IIM-Calcutta) & Dr. Sanjay Verma (e-PGP Chair, IIM Ahmedabad)
Busting Myths about Online MBA - In this Careers Connect series from Careers360.com. As we all know, an MBA programme is great for career growth. But in the past 2 years because of COVID-19 a lot of challenges came up due to which many universities and other institutions shifted to Online MBA. Through this article we will try to answer many myths that students have about Online MBA.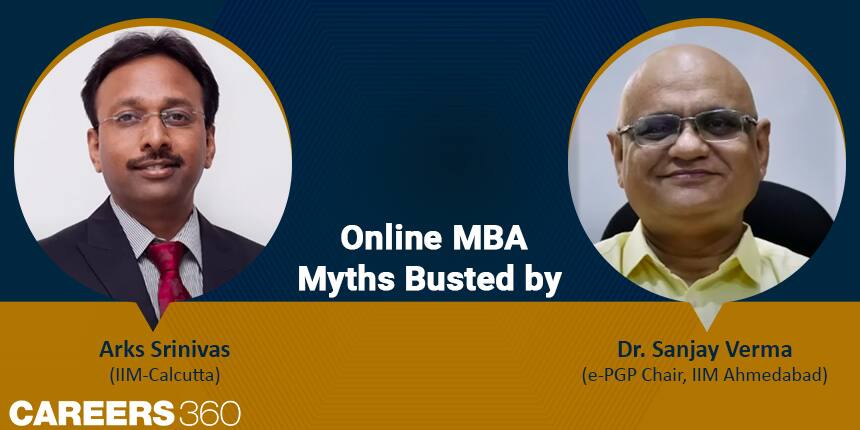 In this session we have with us Dr. Sanjay Verma, Chair e-PGP IIM Ahmedabad. In this session with Careers360 Dr. Sanjay has shared information about Online MBA programmes, Difference between regular MBA and Online MBA, and more. Read the complete interview of Dr. Sanjay Verma to know more about the Myths surrounding Online MBA.
Careers360: Who should do an Online MBA?
Dr Sanjay Verma: There are 2 categories of students, one where the students join MBA immediately after completion of their Undergrad Degree, second category people who are called executive students are those who join MBA with some work experience. Students with work experience tend to show more seriousness than students who don't have experience. Online MBA for Executive students would be a completely different experience.
Careers360: Is Online MBA more valuable to a person with experience?
Dr Sanjay Verma: My advice for students who recently graduated is that they should either get some experience before doing an Online MBA or they should go for an Offline MBA.
Careers360: How networking is different in an Online MBA?
Dr Sanjay Verma: Networking is important for every program. But it is not everyone's cup of tea. If a student studies on campus, they get to interact with many people. But if a student graduated 4-5 years ago and works in some organisation which gives enough scope of networking. People with experience who choose an online MBA also have networking objectives but the primary objective should be learning.
Careers360: RoI in the Online MBA programme?
Dr Sanjay Verma: It depends on the individuals how good they performed during the online programme only then they receive good pay cheques and rise. I have seen people who have completed their online MBA programme two years ago and their pay cheques became four times. Students have to put the knowledge into the practical world to get a good RoI.
Careers360: Advantages and disadvantages of online MBA?
Dr Sanjay Verma: Many Institutions offer Online MBA in Blended learning format wherein they offer a certain percentage of courses in offline format. Main disadvantage of online being not being physically present with peers, students may not get 100 percent of what they are expecting but they can cover it up with networking. Coming to advantage, students get to learn from their own place, in many cases students cannot leave their job and family so in those cases it would be a major advantage.
Careers360: What type of students are there in Online MBA?
Dr Sanjay Verma: It depends on how we define the quality of students. It is true that there are many students in online MBA compared to offline but the quality that comes from richness of experience, maturity in the class, willingness to learn the questions that get asked will compensate for more than what we may lose in offline MBA programmes.
Careers360: What are the qualities that an MBA candidate should have? Can an Engineering student be a good manager?
Dr Sanjay Verma: From my personal experience, I would say that ask yourself if you want to be a manager because there are many other things you can do which you are interested in, do not choose management just because somebody else is choosing it. Management doesn't mean that you get some subordinates and you get to manage them. Management is actually about utilising the best of the resources that you have. Anyone can be a good manager, there is no restriction on being an engineer or a doctor but it is about acquiring it otherwise there is no point in an MBA programme.
Careers360: Which specialisation is best for MBA?
Dr Sanjay Verma: To be honest the trends come and go but a general MBA will always be in demand. If you love a particular field then choose it because your passion lies there otherwise do a general MBA.
Careers360: What is the importance of prior education grades?
Dr Sanjay Verma: Some institutions give importance to high school CGPA while selecting candidates. If you come from a well-known college or not so known college, you have an advantage and disadvantage, it depends on how you make use of it. In short it doesn't matter where you come from, it all depends on how you perform.
Careers360: Advice to students thinking of an MBA from Abroad?
Dr Sanjay Verma: If a student wants to do a job there then do MBA there otherwise it would be better to do an MBA in India. Definitely an MBA in Abroad would be advantageous as you get to network with people from around the world from different nationalities. But it is a costly affair so think of all the factors before going .
Careers360: How a case study discussion is done in Online MBA?
Dr Sanjay Verma: I don't see much difference there because those who want to speak will raise their hand and it goes way more disciplined than offline and everybody gets to talk in online discussion so in a way online is better than offline.
Careers360: What is the future of e-MBA?
Dr Sanjay Verma: I believe that offline MBA will remain the same or might increase to a certain extent and now as there are many opportunities, the number of applicants to management programmes has decreased. People who lost their chance of doing an MBA can now do an Online MBA and therefore the market share of an Online MBA will increase for a long time and the capacity will increase prominently.
Careers360: Is work experience required for doing an MBA?
Dr Sanjay Verma: For a fresher, an online MBA may not serve its purpose but for a person with work experience, an online MBA can be equally good as an offline MBA.
Careers360: What is your advice to MBA aspirants?
Dr Sanjay Verma: The only course where you get to know a different perspective about the world is an MBA. Nobody can assure that it is the only way to succeed but you get to know a lot of knowledge. It is very essential for each and every person irrespective of what profession you choose to do.
Careers360: What should MBA students do to make their journey fruitful?
Dr Sanjay Verma: Books are very knowledgeable so try to read as many books as possible. Do not miss classes, go to classes to learn something not just for entertainment. Interact with your classmates and try to work with them. Be an active member of your team in teamwork projects.
Other Popular Private Institutes
IIM Ahmedabad Updates and Articles
Questions related to IIM Ahmedabad
Showing 514 out of 514 Questions