MICA Campus Virtual Tour - MICA is located in Ahmedabad. The institute offers Post-Graduate Diploma course in Communications. Careers360 presents a virtual tour of MICA campus. It'll help the aspirants to know more about the facilities available at the campus and its environment.
The huge campus of MICA is spread over 19 acres of land which has sports facilities, hi-tech classrooms, mess, libraries, hostel etc. to give students the healthiest environment possible. Let's begin MICA's campus tour.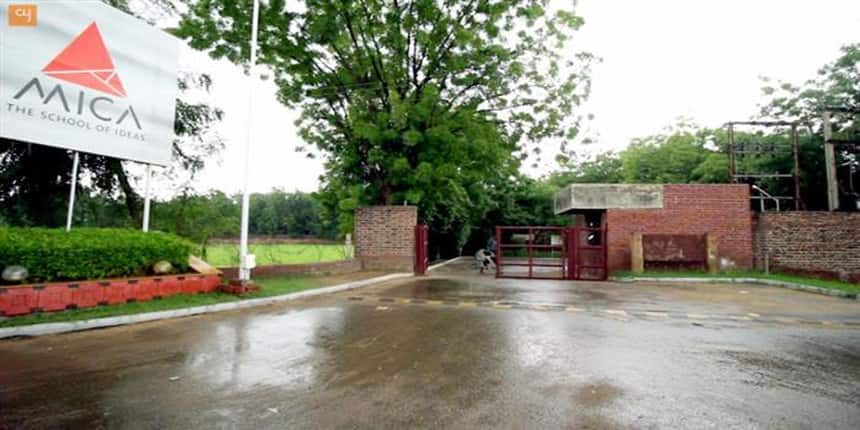 Lush Green Campus
MICA's campus has over 3000 trees along with an equal number of plants, bushes and saplings. The green environment is to keep the surroundings of the institute healthy.
Library
At MICA, it's called the Knowledge Exchange and Information Centre. It's the exclusive centre for marketing, advertising and media related information. The hi-tech library has a 24x7 portal - "KIEC Online." Its database helps students in decision-making, making new business strategies and understanding the market.
Classrooms
All the classrooms at MICA are equipped with audiovisual capabilities. The structure of the classrooms is quite interactive and allows students to improve in terms of interaction and communication.
Hostel
Hostels at MICA are equipped with all the necessary things including cupboards, beds, water coolers, wi-fi etc. The hostels are quite spacious and students are allowed to paint their rooms as per their personality.
Auditorium
Mani Iyer auditorium at MICA is full of colours. The auditorium is used for seminars, cultural events, industry expert sessions and other major events.
Mess
The mess at MICA serves food 4 times a day. More than 400 students can eat at the air-conditioned mess. New menus are followed every week.
Chhota Canteen
A round-the-clock "chhota canteen" is also available at MICA. It serves popular dishes including street food and is considered as the favourite hangout place for students and faculty.
Sports Facilities
For sports enthusiasts, the campus has facilities for multiple sports including Table-Tennis, Volleyball, Football, Cricket, Chess, Badminton, Tennis, Throw-Ball etc.
Festivals
All the major Indian festivals including Diwali, Holi, Onam, Eid etc. are celebrated with equal enthusiasm at MICA as the institute has students from all parts of the country.
Stay tuned to bschool.careers360.com for more information on Campus Virtual Tours
MICA, Ahmedabad Updates and Articles