MDI Gurgaon hosts 4th annual Leadership Conclave "Samvaad 2018"
New Delhi:  Management Development Institute, Gurgaon (MDI Gurgaon) hosted the 4th edition of its annual leadership conclave "Samvaad 2018" on November 16, 2018. The theme of the event was 'Sustainability, the key to business success'. During the event, management students and emerging business leaders discussed the responsibility and vigilance towards Profit, People and Planet. Sangeeta Talwar, India's foremost FMCG women executive, was the Chief Guest at the event. The annual event was aimed to link Success and Sustainability. The conclave was organized to understand success by being economically viable, socially responsible and environmentally friendly.

Known for her '2-minutes' Maggie and 'Jagoo Re' Tata Tea Campaign, Sangeeta Talwar highlighted the importance of sustainable existence, emphasizing on the fact that Sustainability is key in order to ensure business profitability and survival, during her speech. Her thoughts on creating successful business demands, the courage of letting go off established practices and embracing innovation each day were stimulating.

Prof. Atmanand, Director (Additional Charge), MDI Gurgaon expressed his gratitude to the business leaders present at MDI and shared that Indian Business world is evolving and the hunger for success is transparent in the market. To keep feeding this hunger, businesses need growth and to aggrandizing growth, the only sustainability can help in maintaining the growth consistency.

Keynote speakers at Samvaad 2018 included industry stalwarts like Abhinav Sinha, Country Manager – Supply Chain & Logistics, Michelin, Amrendra Kumar, Head – Partnerships and Supply Chain Management, Tata Steel, Major (Retd.) Aval Sethi, Founder & CEO, ProTaiga,  Meharban Singh, VP & Head - Purchase Corporate, Lava International Ltd., Atul Suri, Strategic Business Unit Head, Alembic Pharmaceuticals Limited, S Ramesh Shankar, Executive Vice President & Head of HR-South Asia, Siemens, SK Bose, Executive Director (HRD), Indian Oil Corporation Ltd., Abhinav Verma, Head – Marketing, Huawei India, Amit Gujral, Chief Marketing Officer - LG Electronics India, Kaushik Prasad, General Manager - Consumer Marketing, Ford India and Sharad Harjai, Director- Marketing, Grofers.

The various topics discussed during the event included, 'Emerging trends and their role in supply chain & logistics', 'Leveraging HR for sustainable competitive advantage' and 'Marketing during the era of technological disruptions & innovations'.

Samvaad 2018, concluded with the note that Sustainability is the form of triple bottom line reporting system whereby a business enterprise communicates to their stakeholders about its economic, environmental and social performances. They also conveyed that business will be sustainable when the employees are vigilant and responsible towards its profit margins, people and planet.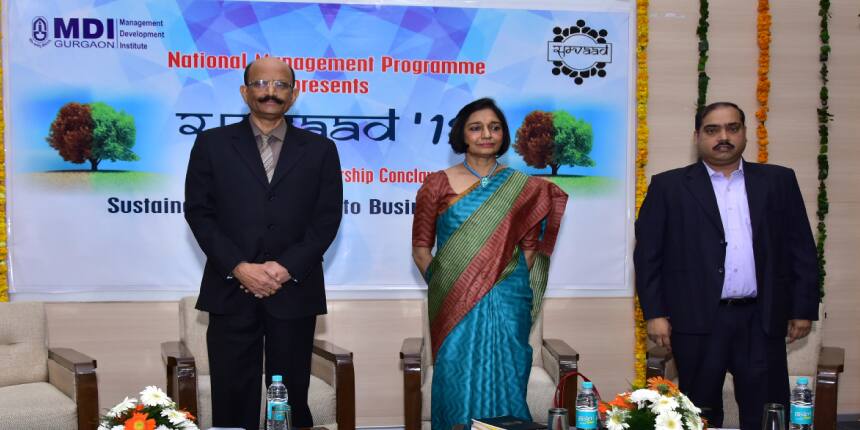 MDI Gurgaon Updates and Articles
Questions related to MDI Gurgaon
Showing 83 out of 83 Questions