MDI Gurgaon Convocation 2018 - 489 students graduate
Management Development Institute, Gurgaon, conducted its annual convocation on March 24, 2018, to announce the graduation of its 489 students from different Post Graduate Management Programmes. Five Fellow Scholars were bestowed upon their diplomas and 24 medals were also awarded to the meritorious students for excelling in their respective courses. On the occasion, the Chief Guest of the ceremony, Mr. G M Rao, Group Chairman of the GMR Group, congratulated the students for their professional journey ahead.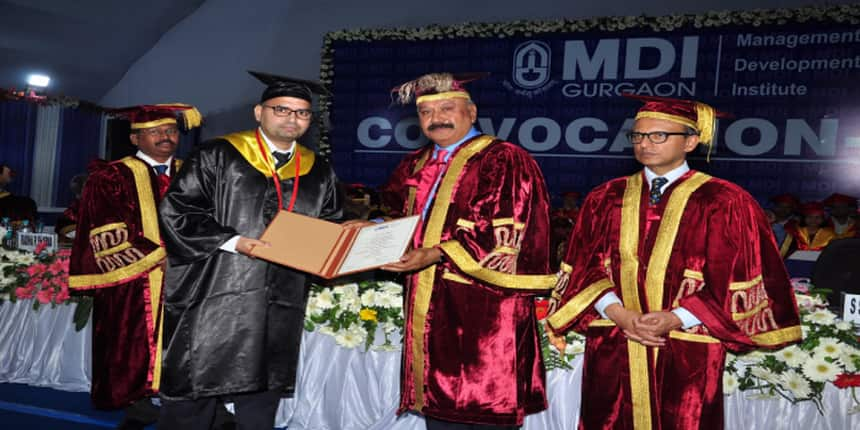 Addressing the students, Mr. Rao shared his learnings while describing his life journey. "In this complex and challenging world, it is very important to develop soft skills and positive attitude. As entrepreneurs, one has to come out of the comfort zone and be emotionally detached in achieving the vision," he said.
He also advised the students, "Never be egoistic but be humble and polite, embrace the change and take risks".
Dr. Himadri Das, Director, MDI Gurgaon, asked the students to embrace technology. He said, "we are on the cusp of an era where data science, AI and Machine Learning will completely change the way work is done. If you do not use technology to disrupt business models and leapfrog ahead, technology will disrupt you and make you obsolete. You need to stay ahead of the game and be the agent of technology-enabled change".
In his speech, Dr. Das also highlighted the achievements of MDI's highly-qualified faculty members. The Chairman of the MDI Board of Governors, Dr. Emandi Sankara Rao, delivered the welcome address at the event.
MDI, the country's one of the topmost B-schools, has received global recognition this year as an Advanced signatory of PRIME (Principles of Responsible Management Education), an initiative of UN Global Compact.
Also Read,
MDI Gurgaon Updates and Articles
Questions related to MDI Gurgaon
Showing 83 out of 83 Questions