MDI Gurgaon and ESCP Europe Join Hands for Dual Degree, sign MoU
MDI Gurgaon has taken yet another leap towards helping its students bolster their management skills to create global business leaders. The top management institute signed a double degree Memorandum of Understanding with ESCP Europe at the Gurugram-based campus on April 18, 2018.  The dual degree programme aims to offer the best of both worlds to its students.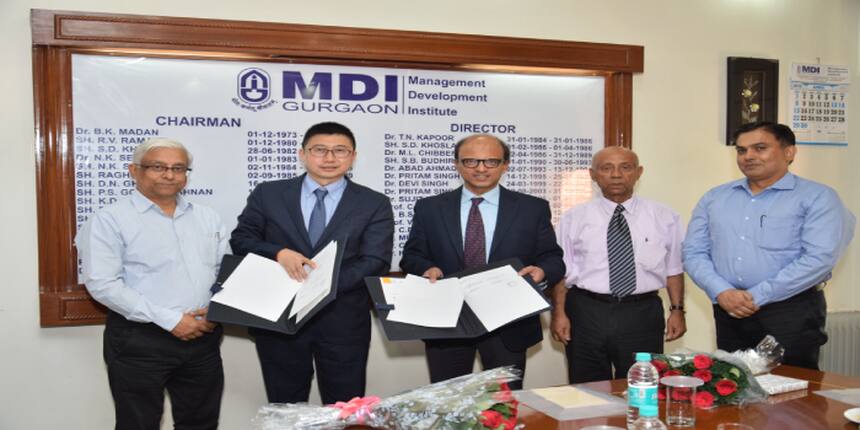 The collaboration has initiated a programme under which MDI students will spend their first academic year in India, the second in ESCP Europe, and finally they will be entitled to get dual degrees at the end. The prestigious dual degree of MDI Post Graduate Diploma in International Management (PGPIM) and the ESCP Masters in Management (MIM) will be conferred to the graduates upon completion of the programme.
The occasion holds a historic significance as ESCP Europe is the oldest business school in the world and the partnership between both the top B-schools marks the collaboration of two institutions from East and West which will develop the next generation of transnational business leaders. Additionally, the MIM program at ESCP Europe is ranked 6th in entire Europe by Financial Times.
Speaking on the occasion of the partnership, Prof. Leon Laulusa, Executive Vice-President, Dean for Academic Affairs and International Relations at ESCP Europe shared "This collaboration with our flagship programme will emphasize on mutual recognition of degrees, blended learning and cultural integration. Our partnership with globally acclaimed MDI is one such initiative whereby students will benefit from an Indian and a foreign degree both."
Dr Himadri Das, Director, MDI, said, "The two schools are the pioneers in higher business education industry and together we will work on an ambitious growth plan. This watershed event will create the trend for schools to follow. We can grow faster as our partnership grows".
The ceremony was attended by eminent professors like Prof. Jyoti Gupta, Professor of Finance at ESCP Europe. Dr. Gupta is actively involved with teaching and research activities at both the London and Paris campuses of ESCP Europe. Also gracing the ceremony with their presence were Prof.S Chatterjee, Dean, International Relations, MDI and Prof. Avinash Kapoor, Chairperson, International Relations MDI.
MDI Gurgaon Updates and Articles
Questions related to MDI Gurgaon
Showing 83 out of 83 Questions