MBA in Sustainability Management: Maintain Basic Pillars of Sustainability - People, Planet and Profit
MBA in Sustainability Management - Without balancing the needs of people, planet and profit, most of the fruits of development will get negated. Specialisation MBA in Sustainability Management looks at this in a holistic manner. The greatest challenge faced by the global community today is of reconciling economic growth, social development and preservation of the natural environment. Therefore, informed decision-makers capable of making the right choices about the social and environmental issues are required. MBA in Sustainability Management aims to fulfill the need for managers in private as well as public sectors, teaching them to maintain a balance between three basic pillars of sustainability namely people, planet and profit. Let's read more about MBA in Sustainability Management and the industry in the article below.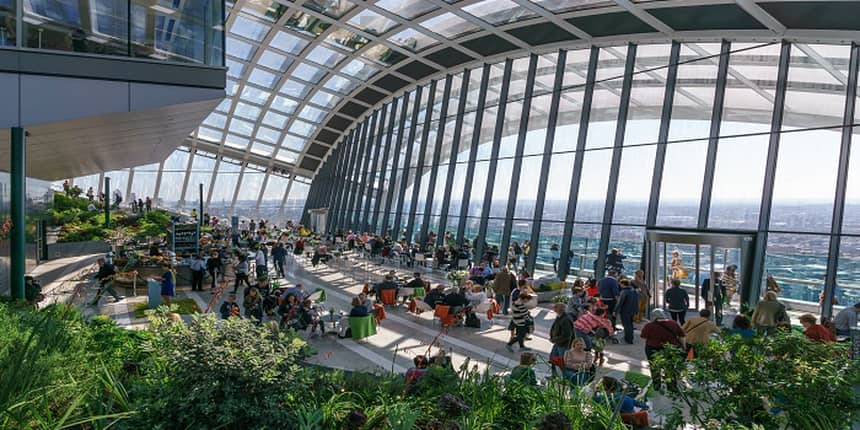 What is Sustainable Management?
Sustainability is a diverse field giving prospective students a peek into every aspect of human world from the environment to business to technology. It is the study of how the natural environment functions, remains divergent and produce everything that ecology needs to maintain its balance.
Sustainability management is one of the recent management specialization that strives to bridge the gap between social science, environmental science and civil engineering with advanced technology. To sum it up, the specialization aims to protect the environment with the help of innovative technology so we can live in harmony with the environment, protecting it from depletion.
About MBA in Sustainability Management Programme
The programme can be pursued by those interested in the field. It is a two-year full time programme offered by a number of B-Schools in India, including IIM Lucknow (Noida Campus) and TERI University. Post Graduate Programme in Sustainable Management (PGPSM) assists students to develop an ethos of the environment and social responsibility of businesses and furnish them with skills and holistic thinking. The curriculum aims at developing the capability to recognize the inter-connectedness of economic performance of business with social and environmental systems. Students would also be able to produce policy-relevant results. PGPSM is designed to proactively participate in the growing world-wide debate on the purposes and responsibilities of business and understand societal development from various perspectives.
"MBA in Business Sustainability is first of its kind course which attempts to amalgamate two very important concepts -- sustainable development and management. Sustainable development is the need of the hour because of problems like climate change and pollution. Whereas, management has been a necessary quality for businesses as such," said Ashwin Mohan, a student of the TERI University.
MBA in Sustainability Management - Course curriculum
The course curriculum of Sustainability Management includes Introduction to Infrastructure Business, Principles of Sustainable Management, Business Laws and Infrastructure projects, Project Planning and Management, Accounting and Finance for Sustainability, Finance and Accounting, Organisational Behaviour and Human Resource Management for non-profit organisations, among others.
MBA in Sustainability Management - Road ahead
Unbridled industrial growth has been another primary driver of unsustainability. Hence, making corporations responsive and responsible to adopt cleaner technologies, better processing methods, use renewable sources of energy and material as well has been a focus area in the battle against pollution and climate change.
Owing to that there is a growing demand for sustainability professionals in a range of sectors, and many lawyers, engineers, marketers, communications professionals, policy makers and scientists now have some form of sustainability responsibility in their positions.
A number of disciplines like ranging from Energy Management, Sustainable Energy Management and Environmental Education are in need of people with adequate qualifications. Environmental managers are needed for overseeing the environmental performance of organizations while energy managers plan, regulate and monitor the energy use in an organization or facility.
They also improve efficiency by evaluating energy use and putting in place new policies. Similarly, environmental consultants work on commercial or government contracts, addressing environmental issues, including environmental impact assessment while nature conservation officers ensure conservation and sustainable use of natural resources and environments. As sustainability gets entrenched in the way businesses operate and how policies evolve, the number and range of opportunities for such professionals are sure to be on the rise.
Dr. Ajit Prasad, Director of IIM Lucknow, says, "All companies are looking for management professionals who have knowledge and skills to deliver on these expectations. This specialization provides a distinctive edge in the changing paradigm."
INTERVIEW
Dr. Ajit Prasad,
Director,
Businesses trying to be eco-friendly
Careers360: How does specialization 'Sustainability Management' bring an edge over a general management programme in terms of job prospects and career growth?
Dr. Ajit: There is an increasing expectation from business to be socially and environmentally responsible. Companies are looking for management professionals who have knowledge and skills to deliver on these expectations. Sustainability Management provides an edge in the changing paradigm.
Careers360: What is the USP of the specialisation that you offer?
Dr. Ajit: We are the only IIM to offer such a program. It has been very well received by students and corporate sector due to its forward looking vision and innovative curriculum. It has all the conventional management courses related to Human Resource Management, Operations Management, Marketing Management, Finance and Accounting which are taught from a sustainability perspective. Additionally, we have specialised courses such as Principles of Sustainable Management, Lifecycle Management, among others.
Careers360: What are the changes in your curriculum that you have introduced over last 2-3 years?
Dr. Ajit: The program in sustainable management has been initiated in 2015, hence, it is fairly recent. The curriculum has been designed incorporating the latest developments and best practices from the industry at the global level.
INTERVIEW
Dr. Leena Srivastava,
Vice Chancellor,
Challenges should be seen as chances
Careers360: How does specialization in 'Sustainability Management' bring an edge over a general management programme in terms of job prospects and career growth?
Dr. Leena: In a rapidly changing business environment, the stakeholders now demand that businesses should operate 'with a purpose'. We, at TERI, focus on developing and grooming individuals to look at sustainability challenges as opportunities which could be harnessed for value creation- both economically and socially for businesses. Our students are mentored and groomed beyond conventional management. This program includes conventional management subjects, as in other business schools, and extends to instil TERI's knowledge in sustainable development through subjects that offer management students a strong foundation to address rising sustainability needs.
Careers360: What are the specific qualities you look for in prospective candidates?
Dr. Leena: Apart from analytical skills and motivation, we look for those students who have an inclination towards sustainability.
Careers360: Any advice for MBA aspirants planning to pursue this specialization?
Dr. Leena: Sustainability is a growing field as businesses are considering it imperative to build sustainable strategies. Thus, there are many opportunities in this field and is apt for students who have a flair for both environment and society.