MBA in Aviation Management: Be a part of world's fastest growing Aviation market
MBA in Aviation Management - MBA in Aviation Management is a good bet indeed as the sector sees a tremendous expansion. According to Directorate General of Civil Aviation, overall air passenger traffic has risen from 1.40 crore in 2000-01 to 13.5 crore in 2016. This obviously points to the fact that the growth in the aviation sector has been multi-fold over last decade. MBA in Aviation Management provides individuals with skills and insights necessary to oversee the departments of airlines and airports. Candidates undertaking the programme, come from a wide range of sectors including, airline operations, airline pilots, airline ground handling, hospitality and tourism. Let's have a look at the career opportunities, scope and employment overview of MBA in Aviation Management programme.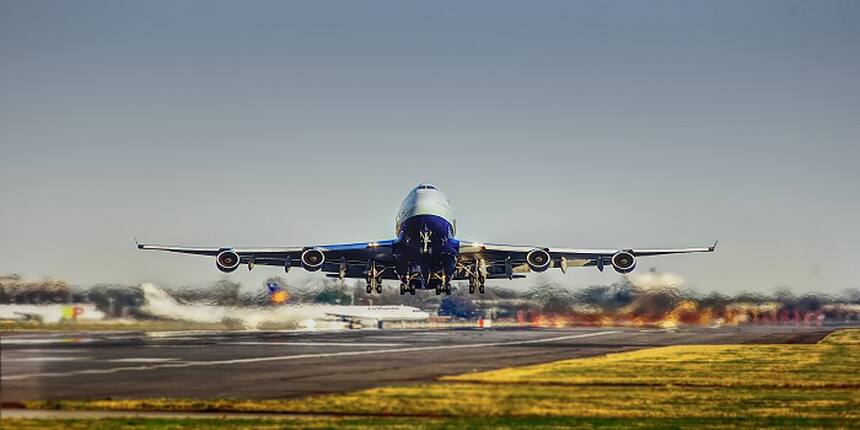 What is Aviation Management?
Aviation Management is related to creating value and efficiency in operation and administration of different aviation products and services. An MBA in Aviation Management brings a broad overview of business theories with an in-depth study of the airline and aerospace industries. The programme primarily provides knowledge related to airline operations, air cargo & logistics management, business policies related to the aviation industry, global aviation business, airport economics, airline revenue management, aviation regulatory management etc.
Aviation Industry - Quick Facts
According to CAPA (Centre for Aviation), in FY 2017-18, domestic air traffic is expected to cross 130 million.

India's airlines have registered a combined profit of US $122 million in FY 2016.

Mr. Jayant Sinha, Minister of State for Civil Aviation, has said that the Government of India plans to double the number of airports in the country in the next two to three years to manage the increased passenger traffic to develop regional air travel market.

Domestic fares will be capped at Rs. 2,500 for half the seats on a one-hour flight under the Government of India's UDAN initiative.

The Government of India has approved the construction of 18 greenfield airports in the country with an estimated cost of Rs. 30,000 cr.
MBA in Aviation Management: Course curriculum
Students opting for this specialisation are expected to learn the business and economic models that can be applied to airlines, airports and other aviation facilities. Besides general management theories, some specific areas taught under this programme are Airline and Airport Management, Fundamentals and Principles of Aviation, Airline operation and scheduling, Aviation Laws, Airline economics, Airline advertising and sales promotion, Airline Marketing Management, Aviation Safety management, Aircraft rules and regulations.
The booming sector which has completed 100 years of existence in India will need professionals with the industry-specific knowledge to fulfil the ever-increasing requirements. MBA in Aviation Management provides training to the students that is required to match the industry's eligibility criteria.
MBA in Aviation Management - Current Industry Scenario
According to industry body International Air Transport Association (IATA), India is the fastest growing aviation market in the world, much ahead of China and USA. With country's domestic air passenger traffic growing to 10 crore in 2016, India overtook Japan (9.7 crore passenger), according to Sydney-based aviation think tank CAPA - Centre of Aviation. Currently, India is the 3rd largest market for domestic civil aviation, just behind US and China.
MBA in Aviation Management - Growth in Aviation Industry
Indian aviation industry is expected to become the third largest by 2026 and the largest in the world by 2030. The industry not only contributes to the GDP of the country but aids in domestic and international trade & tourism as well. According to a study by Civil Aviation Ministry, India's aviation sector will employ 4 million people by 2035. Travel & Tourism sector has also contributed to the growth of the Indian aviation sector. With the huge rise in the low-cost carriers, more and more people are travelling to domestic and international destinations giving the economic boost to the industry. 
Aviation Sector - Further boosted
With UDAN (Ude Desh ka Aam Nagrik) facilitating affordable air travel in collaboration with private players, the scheme connecting small cities and towns to the air transport network is expected to further boost the growth of this sector. According to Morgan Stanley, in next 10 years, Indian aviation sector is estimated to see investments to the tune of nearly two lakh crore rupees, a demand for 935 more planes and traffic growth of 13 percent CAGR. According to the financial service firm, the cumulative average growth rate (CAGR) for next 10 years is expected to be 13 percent as compared to 11 percent over last five years.
INTERVIEW
Harsh Purohit,
Dean,
FMS-WISDOM, Banasthali Vidyapith
Quick adaptability and team-work is a must
Careers360: What are the basic components of aviation management programmes?
Prof. Purohit: A degree in aviation management provides individuals with skills and insights necessary to oversee the departments of airlines and airports. Programs at the Master's degree level offer fundamental management courses along with those specific to the aviation industry. Learning about aviation laws and regulations are a vital part of this degree program. Master's degree programs, usually offered as Master of Business Administration (MBA) programs, are research-intensive in nature and focus more on the business aspects of the industry.
Careers360: What is your seat capacity and fee structure for 'Aviation Management' Programme?
Prof. Purohit: The annual intake is 30 and the fee, including hostel fee, is Rs. 80,500 per year.
Careers360: How is the specialization at your B-School is designed?
Prof. Purohit: The postgraduate degree programme in aviation management is designed for both working professionals in the aviation industry as well as recent graduates of master's degree programmes in either aviation or business. Courses in an MBA programme in aviation management combine the best of business concepts with practical knowledge of aviation and human resources in the field for best output.
INTERVIEW
Dr. R. Gopal,
Director, School of Management, D.Y. Patil University Mumbai
Focus on holistic development
Careers360: How does specialization in a particular management area give an edge over a general management programme?
Prof. Gopal: A general MBA is not industry-specific and therefore the organization dealing in specific sectors are required to invest in training the student to understand the industry nuances as well as the culture of the organization. Sector specific programmes like MBA in Health and Hospital, Pharma Industry Management, Aviation management, Sports Business Management, Tourism Management help organisations in respective sectors to get MBAs on board who can start delivering from Day-1.
Careers360: What is the USP of your programme?
Prof. Gopal: We believe in the holistic development of the students. This means that negotiation skills, group working, personality development, appreciation of the environment among are critically important for the wholesome development of the students. The school conducts programs which enhance our student's soft skills and thus help in increasing the employability of the student.
Careers360: How has been the industry demand for MBAs in 'Aviation Management'?
Prof. Gopal: The industry needs have been growing consistently. There is a considerable shortage of MBA students who understand the aviation industry and consequently, the students in this sector have been in great demand.
Also Read