MBA for New Normal: MBA program finds new alignment in and Post-COVID periods
The black swan event COVID-19, which some initially dismissed as a short-term disturbance, has entrenched itself as a pandemic affecting every walk of life. Nations are feverishly working to protect lives and livelihoods, and businesses are experiencing big jolts regarding their continuity and sustainability. Likewise, one of the foundational pieces of society – education – is witnessing dramatic effects across all levels. The pandemic has struck at the mainstay of traditional learning processes - the 'classroom' format, where teachers and students meet in person. COVID-triggered social distancing norms, combined with the strengthening trend towards the digitalization of education, can radically change management education. But then, some elements could be expected to persist even in the new normal.In this article, Y Shekar is In-Charge of the Centre for Digital Enterprises at IIM Udaipur and Prof. Vishwanathan is a Finance and Accounting faculty at IIM Udaipur examine three factors and assess their individual and collective impact on the future of management education.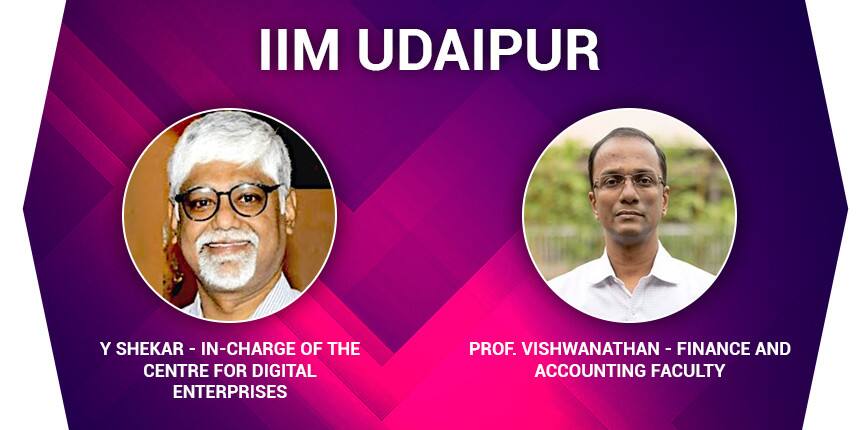 The allure of management education is that it aims to deliver holistic learning, both conceptual and practical, encompassing a wide range of subjects and skills that leads to good management education programs having lasting transformational effects on students and their professional careers. But MBA has had to evolve over time to address changes in the nature of business, learning of students and expectations of employers.
Business Environment Rapidly Changing – VUCA World
Management education has close links with the business world – eventually, most students from MBA programs either work in business enterprises as professionals or become entrepreneurs. Management education involves a delicate balance between 'Concept' and 'Context.' While the former builds on research and changes relatively slowly, the latter varies more both across sectors and temporally. Students gain familiarity with specific business contexts so that they can use their conceptual learning to business problems they are presented with.
In the recent past, however, the VUCA world has seen more rapid and often tectonic change. The ability to use analytics for personalized selling is changing the way markets are defined. The contexts in which managers practice and deliver customer centricity, customer experience, employee engagement, supplier management, operational agility, and financial viability are more dynamic and complex and are demanding new skills.
While recruiters have always sought multi-disciplinary talent, there has also been a demand for industry-specific management programs. These are multi-disciplinary and multi-contextual skills such as the ability to effectively work with collaborative and distributed teams, manage agile supply chains, and develop and execute strategies for digital platforms. MBA programs are responding to these needs.
Technology the Teacher!
How soon will it be before a robot receives 'Guru Purnima' greetings!!
Online learning platforms enable students to take charge of the time and speed of their learning. However, the more preferred MBA programs continue to be on-campus. Participant-centered learning, and particularly the case method, which these programs rely on involves intensive interaction not only between instructor and student but also amongst students.
Several new forms of collaborative technologies are being applied in areas that hitherto were restricted to face-to-face interactions. Even case discussions and subjects like 'Design Thinking' and 'Storytelling' that are by nature interactive are being taught online. Collaborative platforms are still evolving, and there are still challenges, but these are being overcome reasonably fast by advancements in technology.
In the management education context, foundational content and established business practices may be delivered by AI systems that have a story to narrate. Currently, students of the better MBA programs are expected to learn much of this kind of content before classroom sessions by themselves using prescribed material. AI could help make this process more effective. The role of faculty, as is already the case in many MBA programs, is to lead in-class discussions on the subject to help improve appreciation of the topic and to enable students to relate and apply their learning to recent trends or current contexts.
Technology also provides the reach and scale to assimilate information from different parts of the world to give students a global perspective. Students learning about global impacts of a strategy or changing geo-political equations impacting business opportunities can leverage technology to learn about such trends from faculty/experts from other countries. Collaborative teaching is a strong possibility in future, especially in areas like global warming and its environmental issues, conservation of nature and natural resources, public policies on equal opportunities and global supply chain management.
COVID, the Immediate Cause for Transformation
MBA programs are being redesigned to enable learning to happen in a contactless manner. But this does detract from some key elements of MBA programs. Face-to-face interactions in classrooms, group studies in the cafeteria, teamwork during submissions and assignments, sharpening communication and leadership skills by actively participating in extra-curricular activities, developing lasting networks by interacting fellow hostel inmates… students learned all of these in the environment called the 'campus'. They learnt to compete and collaborate, and this complemented their intellectual development with emotional enrichment that helped them be well-rounded managers. Though management schools are innovating to respond to the immediate need of delivering learning, some of the new experiments conducted under duress of the virus are perhaps here to stay.
Digital transformation is making automation integral to business sustainability. New technologies are being deployed and in the foreseeable future, workforce will be 'HuTech' (Human + Technology). The pandemic has reminded us that management learning needs to be directed towards developing capabilities for situations that are uncommon or unprecedented. Known problems with known solutions will be managed by automation and intelligent technologies. Human resources will be required to discover new methods and concepts that can preserve and conserve social values and deal with demands of diversity that may not be congruent with business values of high efficiency. Complex worldly problems will need the human touch of creative solutions that cannot come out of an analytical algorithm.
Conclusion
Increasing business complexities and the growth of automation are leading management education to explore collaborative tools for certain kinds of knowledge dissemination and the traditional face-to-face option for delivering learning in newer areas that have a global perspective embedded in them – ones dealing with new social and business values. By mandating social distancing, COVID has accentuated the need for digital transformation.
While on-campus learning will remain integral to most MBA programs in the foreseeable future, online learning will also become an essential feature. The fears around COVID will not taper off soon, even after a vaccine is discovered. Therefore, use of collaborative technologies, collaboration of faculty from across the world, and content with global relevance will gather steam.
Despite the current challenges that management education is facing, its prospects of enduring and remaining coveted require it to continue providing a holistic learning experience by remaining relevant and updated in its context, collaborative and global in its concepts, and experiential in its perspectives, even post-COVID.
IIM Udaipur Updates and Articles
Questions related to IIM Udaipur
Showing 10 out of 10 Questions