No maximum cap on education loan disbursement, says Avanse Financial Services CEO Amit Gainda
Quality MBA programmes generally come with a high price. Despite getting an admission offer from top B-schools, MBA aspirants are often in a dilemma to choose the right financing option. Planning finances are one of the most crucial factors while planning to pursue a management programme. Banks and other financial institutions have come to their rescue by offering a wide range of education loans.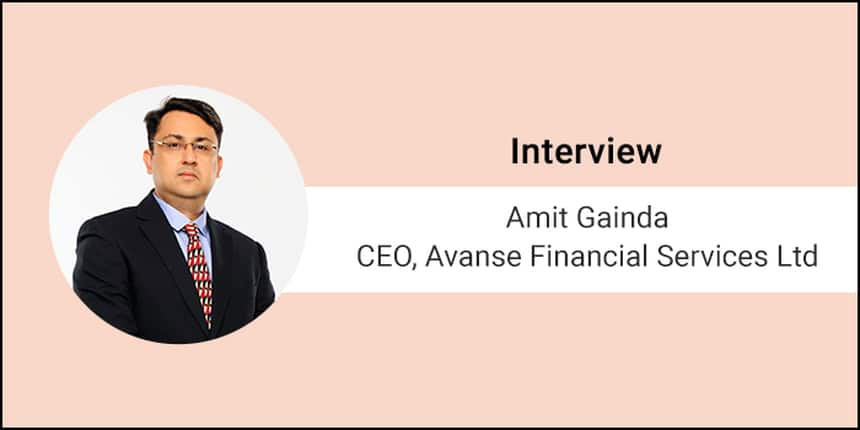 Avanse Financial Services is one of the noted education loan providers in India that offers education loans to students who are on the lookout for funding their higher studies. In this interview with Careers360, Amit Gainda, CEO of Avanse Financial Services Limited shares the fact that at Avanse, there is no maximum cap on the disbursement of the MBA education loan. According to him, the full cost of education including fees and other incidental expenses are covered in the education loan. On the other hand, before disbursing the loan, Avanse does a thorough profile review of applicants in terms of past academic background, institute from where they have admission offer among others.
Excerpts from the interview:
Careers360: Has the number of education loan applicants increased in the past few years? If so, what is the reason for this expansion according to you?
Amit Gainda:Yes, the number of applicants for education loans have grown in the past few years. A number of factors are behind this trend. The youth today aspire for quality education and that comes at a high cost. Moreover, there is a strong desire among them to pursue their education independently without burdening their family.
So, while the number of students and the cost of education has risen significantly, education financers like Avanse have made students aware of education loans as a way to fund their education while also making access to funding much easier.
Careers360: What are the challenges faced by lenders like Avanse while reviewing loan applications?
Amit Gainda: We make every effort to ensure that a deserving student gets the funding he/she needs. We believe that socio-economic background is not the only criteria for student success and the same has been proven by research as well.
Avanse takes a holistic student-centric approach to support a student's desire for higher education. We look at a student's past academics, the programme s/he wishes to pursue, the institute where he/she has been admitted and its placement record and the future employability potential of the student. Avanse goes beyond funding just the school fees to funding incidental expenses as well.
Careers360: How many applicants approach Avanse for MBA education loan every year? What are the other kinds of education loans offered by Avanse?
Amit Gainda: Avanse Financial Services Limited is one of India's fastest growing education finance company committed to facilitating and fulfilling academic dreams of talented young students. With its new age, flexible and tailored financial solutions, Avanse addresses education needs of the Indian youth enabling them to pursue the education of their choice.
We cater to all kinds of students whether in domestic or international colleges. The courses could be for post graduation or under graduation programmes. Loans offered are secured or unsecured basis student's profile, institute's pedigree and future employability potential. Moreover, based on the student's admission status, Avanse offers a range of products such as loans for Pre Visa purpose, Bridge Loans, Loans before admission and various other customized solutions specific to a university or institute.
For management courses alone, we have received more than 3000 applications last year and this number will be far higher going further. However, we have also seen applications from students for unconventional and specialised education programs.
Careers360: Are there any particular MBA institutes which are given special consideration for education loan at Avanse such as the premier B-schools?
Amit Gainda: Yes. The Institute certainly plays a great role in the loan solution that is provided to the students. Student academics and institute's pedigree together, play a pivotal role in determining the solution offered to the student. Avanse has built a ranking database of various courses across varied institutes across multiple countries, basis which we provide customised offerings with special features for premier institutes.
Careers360: What is the maximum amount of loan disbursed for MBA education at Avanse?
Amit Gainda: There is no maximum cap that we consider for disbursement as we consider the full cost of education for loan purpose that includes fees and other incidental expenses.
Careers360: What is the loan structure for MBA offered by Avanse? Please shed some light on the eligibility, documents required, the rate of interest, collaterals, and other details related to the loan procedure.
Amit Gainda: We have ranked MBA colleges basis their pedigree and past records. Documentation, the Rate of Interest & Collaterals differs as per Institute category. For premium categories, there is minimal documentation.
Careers360: What are the costs covered under the Loan offered by Avanse? Is it only tuition fees or are there other expenses covered like travel and residential?
Amit Gainda: The loan offered by Avanse covers much more than tuition fees and covers living expenses as well. We cover expenses including Tuition Fees, Visa Expense, Hostel expenses, Books, Insurance, Travel, Laptop and beyond.
Careers360: Are the interest rates any lesser for female MBA Aspirants or any other concessions as such for SC/ST category?
Amit Gainda: Avanse supports students who are keen on and who deserve a quality education. Therefore there are no specific concessions for SC/ST category or for female aspirants.
Careers360: How an MBA loan disbursed and what is the time taken to complete the loan procedure?
Amit Gainda: MBA loans are disbursed after a confirmed admit letter is given by the applicant and relevant documents have been provided to us. If all the required documents are ready with the student, Avanse will disburse the loan in three to four days.
Careers360: Tell us about Avanse's education loan campaigns and SOPs used to attract students to loan schemes. How have the students responded to such campaigns?
Amit Gainda: We have multiple ways in which we reach out to students. We reach out to students through our marketing and digital campaigns. We have also have tied up with a wide number of education consultants and colleges with whom we have rolled out a number of products and offered a customised solution to them. Students have responded very positively to such campaigns thereby driving the growth in the number of students taking a loan from Avanse.
Careers360: What are the opportunities that lie in the education loan sector?
Amit Gainda: With approximately 28 percent of India's population in the age group of 0-14 years, as of 2015, educational industry in India provides a great growth opportunity. The country has more than 1.5 million schools with over 260 million students enrolled. Similarly, in higher education, 34 million students enrolled in higher education institutes in 2017.
There are approximately 750 universities and 43,000 colleges offering higher education. India's higher education segment is one of the largest in the world. The education sector in India is poised to witness major growth in the years to come as India will have the world's largest Tertiary-age population and second largest graduate talent pipeline globally by the end of 2020.
With a favourable regulatory environment and government impetus on the education sector, the investment in education infrastructures is also bound to grow multi-fold. All of these facts augur well for education loan industry.
Also Read