Fast Facts
Degrees:Graduate Diploma in Materials Management, PG Diploma, MBA
Institutions: Indian Institute of Materials Management, Indian Institute of Management Technology, Indian School of Business Management and Administration, College of Materials Management 
Industries: Manufacturing, railways, airlines, hospitals  (public and private sector)
Positions: Materials Manager, Purchase Officer, Store Manager

ON an otherwise unremarkable day at car-maker Maruti Suzuki's Gurgaon factory, Akhilesh Singh (30) Deputy Manager (Materials), is in a state of nervous excitement, dialling his phone furiously to speak to vendors, R&D department and the production line. Apparently, one of the important parts he had procured had been found to be faulty, slowing a part of the production process.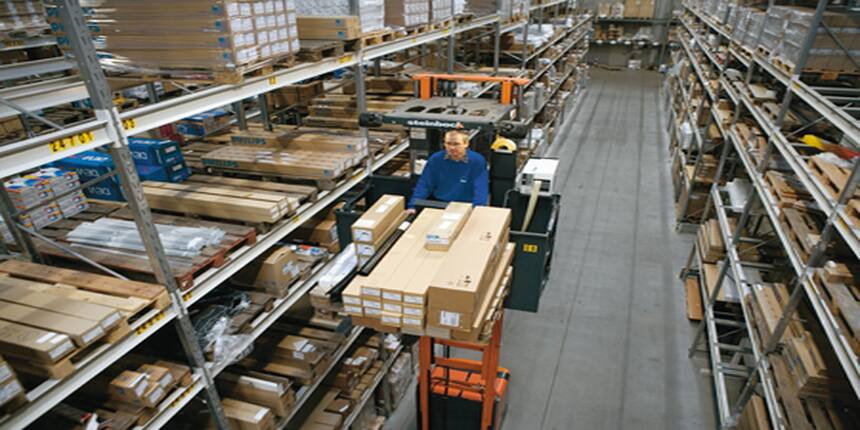 Finally a couple of hours of phone calls sorts out the glitch which could have been worse if Akhilesh had not been immediately available. "If a vendor fails, then it implies that I have failed," says Akhilesh, a mechanical engineer, who is responsible for procuring sheet metal parts at the Maruti Suzuki factory. And any failure of the materials managers in a manufacturing organisation could seriously disrupt the production process. This underlines the importance of material managers and materials management.
 
Do you have a query on materials management? Careers360 will answer your queries through the month of September. Post your queries today!
What do material managers do?
Analyse market and delivery systems
Control purchasing department budgets
Locate vendors, determine product
availability and terms of sales
Buy the best item at the lowest cost
Prepare, process requisition, purchase orders for supplies
Administer online purchasing systems
Maintain records of goods ordered, received
Represent companies in negotiating contracts
What is materials management?
The first step towards understanding materials management is to start wondering how large manufacturing companies, such as Ford, LG, and SAIL, handle and utilise stocks of their spare parts, raw materials and goods, sometimes in multiple locations across countries or continents. That is the domain of materials management and it's intuitive to realise that it belongs to the larger area of supply chain management.
 
Materials management thus deals with all the materials-related activities in an organisation, such as materials planning and indenting, purchase systems and procedure, variety reduction through standardisation, reducing uncertainties in demand and supply, handling and transportation, inspection, proper storage and issue of materials to the internal customers, inventory management, and vendor management. Also belonging to the domain is the disposal of scrap. It is important to bear in mind that in a manufacturing organisation, materials can account for 40-60 per cent of the total costs, which can be reduced through better materials management.

Materials management in today's economy
The importance of materials management owes a lot to the growing competition between firms and the need to cut costs. In pre-liberalised Indian economy, a manufacturing company could get away with holding large stocks of raw materials, which block money and storage space. Not any longer.  Now the competition is too intense to leave the large investments in materials at the mercy of someone in the warehouse. A professional approach to materials management, which will be closely aligned to the targeted efficiencies in the production process, is the desideratum.
 


"Materials managers are the powerhouse of
a company. For a big company, they may be purchasing materials worth crores of rupees"

S. Ravichandran
Manager (Purchase) at Daurala
Sugar Works, Shriram Industries
Thus, materials management is being increasingly seen as a 'profit centre' that is actively engaged in cutting costs and boosting profitability of an organisation, rather than a 'cost centre', which is what the purchasing and stores departments have traditionally been perceived as.  
Demand for materials managers

Demand for materials managers has been rising steadily in the private sector as well as the public sector. They can be employed in purchasing, storage and supply departments of automobile, pharmaceutical, FMCG, defence, railways, public transport, and any other industry that needs materials.  
O.P. Longia, Materials Manager at Ranbaxy Laboratories, says each industry has its own specific needs in materials management. "In pharma industry, for example, we have temperature- controlled warehouses where we store materials at certain degree of temperature. Life-saving drugs have to be dealt with utmost care," he says. In Railways, the stores are managed by engineers. "We procure and store rolling stock like engines, coaches, wheels, tyres. The work demands a lot of technical communication," says R. K. Aherwar, Stores Manager, Eastern Railways, Hubli.  
Studying materials management
One's interest in joining a materials management course may well be kindled by certain buzz words that are often used by young professionals and students, such as Just-In-Time (JIT), total quality management (TQM), Six Sigma certification, ABC analysis, and Kaizen. A bit of reading up on the concepts represented by these terms, which belong to the materials management domain, may help you decide whether you would like join a course in materials management.
"Working and studying his way up"

Pramod Chauhan:
Store Executive (Materials),
Olympus Imaging India,
BA, Delhi University;
PGDMM, IMT-Ghaziabad (part-time)
 
Pramod, a non-technical graduate, is proud of working and studying his way up from a store assistant in garments industry to a qualified materials manager in an optical products company. Soon after earning his college degree, Pramod joined a multinational export company, which dealt in garments and home furnishings, as a store assistant.
 
He learned so much at that job that he came to believe that a store in a manufacturing company is nothing short of a knowledge hub! Today, he has thorough understanding of different types of fabrics, the ways of cutting fabrics, accessories, and much more.
 
After joining Olympus Imaging India, which makes cameras, binoculars, other optical products, and voice recorders, Pramod continued to advance his learning as a store executive in the lens department.
 
Here, he has been planning for purchases, placing orders with the vendors, taking deliveries, and submitting the purchased materials to the quality department for inspection. 
 
At Olympus, Pramod decided to formally study materials management, joining a part-time postgraduate diploma. "Discussions on case studies helped me analyse problems and find solutions. The course has given me a lot of confidence and finesse in managing stocks, dealing with vendors and juniors. In fact, it has transformed by outlook and body language," he says. 
Such a course can be a Graduate Diploma in Materials Management (GDMM) or a Post Graduate Diploma in Materials Management (PGDMM) or a full-fledged MBA in Materials Management.The PG diploma and the MBA in materials management require a graduate degree in any discipline as the minimum qualification.  Also available are courses that can be studied on a part-time basis or through distance mode, like PGDMM offered through correspondence by IIMM. T.G. Nandakumar of IIMM says: "The majority of students who study at our institution are working professionals. A part-time degree supplements and complements their knowledge and experience of the workplace."
Shail Kathuria, Assistant Manager (Technical) at Indraprastha Power Generation Company, for example, felt the need to join a materials management course when she was posted to the contracts and materials department. "The course brushed up my knowledge about inventory control. Classroom discussions with professionals from diverse fields gave me a great insight into how to enter into negotiations with vendors," says Shail, an electrical engineer who acquired a Graduate Diploma in Materials Management from IIMM in 2008.
Sandeep Sadaliya, deputy general manager, capex and project (purchase), Ballarpur Industries, went a step further, earning GDMM and then an MBA in materials management. "A highlight of my study of materials management was a 100-page book on negotiations, which was part of the curriculum. That was my most important reference book for a long time," he says. "I used to talk in front of the mirror to improve my facial expressions and body language. In negotiating with vendors, your body language counts a lot. Any nervous movement of eyes or hands can give a psychological edge to the person across the table," says Sandeep. 
Entering the career
Each industry has its own preferences for the kind of people they would recruit in the materials management department. Some companies only recruit engineering graduates, who are good at dealing with technical aspects of quality control in addition to performing the non-technical functions. Interestingly, non-technical graduates, who find themselves in the materials department, also discharge both technical and non-technical functions if there is an R&D department to check quality.
One may initially be posted in a materials department as a management trainee, executive trainee, purchase officer, materials manager, and  officer (stores) etc. "A materials manager needs to be well informed about the company as well as the entire market environment. So during the training and induction period, we rotate new recruits to accounts, manufacturing, and engineering departments," says S. Ravichandran, manager (purchase), Daurala Sugar Works, Shriram Industries.
"Rise up to be in the boardroom"

B. V Iyer

Vice President, Procurement (Materials), Reliance Industries
According to Iyer, a materials manager starts modest, but can rise to reach the top.
Q. There is a perception that anybody can handle stores. Do you agree?
A. I disagree. Materials management is a specialised function needing expertise. Being a 'cash-in-kind' store, an inventory must be managed well to avoid a drain of resources and a dent on profitability.
Q. Give us an idea of materials department at Reliance.
A. We have two major divisions at Reliance – Petrochemicals and Exploration & Production – where we require the support of materials managers in purchasing and contracting, inventory management, warehousing, stores, logistics, import clearances, trade compliance, customer service, and expediting.
Q. How will you tell a good purchaser from a bad one?
A.A good purchaser will have sharp communication and negotiation skills.
Q. Give us an idea of starting salaries and the career progression?
A. Someone with a Graduate Diploma or PG Diploma should kick off with Rs. 3 lakh per annum. An engineering graduate with these diplomas can start at Rs. 4 lakh. An MBA in operations/materials management can start at Rs. 8 lakh. A materials manager can rise up to the level of Chief Purchasing Officer or Vice President. Many successful purchasing professionals have also found a place in the boardrooms of companies. 

"Materials managers are the powerhouse of a company. For a big company, they may be purchasing materials worth crores of rupees. That in itself leads to status enhancement in the market," adds Ravichandran. According to Sanjay Aggarwal, vice president (materials) at Hindalco, "Companies hand their purse to materials managers and measure their performance on the basis of how efficiently they spend the money everyday."
 
Tricks of the trade
Since young materials manager often find themselves in the purchase or stores department, it's important to realise that purchasing also needs a thorough investigation of the markets.
A lot of spade work is required for surveying the market for the right vendor. Medium term security of supply, quality of products and delivery capabiliites are factors to consider. At the stores, one may have to work towards gaining a mastery over reducing surplus stock. But this should be without compromising on timely supplies to the production line. 

"Along with organisational and communication skills, you must be a clear-headed planner, strategic decision maker and team leader with a firm grip over the market," says Longia of Ranbaxy Laboratories. That sounds quite challenging! Another reason for the young guns to consider materials management.
   
"A solid foundation in technology"
Akhilesh Singh
Deputy Manager (Materials), Maruti Suzuki
Education:
Mechanical Engineering, Mumbai University;
GDMM, Indian Institute of Materials Management (part-time)

Akhilesh's love for cars also fuelled his curiosity about how cars are manufactured. He followed his dream. A degree in mechanical engineering allowed him to join Maruti Suzuki, India's largest passenger car company. After being appointed at the metal sheet department, which is part of the supply chain division at Maruti Suzuki, Akhilesh felt the need to join a course in materials management.
 
He analyses vendor price quotes, places orders and checks whether metal sheet parts are supplied in line with the specifications. Just-In-Time (JIT) the Japanese method fascinated Akhilesh. "It boosts efficiency as goods are received only when they are needed in the production process, thereby reducing inventory," he says. His technical knowledge helps him grasp fresh designs coming from engineers, which in turn enables him to place precise orders with the vendors. 
 
"It's a challenge to get work done by local vendors most of whom have yet to graduate to compliance with international standards," says Akhilesh. Often, he has to play the role of the representative of a vendor and take responsibility for any glitch detected by the quality department.  Thus, his job represents an interesting mix of technical knowledge, economy, negotiations, and compromise.   
Institute

Programme

Duration

Eligibility

Dip in Public Procurement & Supply Management

1 year

Engineers

College of Materials Management (Jabalpur)

MBA

3 years

Graduates

GDMM/ PGDMM/ MBA and others

2 years

Degree or Dip in Eng/ Tech/ Mngt with two years experience

PG Diploma in
Materials & SCM

1 year

Graduates

Advanced Diploma in Materials Management

1 year

10+2