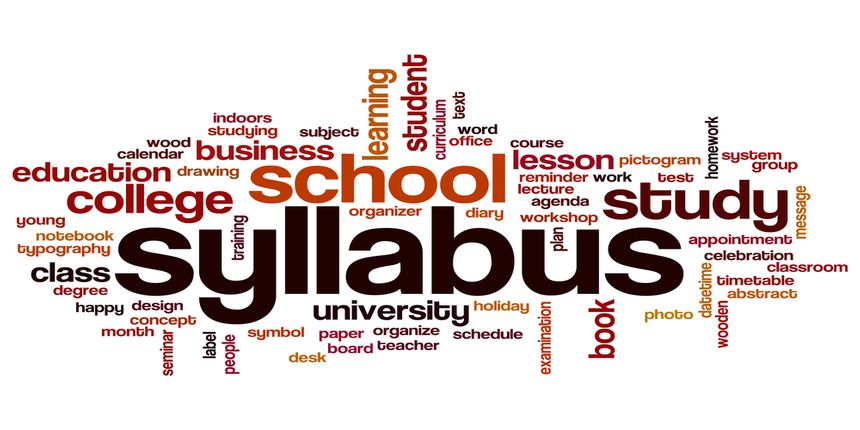 MAT Syllabus 2019 - Candidates planning to appear for the MAT February exam must prepare as per exam syllabus prescribed for MAT 2019. AIMA has conducted the final session of one of the most popular management entrance tests, MAT (Management Aptitude Test) on February 17 (Paper-Based Test) and will conduct the computer-based test on February 23. MAT usually takes place four times a year. One can appear for any of the exam modes to use the scores to take admission in MAT participating B-schools. The MAT syllabus 2019 will guide aspirants to prepare the relevant sectional topics. However, it should be noted that AIMA will not release the official syllabus; it is only through the experts and test takers that we gather information the MAT 2019 syllabus. Careers360, in this article, projects the information related to the syllabus of MAT 2019 including exam pattern, sectional topics, best books, FAQs etc.
Latest: MAT 2019 Admit Card is available now
MBA/PGDM Admissions Open 2019
Acharya School Of Management
MAT Pathfinder
Know your call chances for Admissions
Use Now
MAT Important Dates 2019
| | |
| --- | --- |
| Particulars | Dates |
| MAT February  2019 (paper-based test) | February 17, 2019 |
| MAT February  2019 (computer-based test) | February 23, 2019 |
| MAT February  2019 (paper-based test phase 2) | February 24, 2019 |
| MAT 2019 Result | Fourth week of February 2019 |
To prepare for MAT 2019 exam, the first step is to know the exam pattern and syllabus of MAT 2019. The table below provides the MAT exam pattern 2019.
MAT Exam Pattern
| | | |
| --- | --- | --- |
| Section | No. of Questions | Duration  |
| Data Analysis and Sufficiency | 40 | 35 mins |
| Language Comprehension | 40 | 30 mins |
| Intelligence and Critical Reasoning | 40 | 30 mins |
| Mathematical Skills | 40 | 40 mins |
| Indian and Global Environment | 40 | 15 mins |
| Total | 200 | 150 minutes |
MAT Scoring Scheme 2019: Each question will carry one mark and 1/4th marks (0.25 marks) will be deducted for every wrong answer.

MAT 2019 Syllabus
Based on past exam analysis, the vital topics and areas are mentioned below-
MAT Syllabus - Mathematical Skills
This section comprises diverse topics ranging from Arithmetic, Algebra, Geometry, Mensuration, Trigonometry to Cubes, Number System, Probability, etc. Majority of the questions are expected to be from the Arithmetic section alone. The Arithmetic topics are as follows-
Ratio

Profit & Loss

Averages

Time-Speed-Distance

Time & Work

Partnerships

Percentages
MAT Syllabus - Language Comprehension
The next important section is no other, but the section of Language Comprehension. MAT syllabus 2019 will consist of two parts, Reading Comprehension and English vocabulary clubbed with Grammar. The vocabulary and grammar part will have the questions on the following language elements -
Synonyms and Antonyms

Idioms

Fill in the blanks

Odd word out

Jumbled words and sentences

Para jumbles

Sentence correction
MAT Syllabus - Data Analysis and Sufficiency
The MAT 2019 syllabus pertaining to the Data Analysis and Sufficiency is given below-.
Caselet

Bar graph

Line graph

Pie Chart

Mixed charts and graphs

Table

Data Sufficiency

Data Comparison
According to the previous MAT syllabus trends, the questions can be calculation intensive. So it would be wise to practice calculation intensive questions from the Data Analysis and Sufficiency section.


MAT Syllabus - Intelligence and Critical Reasoning
The section majorly covers Mathematical Reasoning. The other questions are asked on Verbal Ability. The Verbal Ability section might have questions from the topics given below-
Analogy

Series

Statement-Conclusion

Family Tree/Relation

Directions

Analytical Reasoning

Assertion Reason

Cause and Effect

Coding and Decoding
MAT Syllabus - Indian and Global Environment
This section is a mix of static General Knowledge and Current Affairs. Amidst the two, more questions can be expected from the current stories. The topics of the current affairs area may include -
Business Awareness

Politics

Sports

Books and Authors

Entertainment

Social Issues
Incidentally, the scores of Indian and Global Environment section is not considered for the final scaled score.
How to Prepare for MAT 2019 (February session)?
Experts say that it is not necessary to spend more than need more than three-four hours daily for about three-four months to prepare for MAT. The MAT preparation can be managed with office work, meetings, travelling time etc.
After gaining proficiency in the English and Mathematics concepts, it is a mandate that one should opt to write/take mock tests. The more, the better! As there is a sectional time limit, it is more important to manage the time. Mock Test should be closely analysed by self or experts.
For the logical questions, it is ideal to read the question repeatedly and understand it before thinking of the response. Revision is another necessary aspect; one should assign his/ her last few days for complete revision.


Best Books for MAT 2019
Some of the best books to refer for MAT 2019 are the following - 
The Pearson Guide to Quantitative Aptitude for MBA Entrance Examinations.

Complete Guide for MAT and Other MBA Entrance Exams.

Mission MBA MAT Guide.

10 Challengers MAT.

Study Package for MAT.

MAT (Management Aptitude Test) Entrance Exam Guide.

MAT 2019 Syllabus FAQs
Q. What is the mode of Test? 
A. Candidates can opt for either Offline or Online mode of MAT exam. 
Q. Can I choose to appear for both online and offline modes?
A. Yes. You can opt for both the testing modes (online and offline), however, you need to pay an additional amount as your registration fee. If you choose to take the exam in both offline and online modes, the application fee is Rs. 2650.
Q. Is there any difference between Computer Based Test and Paper Based Test?
A. Computer Based Test means the candidate sits in front of a computer and the questions are presented on the computer monitor and the candidate submits the answers through the use of keyboard or mouse. All computers are connected to a server, which prepares the question set and delivers it to the candidate on the computer. This is unlike the Paper Based Test, which is generally offered on a single day to all candidates. MAT is offered over a period of time and the candidate can choose the centre, the day and time of his/her convenience to take the test. Computer Based Test assumes that the candidate has a basic familiarity with the use of computers like use of keyboard and mouse operation. It is the responsibility of the candidate to acquire these skills before appearing in the test and AIMA cannot take responsibility for the same. In traditional Paper Based Test, Candidate is supposed to bring Pen, HB-Pencils, Erasers with him/her whereas the Question Paper & OMR Answer Sheet is provided at the Test Centre.
Q. What is the nature of the MAT test?
A. It is an objective type test with multiple-choice answers. The test is designed to measure a person's general aptitudes as the following table indicates:
| | | | |
| --- | --- | --- | --- |
| Section No. | Section | No of Questions | Duration (Minutes) |
| 1. | Language Comprehension | 40 | 30 |
| 2. | Mathematical Skills | 40 | 40 |
| 3. | Data Analysis and Sufficiency | 40 | 35 |
| 4. | Intelligence and Critical Reasoning | 40 | 30 |
| 5. | Indian and Global Environment | 40 | 15 |
|   | Total | 200 | 150 |
The MAT February 2019 will be held on Sunday, February 17 and Saturday, February 23, 2019, in paper pencil and computer-based modes respectively. The scorecard of MAT 2019 February exam will be released in the fourth week of February 2019.