Masters' Union Gurgaon MBA - Five Initiatives For Industry Immersive Experience
Masters' Union School of Business, Gurgaon will be offering a 16 months Post Graduate Program in Technology and Business Management from August 2020. The aim of the program is to provide industry-immersive experience and other key components to the students. "It's the novelty of it," says Professor Karthik Rammana, Director, University of Oxford, who will be teaching Business and Public Policy at Masters' Union, "that makes it so special-this is the first time this means of education has been employed outside the field of medicine." Students aspiring to apply in 16 months PGP-TBM course can fill the application form in online mode till June 30. Read this complete article to know the key components of the program that will add to a student's professional experience.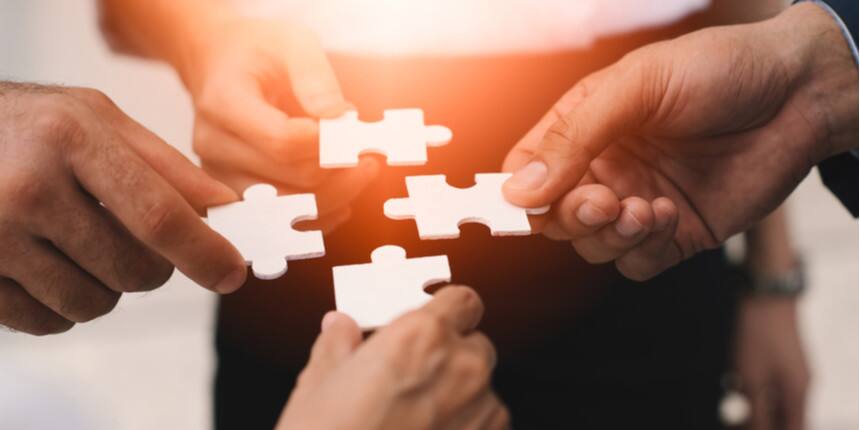 The key components of the programme that make it such a sought-after, industry-immersive MBA are:
Location
One of the most important, unique features of MBA experience at Masters' Union School of Business is its campus, which is located in DLF Cyberpark, Gurugram, one of India's most prolific business parks in India. The campus is shared with the likes of Bank of America and BCG and is also flanked by numerous Fortune 500 companies. The other neighbours of the Union include over 600 of the world's leading companies.
Opportunity to run a 5 Crore Investment Fund!
This one-of-a-kind investment fund has a Rs 5 crore allotment for investments in start-ups. Being student-led, it provides students with first-hand experience in running their own investment fund, with a lot of the risk minimised, for they are guided by the Union's Masters, who are business professionals and experts in their fields. The fund can also seek to invest in any start-up wherein they see potential, ranging from real estate to stocks to everything in between. The students are also required to analyse and understand the risks of investing.
Broadly, the fund is to be managed by students divided into five teams: (1) the debt fund; (2) the equities and stock fund; (3) the futures and options hedge fund; (4) the venture capital fund for startups; and (5) the real estate fund. Each team here specialises in a different way of investment, allowing the students to specialise similarly while also teaching them umbrella topics. The specialisation allows students to further develop exact skills. What separates this fund from other start-up incubators is the freedom given to the students, both to invest in ideas they believe and to invest in ideas they have come up with. Every decision taken by the fund is taken by its managers: the students.
The students are the sole proprietors of the fund, choosing to invest in ideas in which they see merit. Aside from the university given allotment, they have the freedom to raise funds on their own, working with investors, philanthropists, and other investors. This helps the students to learn how to raise investments on their own, preparing them for when a similar situation might arise in their future work life. The fund is assigned an investment advisor and the students will be mentored by the world's top venture capitalists, giving them a safety net and also increasing their learning by allowing them close proximity with individuals who successfully invest for a living. Additionally, any profits made by the fund will be distributed between its managers (the students, of course).
"This is going to be the first-ever student-run investment fund at least in this country," says Professor Vijaya Bhaskar Marisetty, who will be teaching Modern Financial Accounting. He has earlier worked at IIM Bangalore, RMIT University and Monash University.
3. Consulting Projects, Field Visits, Bootcamps in Curriculum
The curriculum (courses) and pedagogy (teaching approach) is the heart of an MBA program. So how is Masters' Union developing this aspect for industry-immersion? Well, it is taking three distinct approaches in this direction:
Consulting Project-Based Courses

Corporate Field Courses

Technology Bootcamp Courses
Let us understand a bit more about each of these.
Consulting Project-Based Courses
In this course, students take up 8 consulting projects around corporate transformations for real businesses to supplement their curriculum. According to Masters' Union, students will get a chance to work with leading companies which are a combination of private and public sector giants and unicorns like Reliance, Maruti, Facebook, Samsung, BBDO, Interbrand, Ola, Oyo, Flipkart, SBI, ONGC and LIC.
Corporate Field Visits
Each quarter, students shall travel to a notable business sites that provides exposure to prolific business opportunities. This allows students to learn about companies that have changed the course of India's economy and how she does business at the places where these businesses got their start. Some of the fields we know they will be visiting are:
Mundra Port, Gujarat

Reliance Jamnagar Factory

San Jose & Silicon Valley

Maruti Udyog, Gurgaon
Technology Bootcamp Courses
Given that technology is central to business, it is central to Masters' Union. Students will learn hands on tech courses in hot areas like:
Fintech

Blockchain & Cryptocurrency

eCommerce implementations

Artificial Intelligence

Internet infrastructure

SaaS
4. One-on-One CXO Mentorship
This program will help students to get a unique opportunity to get an inside view of the work-life of top CXOs and observe from close quarters about what a leader entails on a daily basis. In this initiative, students shall work with corporate leaders in the capacity of Executive Assistants. Students will also be assigned a dedicated Master Mentor for the entire duration of the program and beyond. It will help create personalised career development plan for each student.
Some of the mentors of the students are:
Tathagata Dasgupta, Chief Data Officer, Saatchi & Saatchi

Satish Krishnan, Former MD, Financial Markets, Standard Chartered Bank

Elkana Ezekiel, Former CMO, Samsung Electronics; Former MD, Zydus Wellness

Narendra Jadhav, Member of Parliament, Rajya Sabha; Former Chief Economist, RBI

Siddhartha Rastogi, MD, Ambit Capital, Asset Management

Harsh Mishra, Former Group President, Adani Group

Rajiv Gulati, Former MD, Eli Lilly and Co.; Former President, Ranbaxy

Malavika R Harita, Former CEO, Saatchi & Saatchi Focus Network India
Masters' Union tells us that students applying in Round 1 will be given priority in choosing a mentor. Please check application details at the end of the article.
5. Masters' Startup School Led by Entrepreneurs in Residence
The Masters' Union is uniquely designed to facilitate new ventures from ideation all the way to fundraising. resources and initiatives include:
Agency Network

EIR Mentoring

Legal & Accounts Clinic

Fundraising Clinic
Faculty include Profs from Oxford and top US Universities
Some of the top global faculty members are:
Prof Karthik Ramanna, Director, University of Oxford Former Prof, HBS

Prof Bhaskar Chakravorti, Dean, Global Business, Tufts University USA

Prof Mihir Mankad, Professor of Practice, Tufts University

Prof Vijaya Bhaskar Marisetty, Former Professor, IIM Bangalore
Program Offered, Courses and Specialization
Masters' Union Post Graduate Program in Technology and Business Management (PGP-TBM) is a unique 16-month MBA equivalent program. This program can be divided into two broad areas - industry and core concentrations. Core course will teach the students the basics of key management function whereas, Concentrations will orient students towards Industry verticals of your choice.
Core Concentrations
Management and Strategy

Marketing, Branding and Design

Finance and FinTech

Computing, Business Analytics and Statistics
Industry Concentrations
Banking, PE and VC

Technology, Product and Project Management

Hospitality, Education and Healthcare

Digital and eCommerce

Media, Entertainment and Sports
Masters' Union Admission Process
Masters' Union School of Business has begun the online application process for admission to PGP-TBM course. Students can now fill the application form in online mode till June 30. Before filling the application form students are advised to adhere by the eligibility criteria mentioned below:
Eligibility Criteria
Student must be a graduate or enrolled in their final year of graduation

Mid-career professionals (0-5 years of work experience)

Entrepreneurs, family business owners

Artists and members from creative industry like Media & Entertainment
How to Apply? A step by step guide
Students can apply to Masters' Union by following these steps:
Step 1 - Submit the online application along with the supporting documents
Step 2 - If shortlisted, appear for a case study assessment and a personal interview with a panel of Masters
Step 3 - Shortlisting of candidates for final admission
Round 1 Applications Open
Applications for the Masters' Union program are now open. By applying early, students will get following benefits:
Full Scholarship: Fully funded scholarships will be awarded to 60 students in Round 1

Get a Master to Mentor: Students applying in Round 1 will get a CXO to mentor them throughout the programme who will help them navigate their careers and provide continuous guidance.

Lower Application Fee: The application fee for Round 1 is Rs. 2,500 whereas the fee for Round 2 is Rs. 4,000.