MAH CET 2014 Analysis- Moderate difficulty level test with glitch free experience


MAH CET 2014 Analysis- The first day of Maharashtra Common Entrance Test for MBA was held on Saturday, March 15, 2014. Since it is the first time that the exam is conducted in computer based/online format, the candidates were anxious as well as curious about the exam in its new mode. This article of Careers360 presents the first day first slot MAH CET 2014 analysis exam conducted by the Directorate of Technical Education (DTE), Maharashtra.

The computer based format of the exam was similar to CMAT. The difficulty level was moderate. As the USP of the exam lies in speed, the test takers were bothered more about the time-speed coordination than the difficulty level. Similar to its paper pencil based format, the computer based format question paper didn't carry any section wise division. The questions were mixed among areas and candidates were allowed to attempt any question at any point of time within the stipulated 150 minutes of the test.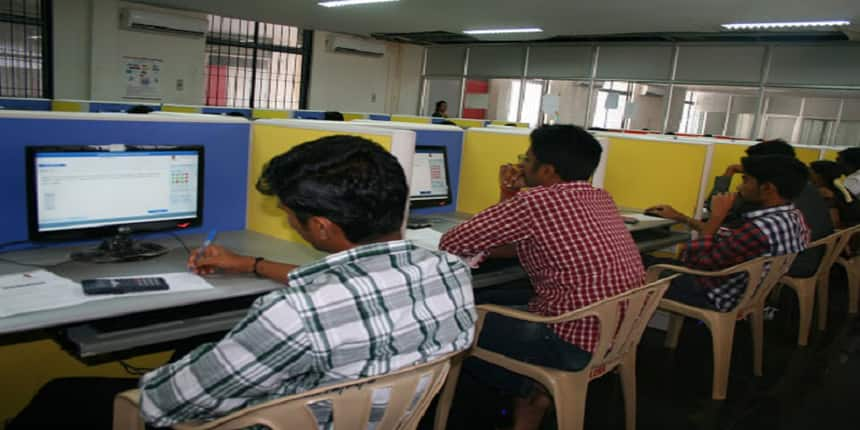 The total number of questions was 200 which were divided among areas like Quantitative Ability, Verbal Ability, Logical Reasoning, Data Interpretation, Data Sufficiency and Visual Reasoning. The navigation system was smooth. There has been no report of technical glitch so far. Gautam Puri, Vice Chairman, Career Launcher says, "Overall the navigation and the format was smooth, but the questions with images were magnified."
Anuj Bhasin, a MAH CET 2014 taker mentions, "I was pretty confident about the exam as I have already taken a couple of national level MBA entrance exams like CAT, XAT, MAT and CMAT. However, since the questions were extremely lengthy, I found it hard to manage." Rav Singh, Director, CETkIng Education, Mumbai says, "As far as the navigation system is concerned, it is similar to CMAT."
Singh says, "The questions were pretty doable. The difficulty level can be ranged from easy to moderate. However, time management is the main concern. Somebody who has managed the time and attempted about 135 questions will be in a good position."
Now let us have a look at the section wise MAH CET 2014 analysis.
Quantitative Ability
The Quantitative Ability area had around 50 questions. The difficulty level was moderate. The topics included Arithmetic, Number System, Mensuration and Geometry. "This section was easily solvable and candidates who have their basics clear should be able to tackle the area with ease," Puri says.
Verbal Ability
This section had around 60 questions. There were 2 reading comprehension passages with 4 to 5 questions each. Other questions were on vocabulary, verbal reasoning, sentence arrangement, sentence correction and fill in the blanks among others. The section was also of easy to moderate difficulty level.
Logical Reasoning
Logical Reasoning area bore the maximum weightage. It had around 75 questions. The difficulty level of this section was on the higher side. "This section consisted of a plethora of topics included Set based questions, arrangement, probability, Coding Decoding, Input-Outputm Blood Relations among others," Puri mentions. This section was quite time consuming as well.
Data Interpretation & Data Sufficiency
This area had around 35 questions with easy difficulty level. The number of Data Sufficiency questions was easier than that of Data Interpretation. "The questions were very simple in nature. The graphs and charts were easily interpretable and were not at all calculation intensive," shares Singh.
Visual Reasoning
Visual Reasoning is an exclusive area for MAH CET MBA 2014 exam. Around 25 questions were there from this section. The difficulty level was moderate.
According to Puri, attempting Visual Reasoning questions depends on the comfort level with the section.
For the candidates who are taking MAH CET 2014 on Sunday, March 16, 2014, Puri suggests, "Start the exam with Quant and Verbal as these would be easy to solve and less time consuming as well. Attempt lesser questions from Logical Reasoning but do that accurately. Just because MAH CET doesn't have negative marking, you don't have to attempt all the questions."
According to Singh, the MAH CET 2014 cut off is likely to be around 135-138.
Also Read:
MAH CET 2014 preparation strategy for last week: 5 tips from toppers
MAH CET 2014 section wise preparation strategy and expert tips
Top B-schools Accepting MAH CET Scores and Cutoffs
MAH CET Past 5 Years Trends and Analysis
Stay tuned to bschool.careers360 for more updates on MAH CET 2014 analysis.
Questions related to MAH MBA CET
Showing 17 out of 17 Questions