Learning leadership in the village

Every week students from Great Lakes Institute of Management, Chennai split into 21 teams of 16 to 18 members, and spend three hours in a nearby village. The initial weeks are spent on becoming familiar with the assigned village. By Week 3, the students befriend villagers who are willing to work side-by-side with them. From then on, students chart out problem areas, organize workshops and discussion forums, and introductory meetings with villagers. Known as the Karma-Yoga Leadership Experiential Project (KYLEP), the core idea is to make management students engage with society. Students work on themes ranging from promotion of organic farming, importance of education for children and career-guidance for youth, to women's empowerment, rallies on social abuses, organizing health camps and awareness drives on various issues. To build a higher level of interactivity and comfort with people, students organize fun activities like cricket matches. "Establishing connect with villagers is little difficult but we have found that this is the only way to understand their problems and help them with solutions," shares Goutham Mallampati, a student of 2013-14 batch.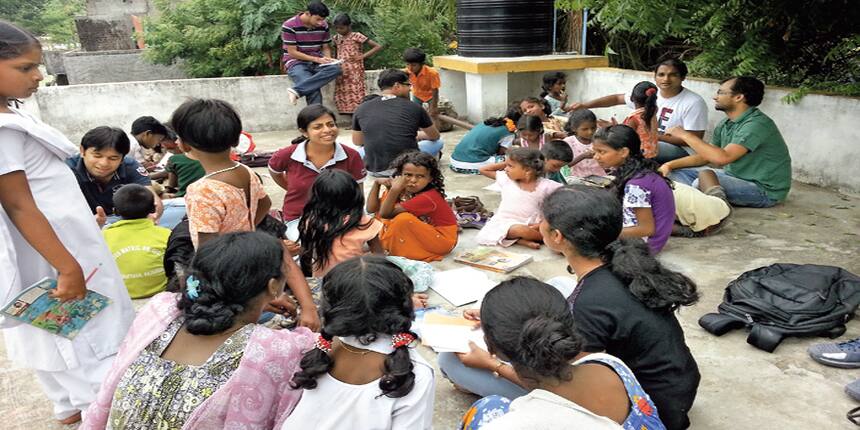 Knowledge gained in this project helps the students to apply leadership qualities at appropriate junctures

Dr Venkat R. Krishnan
Senior Faculty

The learning from the projects helps me a lot in handling people, managing work and building consensus on my ideas

Abirami Muthia
Class of 2013
Experience-based learning
Alongside traditional teaching methods B-Schools like XLRI Jamshedpur, SPJIMR, XISS and GIM Goa are committing themselves to experience-based learning where students reach out to the society and help find solutions to community problems. Great Lakes' KYLEP is an integrated village-based experiential learning project. The institute has sketched a pedagogic framework on 'knowing–doing-being' model of learning where it guides students on helping villagers improve their lives. The students implement the theory learnt in   classrooms in villages, which in turn test their leadership skills amidst real-life situations. "Knowledge gained in this project is in the form of real-life challenges and situations faced, and this really helps the students to understand and apply leadership qualities at appropriate junctures in organizations," says Dr Venkat R. Krishnan, a senior faculty member who guides the project.
Credit plank
The institute has made the project mandatory and has created a mechanism to evaluate the performance. "All two-year PGDM students are required to do the LEP during their first term and get one credit for Karma-Yoga, to successfully complete their programmes," says Dr Krishnan. Based on their performance, students are awarded marks, which become part of their overall performance. Abirami Muthia, who graduated in 2013 says that making villagers work for their own good still helps her in her corporate role at TCS. "The learning from the projects helps me a lot in handling people, managing work and building consensus on my ideas," .


Change-makers at work
The projec thas helped villagers in various ways. While some initiatives like special-day drives are short-term, others like literacy drives are planned for longer period and are passed on to the new groups of students as the old groups complete their one-year term.
Special day activities: Students spread awareness on special days. For example, on World Environment Day, they conducted rallies, drawing competitions for kids and Rangoli competitions for women, to spread environmental awareness, in Echankaranai, Kuzhipanthandalam, Vayalur, Pudupattinam, Natham-Kariacheri, Nallur, and Mullikolathur.

Literacy drive: Teams in Kuzhipanthandalam and Echur are presently working on a computer awareness drive. They use their own laptops and organize regular weekly sessions with students on usage of a range of common applications. While the team at Amanambakkam focused on teaching the MS Office package, the team at Pattikkadu focused on the creative aspects of using a computer by teaching the children how to draw and paint using the computer. In one of the villages, students organized regular English classes for school-going children. At the end of the project, the participating students were able to understand the basics of conversing in English.

Organic farming: Students helped villagers of Poonthandalam understand the benefits of organic farming through special sessions. They invited an organic farming expert to give tips to begin experimenting with such products in their homes. As a result, a group of farmers have set up vermi-compost pits on their plots of land in consultation with the expert.
Harvard Professor and internationally acclaimed management Author Dr Srikant M Datar underlines importance of 'Knowing-Doing-Being' in management education.

Knowing: Facts, frameworks, and theories that make up the core understanding of a profession or practice.

Doing: Skills, capabilities, and techniques that lie at the heart of the practice of management

Being: Values, attitudes, and beliefs that form managers' world views and professional identities
Evaluation process
The performances are evaluated on four components. The first is the feedback from villagers, which is obtained through informal conversations by two project coordinators employed under the project; the second, a peer evaluation done by the students themselves; the third component is the weightage given to the action taken by the student for the time he/she spent in the village and the fourth is the understanding that the student has about the concepts of Leadership, Influence, Self-Esteem, Development etc. For this component, the diaries of students' field visits, the monthly reports along with a final video that they make on their team's journey through the year in village are all taken into account. Each team has a facebook account where such content is posted.

The challenges
While the project brings social sensitivity and new set of knowledge and skills amongst students, it also throws some challenges for them as well as faculty members. Given the time and effort that it requires, Dr Krishnan says, sometime it becomes challenging to balance other part of curriculum. "Students have to do the project without sacrificing any other component of their PGDM," he says.